If you're searching for the right words to show someone that you know how much their furry friend meant to them, these pet sympathy messages are a great start.
While nothing- not even time- can erase the pain, it always helps to know that people truly care.
Put these dog loss quotes and sayings into a card, a social media message, or even just a text.
Touching Pet Sympathy Messages
These touching pet loss messages  always made me feel just a little better after losing a faithful companion, something that I've experienced all too often over the last two decades of pet ownership.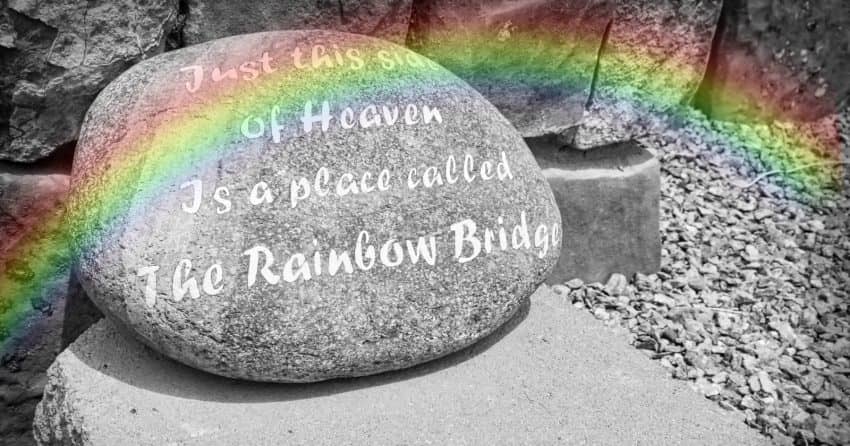 FYI, this post contains affiliate links. If you make a purchase through these links, we earn a small commission at no extra charge to you. 
1. These quiet friends…
"Not the least hard thing to bear when they go from us, these quiet friends, is that they carry away with them so many years of our own lives." – John Galsworthy
2. Paw Prints on Our Hearts
It's so true that "the paw prints left on our hearts never fade." My heart is covered in them.
3. The loss is incomprehensible
"We should never underestimate the powerful draw of a bond with a being that loves us unconditionally, asking very little in return. Losing this comfort and source of joy can be incomprehensible."

– Linda Lipshutz
4. When tomorrow starts without me
This one made me cry. My favorite part-
"So, when tomorrow starts without me, don't think we're far apart.
Every time you think of me, I'm right there in your heart. "
5. Between hello and goodbye
"Don't forget, somewhere between hello and goodbye, there was love. So much love."
If you love this card, you can grab it on Etsy.
6. Love that lasts
"Pets in their brief life, they give us love that lasts the rest of ours."
7. They walk beside us
Those we love don't go away, they walk beside us every day, unseen, unheard, but always near, still loved, still missed and very dear.

Unknown
I like to imagine that my dogs are just in the next room. At night, I still talk to them like they're sleeping with me.
8. Angels have 4 paws
"Everyone is taught that angels have wings, but the lucky ones of us find they have 4 paws."
While I'm not religious myself, I still think this is a beautiful sentiment.
For those who do believe in angels, it may be just the right thing to say.
9. I would rather miss you forever
"I would rather miss you forever than never have met you."
I will miss my cats and dogs for the rest of my days, but I wouldn't trade that pain away if it meant never having them in my life.
10. Waiting at the Door
I am really struggling to get through all of these pet sympathy messages without bawling.
This one pushed me over the edge. If you like it, it's available on Etsy (affiliate link).
11. What we love becomes part of us
"What we have once enjoyed we can never lose; all that we have loved deeply, becomes a part of us."

– Helen Keller
While this one isn't specifically about pets, it's still the perfect touching message to add to a card.
12. The empty place in your heart
I love this one because it's simply stated yet so incredibly true.
I believe this is actually what our local vet uses on their pet sympathy messages.
13. You have left my life but…
I love everything about this, from the message to the craft idea.
FYI, she sells this on a sympathy card in her Etsy shop.
14. If there is a heaven, our pets are there
"If there is a heaven, it's certain our animals are to be there. Their lives become so interwoven with our own, it would take more than an archangel to detangle them."

– Pam Brown
I firmly believe that if there is an afterlife, it includes my dogs and cats.
15. Maybe the aren't stars
While not specific to pets, it's a beautiful idea to imagine the stars as countless loved ones- furry included- watching over us.
16. Such a very small word
This one says "Dog is such a very small word for something that takes up so much room in your heart."
While you can just write it in a card, I really love the idea of etching it on a candle holder.
17. Our pets awaken our soul
"Until one has loved an animal, a part of one's soul remains unawakened."

Anatole France
18. The loss is unmeasurable
Another simply stated pet sympathy message. Sometimes, the shortest messages really are the most soothing.
19. An empty space and a pain in my heart
This beautiful poem reminds me a lot of the Rainbow Bridge poem.
It's also available on Etsy in a variety of styles, in case you want it on a ready-to-mail card.
20. The most selfless expression of love
If you're struggling to find the right words for someone who had to make the one of the toughest choices of their life, I really love this one.
It's very simple, yet a powerful reminder that knowing when it's time to let a dog go is the single most selfless thing we can do as pet owners.
I hope these pet sympathy messages help you find the right words to express how deeply sorry you are for a loved one's loss.
Do you have any other favorite pet sympathy messages that helped ease your pain? Share below.