If you're on the hunt for the best dog bones for sensitive stomachs, I've got you covered!
Even pups with sensitive stomachs like to chew, after all!
How can you satisfy their natural instinct to chew without aggravating their tummy issues?
Let's look at how to choose the best sensitive stomach bones, then we'll go over a few specific ideas that we recommend!
How to Choose the Best Dog Bones for Sensitive Stomachs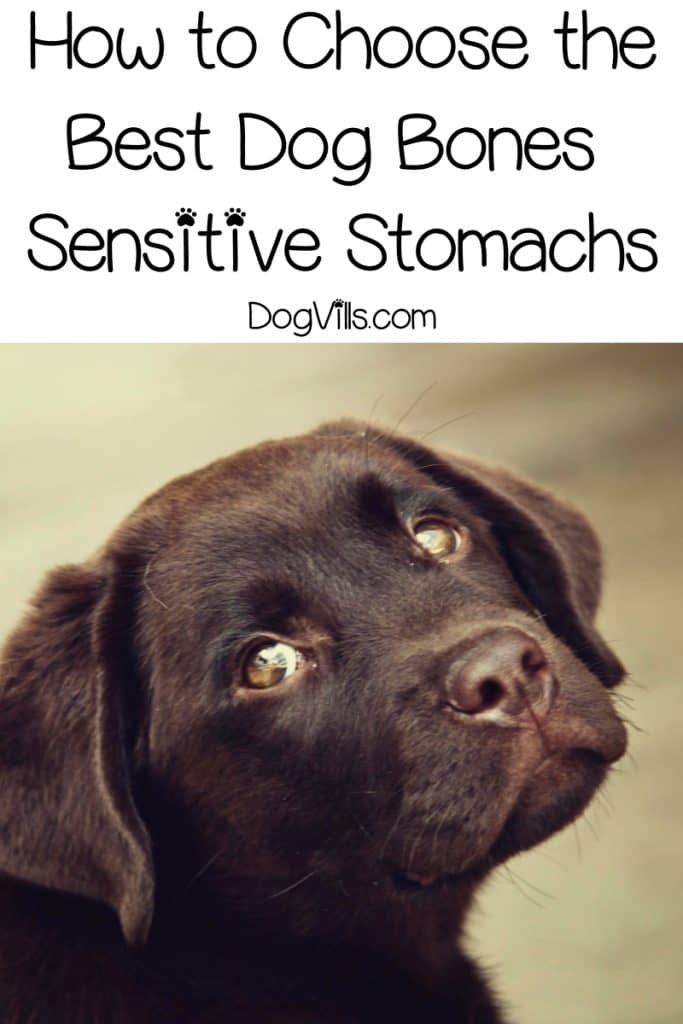 Before you even think about buying dog bones for pups with tummy issues, give your vet a call and ask about off-limits ingredients or other limitations on what you can buy.
Some dogs with allergies are on very specific diets and even something as simple as a single-ingredient dog bone can wreak havoc with their digestive system.
If your vet says "no" to edible bones, don't despair. There are plenty of great options out there for chewing without upsetting the sensitive stomachs!
For example, non-digestible chew toys (we'll check out a few below) give your pup the same satisfaction of gnawing on a bone without all the stomach upset.
Your dog may love chewing on some of these options just as much as digestible bones.
If your vet okays edible bones and chews, you'll want to stick to very simple & natural ingredients.
Less is definitely more when it comes to dog chews (and anything your dog eats, really). You should be careful to avoid any known allergens your pet may have.
Now that we've talked about how to pick the best dog bones for sensitive stomachs, let's look at a few of my top picks!
You may also love: The Best Dog Bones For Your Puppy's Teeth
Best Dog Bones for Sensitive Stomachs
Below, you'll find a great mix of digestible and non-digestible (toy-like) bones and chews for your pup with a sensitive tummy.
This post contains affiliate links. If you make a purchase through these links, we earn a small commission at no extra charge to you.
Best Dog Bones for Sensitive Stomachs on Amazon
If you're looking for the best sensitive stomach bones & chew toys on Amazon, this is where you want to start.
Use the table below for a quick peek, then read on for a few more details about each one.
Preview
Name
Benebone Wishbone Durable Dog Chew Toy for Aggressive Chewers, Real Bacon, Made in USA, Medium
Nylabone Power Chew Textured Dog Chew Ring Toy - Tough and Durable Dog Chew Toy - Indestructible Dog Toys for Aggressive Chewers - Flavor Medley, X-Large/Souper (1 Count)
Better Belly Chicken Liver Small Rawhide Rolls, 20-Count
EcoKind Pet Treats Premium Gold Himalayan Yak Cheese, Gluten Free, Lactose Free, All Natural Chews for Small to Large Dogs | Keeps Dogs Busy & Enjoying, Indoors & Outdoor Use, 1 lb. Bag
Top Feature
Great shape, natural flavorings
Texture that puppies love
Limited-ingredient digestible rawhide
Great for dogs with multiple meat allergies
1. Benebone Bacon Flavored Wishbone Chew Toy
The Benebone has a unique wishbone shape that makes it easier for dogs to hold onto (since, as they say, dogs don't have thumbs!).
While it's more of a toy-type chew than an edible one, they actually use real food ingredients to create the bacon flavoring.
Plus, everything in the toy is sourced from and made in the USA. Benebone also donates products to dogs in need.
Sale
Benebone Wishbone Durable Dog Chew Toy for Aggressive Chewers, Real Bacon, Made in USA, Medium
DURABLE, LONG-LASTING – Super chewer? Bring it on. Benebones are tougher than real bones and last for weeks.
REAL BACON! – We use only 100% REAL BACON for flavor. Trust us, dogs can tell the difference.
EASY TO PICK UP AND CHEW – The Wishbone is curved for a paw-friendly grip so your pup can quickly grab it and get a good chew going. Think about it: dogs don't
USA MADE – We make and source everything in the USA.
HAPPINESS, GUARANTEED – Have an issue? Want to chat? Reach out to us directly and you'll get a real person whose sole job is to make you and your pup happy.
2. Nylabone Dura Chew Textured Ring
We've had a lot of Nylabone non-edible chews over the years.
Freya loves the texture of their material, while I like that it doesn't crumble the way some rubber toys can.
This particular chewing ring has a great texture that puppies love, making it an ideal choice for the teething months.
3. Better Belly Rawhides for Dogs
As far as edible dog bones for sensitive stomachs go, you really can't get much better than a product designed specifically for uneasy tummies!
Better Belly Rawhide is highly digestible and made with all-natural flavors. It's also gluten-free and contains no fillers.
Like I said, when you're buying bones for sensitive tummies, less is definitely more!
Sale
Better Belly Chicken Liver Small Rawhide Rolls, 20-Count
HIGHLY DIGESTIBLE: Digests 2x faster than standard rawhide* – our unique manufacturing process helps break down rawhide fibers.
ORIGINAL CHICKEN LIVER FLAVOR: A taste your dog loves.
ONLY 2 INGREDIENTS: Better Belly Originals Natural Chicken Liver Flavor Small Rolls have no added grain and no artificial colors or flavors.
ROLL SHAPE: These rolls are sure to become your pooch's favorite chew.
NO GLUTEN OR GRAIN ADDED: A chew you can both feel better about.
4. Himalayan Gold Yak Dog Chews
Yak chews sound like an odd choice for dog bones, but they really make a great alternative to traditional rawhide.
If your pooch is allergic to most meat-based chews, you definitely want to give Yak cheese a try!
Don't be fooled by the fact that it's made of cheese, these chews last a very long time.
EcoKind Pet Treats Premium Gold Himalayan Yak Cheese, Gluten Free, Lactose Free, All Natural Chews for Small to Large Dogs | Keeps Dogs Busy & Enjoying, Indoors & Outdoor Use, 1 lb. Bag
✓PERFECT TO KEEP YOUR DOG BUSY AND ENJOYING - These chew sticks are healthy, delicious premium organic chews that keeps your dog busy enjoying the sticks. They are made out of totally natural material hence they are easily digestible. They are best alternative to any other similar pet chews....And a GREAT value! The more you purchase, the more you save! Subscribe and Save to get an even better value!!
✓NATURAL INGREDIENTS –The chew sticks' source is Nepal; they are made in and imported directly from Nepal. The chew sticks are made from 100% milk with no artificial ingredients and chemicals, as well as they do not contain any preservatives. The sticks are absolutely free from gluten and lactose making them very gentle on sensitive stomachs.
✓EXCLUSIVE CHEWS FROM ANCIENT RECIPE - These are 'A' grade Yak chews sourced from the Himalayas that sink into dogs teeth. This is ancient tried and tested recipe from the mountains of Nepal. These are totally natural and very nutritious dog chews made from yak's and cow's milk. Milk is processed to remove Lactose and make the chews easily digestible and very gentle for sensitive stomachs.
✓STICK SIZE THAT KEEPS DOG BUSY – The sticks come in a bag that contains huge pieces of 6-8 inches in length and 1-2 inches in width which is sufficient to keep the dogs busy for hours enjoying the treat.
✓YOUR PIECE OF MIND – This is highly nutritious product for the dogs that can provide many hours of chew time for your dog. Since the sticks are odorless you are not getting disturbed while the dog is busy chewing the sticks. Since the chews are made out of natural ingredients they are absolutely safe to be used both indoors and out.
5. Premium Grade A Antler Dog Chew
Remember the "less is more" tip? Well, these antler dog chews have just one ingredient. If I have to tell you what it is, you're not paying attention!
Okay, fine, in case you're confused, it's antlers. That's it.
They're naturally shed, so don't think that you're contributing to the death or confinement of Elks when you buy them.
Elk Antler Dog Chews - Extra Large - Premium Grade A Quality Natural Shed Whole Elk Antlers For Dogs - Made in the USA - Hand Picked for Jim Hodges Dog Training - Safe, Healthy, Nutritious, Organic, Long Lasting Treat Alternative To Dog Chew Toys, Treats, Snack or Bones - XL Thick Antlers for Large and extra Large Dogs
Grade A Premium Elk Antlers for Dogs Large and Extra Large (7-14 inches long). Great for antler chew for large dogs and heavier chewers. Note: Prices May Increase or Decrease From Time to Time Because of Fluctuations in the Weight of the Elk Antlers. We are committed to not increasing the price per pound of our antlers.
The Largest Extra Large Elk Antlers for Dogs on Amazon! Elk Antlers last much longer than chew products such as Himalayan Dog Chews, Bully Sticks, Rawhides, Pigs Ears, etc. Our Antlers are larger and heavier than our competitors in the same size categories. Have questions about the proper size for your dog? Feel free to contact us.
Great For Indoors - No Sticky, Stinky, Greasy Mess On Your Floor or Hands. The Perfect Chewing Distraction for your dog or puppy to explore his/her natural instinct. Always supervise your dog or puppy while they are chewing on any chew item.
Fantastic Source of Natural Calcium, Phosphorous, Manganese and Zinc - Great for Tartar Control.
Naturally Shed and Picked Off Of The Forest Floor Made Here in the USA Just as Nature Intended. No Harm comes to the Elk. No Elk Farms. No Preservatives. No Antibiotics, Growth Hormones or Additives are added to our Antlers. Each Antler is Hand-Picked and Hand-Sorted Specifically for Jim Hodges Dog Training.
6. KONG Goodie Bone Dog Toy
We all know KONG as the original "fill a toy with treats" brand, but did you know that they have a fairly huge line of chew toys in all shapes and sizes?
While you can add some peanut butter or other "squishy" treat sprays to this particular bone, your dog will be just as happy gnashing away with it.
It comes in three sizes, so make sure you pick the right one for your pooch.
7. Nylabone Healthy Edibles Wild Bison Flavored Dog Treats
While Amazon has a large selection of Nylabones, my top pick is their new(ish) line of edible chews.
They last a long time like non-edible Nylabones yet have all the digestibility you expect from an edible treat.
Plus, bison is the only meat-based ingredient in the chews, so dogs with chicken or beef allergies may be able to handle them better.
Note the word "may," as it's still a good idea to talk to your vet first to make sure bison is on the approved list.
Nylabone Healthy Edibles Long-Lasting Dog Treats - Natural Dog Treats for Medium Dogs - Dog Products - Chicken Flavor, Medium/Wolf (2 Count)
MADE IN THE USA - We proudly craft all Healthy Edibles dog chew treats in the United States
LONG LASTING AND HIGHLY DIGESTIBLE - Natural dog treats keep your best friend occupied and satisfied
HEALTHY DOG TREATS - Made with no added salt, no artificial preservatives, and no artificial colors
GREAT FOR DOG TRAINING - Long-lasting dog chews encourage positive chewing habits
FOR MEDIUM DOGS - Size Wolf chew treats are intended for dogs up to 35 pounds
DELICIOUS CHICKEN FLAVOR - Features delicious flavor dogs love
COUNT - Includes 2 dog chew treats
CHEW TREAT DIMENSIONS - Out of package measures 5.5" long x 1.75 " wide x 1" high
8. The Honest Kitchen Beams Ocean Chews Wolfish Skins Dehydrated Dog Treats
Cod fish skins don't sound like they'd last a long time or make a good "bone," but they're surprisingly durable!
Plus, many dogs with sensitive stomachs can handle fish better than just about any other meat.
This particular brand (we'll discuss another below) is super budget-friendly, so it's a good option to try if you're not sure your dog will like it.
The Honest Kitchen Ocean Chews Hearty Wolffish Skins Dog Treats, 6 oz (Beams)
JUST ONE INGREDIENT: This high protein dog chew is made with 100% Wolffish skins, loaded with Omega-3s.
HEALTHY, NATURAL RAWHIDE ALTERNATIVE: Easily digestible with an extended chew time
HUMAN GRADE: Unlike most pet food, which is feed grade, this recipe is 100% human grade – made with human grade ingredients and produced in a human food facility. That means higher quality ingredients and more safety standards, just like you'd expect from your own food.
ALL NATURAL: This healthy dog chew is made with no by-products, preservatives or fillers and is Non-GMO Project verified.
100% WILD CAUGHT, SUSTAINABLY SOURCED WOLFFISH: Product of Europe, packed in the USA.
9. Himalayan Dog Chew Mixed Dog Treats
We talked about the benefits of Yak treats above but I wanted to give you my top option from Chewy, too.
These Yak chews are super highly rated (4.5 stars across over 1,000 reviews) and great for dogs up to 65 lbs.
The only thing I don't like: they're made from both yak and cow milk rather than 100% yak milk.
Still, dogs love them and as long as your pooch doesn't have a dairy allergy, they're worth trying!
Himalayan Dog Chew Original Yak Cheese Dog Chews, 100% Natural, Long Lasting, Gluten Free, Healthy & Safe Dog Treats, Lactose & Grain Free, Protein Rich, Mixed Sizes, Dogs 65 Lbs & Smaller
YAK CHEESE HIMALAYAN DOG CHEWS: Made with an ancient Himalayan recipe from the mountains of Nepal. Each Himalayan dog chew is expertly hand crafted by artisans using ancient techniques passed down through families for hundreds of years.
JUST CHEESE: Milk sourced from the best yaks and Cows. Ingredients are natural with no binding agents, preservatives or additives. The curing process removes lactose making these yak chews 100% lactose free, gluten free and grain free.
KEEP YOUR DOGS HAPPY FOR HOURS: Your dogs will love chewing, licking & hiding these rawhide free chews for hours on end. These long lasting dog chews keep aggressive chewers busy.
EASILY DIGESTIBLE HEALTHY DOG TREATS: These long lasting Himalayan dog chews are harder and longer lasting than standard rawhide chews and bully sticks. These dog snacks are easier to digest with no lactose, gluten or grains added.
MIXED SIZED: Himalayan Hard Cheese Chews are ideal for dogs 65 pounds and smaller. Dog chews sized right for your dog's weight, temperament and activity level. 3 dog yak chews per pouch.
10. Icelandic+ Cod Skin Strips Dog Treats
Last but not least, we have one of my favorite brands of dog treats, Icelandic+.
These single-ingredient cod skin strips are a lot pricier than those above, but if your budget allows they are totally worth the price.
Iceland has incredibly strict standards for everything from human to pet food, so I'm super comfortable buying products made there.
My dog tried out a few of their products and she really loved the Icelandic+ fish skins so much that we've splurged on the a few times since then.
Check out our full Icelandic+ dog treats review to learn more.
Icelandic+ Plus Cod Skin Rolls Dog Treat 3-oz Bag
Pure sustainably sourced Icelandic fish. Nothing else.
100% natural crunchy treat with no additives, no preservatives and no supplements.
Full of Omega-3 fatty acids for healthy skin and shiny coat.
100% edible and digestible.
100% Viking - Air-dried as the Vikings did in 900 A.D.
Hopefully, you've been able to find a variety of products that work well for your pup and their sensitive stomach.
No one likes to see their best friend be uncomfortable or bored!
Now you can keep your pet entertained and happy without worrying about their stomach being upset!
What are your picks for the best dog bones for sensitive stomachs? Tell us below!
Last update on 2023-09-23 / Affiliate links / Images from Amazon Product Advertising API