When you have a dog prone to allergies and skin sensitivities, single-ingredient dog chews and treats are your best friend's best friend!
With just one item on the ingredient label, you know exactly what your dog is getting…or do you? Sometimes, even single-ingredient treats can be bad for your pooch, especially if that ingredient was treated with nasty stuff like hormones and antibiotics!
With Icelandic+™ dog treats, though, you don't have to worry about that! These single-ingredient treats are truly your dog's best friend!
My allergy-prone dog, Mocha, got to try out both the Icelandic+ Lamb Horn Dog Treat and their delicious Icelandic+ Cod Fish Chips Dog Treat!
Read on to find out what she thought of them and why, as her puppy parent, I'm so excited about Icelandic+!
What Makes Icelandic+ Dog Chews & Treats So Amazing?
Icelandic+ dog chews and treats instantly became a favorite with my dogs.
A few months ago, over on my site,  Pretty Opinionated, I shared how the Icelandic+ Lamb Horn Dog Treat kept even my high-energy dog, Freya,  busy for a long time!
Now, it's Mocha's turn to tell her story! Well, I'll be doing the story-telling, since she can't exactly type, but you get the drift! There are so many things to love about Icelandic+.
Let's take a look at a few!
1. They're actually from Iceland…
A lot of treats throw the name of a country or region on their bags just for the novelty sake of it, but Icelandic+ chews and treats are actually made with ingredients straight from the gorgeous Viking country.
My husband is Scandinavian (and likes to pretend he's a Viking), so we definitely have a connection to the land.
Fun fact: we almost got to live in Iceland when he was in the Navy.
Unfortunately, it didn't quite work out, something that I'll always regret. So exactly why it is important that these treats and chews come from Iceland? I'm glad you asked, it brings me to my next point!
2….and Iceland has a LOT of rules about quality ingredients!
Iceland has incredibly strict rules when it comes to their food.
The lambs that the horns come from are never giving hormones, and they're fed using only antibiotic-free grains.
The horns are usually thrown away, so Icelandic+ keeps them out of the landfills.
The plants themselves have strict safety and hygiene rules, and the treats are processed using geothermal energy. Basically, when you give your dogs chews and treats from Icelandic+, you're giving them some of the cleanest ingredients in the world.
3. Single ingredient means no guesswork for dogs with allergies
Mocha is a mixed-breed dog. She's Lab/Greyhound/Pit. While her fur is more Lab-like, her skin is all pit.
I know this because she has major skin sensitivities to the point that we had to put her on allergy medicine.
Now that it's winter, her skin seems a lot better, so we're hoping it's only a seasonal thing. Still, our vet advised us to keep her on an allergy-friendly diet year round.
I pay close attention to what's in her treats, so having single-ingredient options definitely makes my life easier!
The Icelandic+ Cod Fish Chips are an especially great choice for us, not only because cod is the only ingredient, but also because they're high in Omega-3 fatty acids.
If you have a dog with skin issues, you know that those fatty acids are so beneficial to their coat. You can see how much Mocha loves them!
4. The horns last a really looooong time!
Mocha and Freya got the Icelandic+ Large Lamb Horns, and let me tell you my friends, you will be amazed at how long they last!
Both of my girls are chewers. Mocha has quiet chew time several times a day and she'll go to town for a good hour. She chewed her horn for at least a month! I've bought her other comparably priced chews that were gone in less than an hour!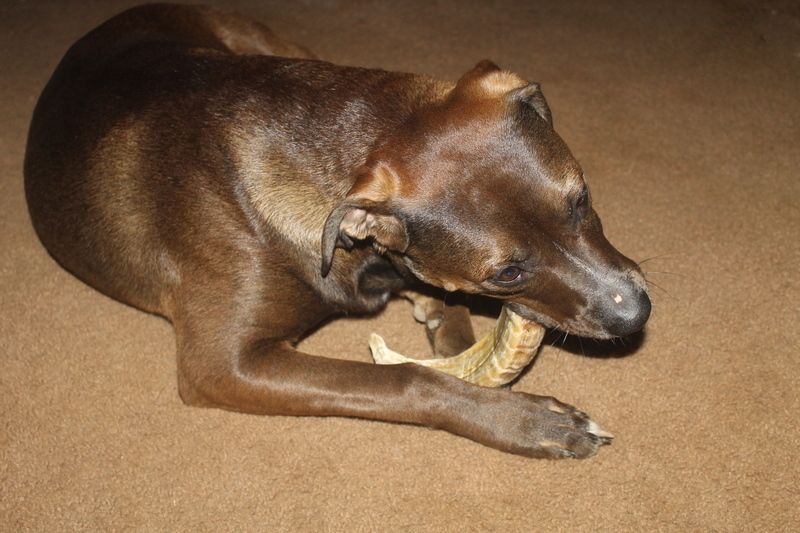 5. 100% edible, 100% natural, 100% fabulous!
Icelandic+ hits 100% in a lot of categories.
The horns are actually made of keratin (versus bone), so they're completely digestible. The 100% single ingredient in each treat and chew is also 100% natural. Basically, they're 100% Viking, and that's what makes them so amazing!
Where to buy Icelandic+ Dog Chews & Treats
Now that you know why Mocha and I love Icelandic+ so much, I bet you want to let your dog try them, right?
Which single ingredient Icelandic+ Dog Chew or Treat do you think your dog would love the most? Tell me below!
This is a sponsored conversation written by me on behalf of Icelandic+™. The opinions and text are all mine.