Finding the best baths for dogs is almost as hard as choosing a new tub for your own bathroom!
No, scratch that; it's even harder!
After all, you have to decide between indoor and outdoor tubs, find the perfect size, then actually get your dog into it.
Today, we'll go over tips on how to do all of the above, plus take a look at my top 10 picks for the best dog baths.
If you want to just grab out #1 pick now, check out the Flying Pig Grooming Portable tub (affiliate link)!
You may also love: Bathing Your Dog – Why, How Often, and How to Do It
How to Choose the Best Bathtub for Dogs
Before we can even think about looking at product recommendations, we have to figure out how to choose the best dog bathtub.
Let's break down the process into a few questions to ask yourself. The answers will help you figure out which of my top ten picks is best for you.
Should I get an indoor or outdoor tub?
First things first, decide whether you want to bathe your dog inside or outdoors.
It's not really rocket science. The answer comes down to the weather in your area.
Obviously, if you're planning to give him baths during the winter, you'll want an indoor dog bath.
On the other hand, if it stays warm year-round or you're only doing summer baths, an outdoor tub is just fine.
Don't miss these portable dog baths
How big should my dog's bathtub be?
That depends entirely on the size of your dog, of course.
Basically, you want something that's large enough for your dog to stand up and turn around in.
Make sure you measure your dog before you start shopping, and keep those numbers on hand.
Do I need accessories like ramps or steps?
If you have a tiny dog, chances are you can just pick him up and put him in the tub.
However, for those of us with big pups, we definitely want to consider grabbing a dog ramp for the bathtub!
What type of tub is easiest for ME?
Don't forget to consider your own needs when choosing!
As someone with a bad back, I can tell you that I'd definitely need an elevated dog bath. That way, I don't have to bend over.
I'd also need some booster bath accessories to help get my dog into it since lifting her is out of the question.
Now that we have a good idea on how to pick out the best baths for dogs, let's look at 10 that fit a variety of needs.
FYI, the rest of this post contains affiliate links. If you make a purchase through these links, we earn a small commission at no extra charge to you.
Check these Best walk in dog tub
Top 10 Best Baths for Dogs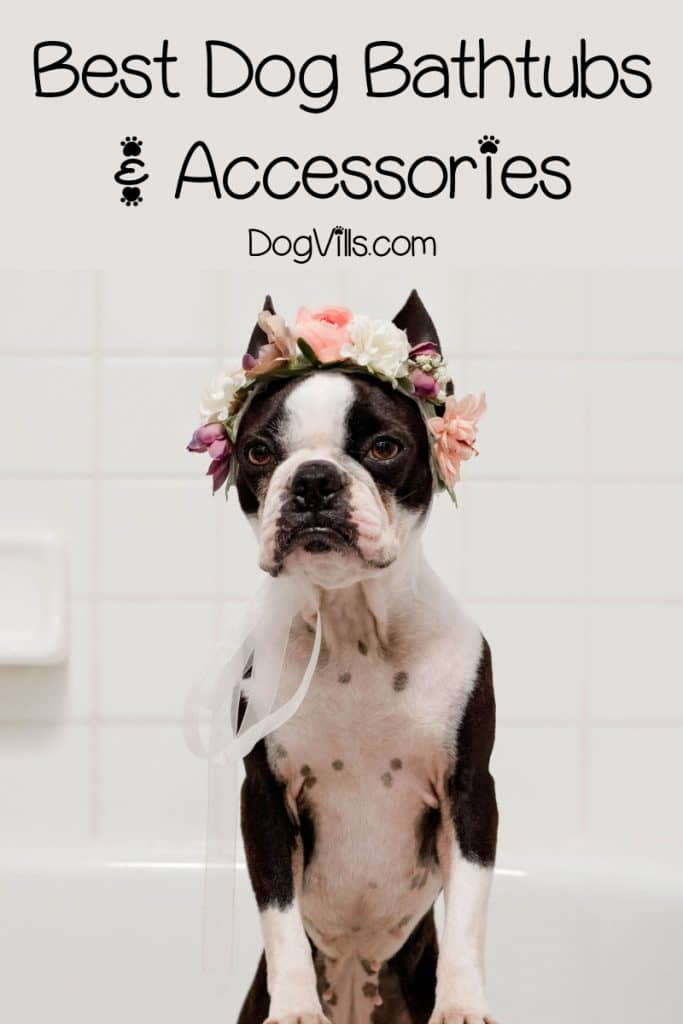 For our list of the best dog bathtubs, we're going to stick with Amazon items that are either Prime-eligible or ship free even if they aren't Prime.
After all, no one wants to find awesome large dog baths for sale only to discover that shipping costs more than the tub!
Use the tables for a quick look at my picks (the second one is above #6), then read on for the full reviews.
1. Flying Pig Grooming Portable Dog Tub
Flying Pig Grooming makes some of the most highly rated tubs for pets, so you'll see them more than once on our list.
Their portable dog tub is priced affordably and works well for most small or medium breeds.
Features & Pros
Measures 37.5″L x 19.5″W x 35.5″H.
Holds up to 150 pounds (however it's best for dogs up to 65lbs max)
The basin is made of heavy duty plastic material
Legs are stainless steel
Easy access from all sides
Leveler keeps it even on uneven floors or terrain
Lightweight and portable
Fits inside most standard tubs
Comes with an extended drain hose.
Cons
You have to buy a separate shower attachment.
Although it holds up to 150 lbs, it wouldn't really work for large breeds because it's too narrow.
Several users say it's a pain to put together.
Drain tube doesn't really fit snuggly and is a "disaster" according to a few reviewers.
Recommendation
The elevated dog bath design is great for those with back issues, since you won't have to lean over much.
I also like that it fits right inside your own tub. Makes it easier to drain, especially given the complaints about the drainage hose.
While more than a few people complained that it was hard to assemble and that the hose isn't that great, for the most part it has rave reviews.
2. Elevated Pet Tub with Booster Bath Steps
If you want an elevated tub that comes with booster bath steps, this one by Booster Bath is pretty much your only option.
Fortunately, it's a pretty stellar option, at least at far as the tub itself is concerned. The steps? Not so much. We'll see why in the cons. First, the pros.
Features & Pros
This XL model is big enough for dogs up to 175lbs
Comes in sizes for most dog breeds. Find the others here.
Easy 360 degrees access so you can bathe your dog from every side.
19″ leg height
Legs snap on for easy assembly
Steps are non-slip and easy to assemble, too
Cons
No sizes large enough for a giant breed, like the Irish Wolfhound
The legs are a bit short for taller people, they'd have to bend down.
Steps don't have hooks to secure to the tub
The steps are expensive in this combo
Recommendation
This one comes in several sizes, albeit on different listings. So, if you need a dog booster bath in medium, large, or XL, it's a good pick.
The steps add an extra $100 to the cost of the XL tub, even though they sell for around $70.
So, honestly, I'd build my own combo by buying the tub size that I need along with the steps separately.
In case you need it again, find all their models here.
3. Standing Boat Elevated Folding Pet Bath Tub
If you need something super portable, collapsible, and just right for small dogs, you'll love this one by Standing Boat .
Features & Pros
Gives you 360-degree access to your pet
Budget-friendly compared to a lot of other tubs
Folds up for storage in just seconds
Totally portable, use it pretty much anywhere.
Elevated design is easy on you back, stands around 36″ high
Comes with stretchable drain hose to drain water into your tub or bucket.
Side pockets to hold supplies.
Cons
Only holds dogs up to 40lbs.
Legs don't fit many tubs (including some standard)
Drain hose falls off easily
Recommendation
Since it advertises itself as a tub that fits in a tub, the fact that it really doesn't seem to is kind of disappointing.
Basically, if you have a tiny to standard tub, it's a hard squeeze. However, if you just have a shower (even a small one), most people said it fit fine.
I do love that it collapses so you can store it away when not in use. Sadly, though, it's too small for my girl.
4. BaileyBear Porta Tubby Collapsible Portable Foldable Tub
If you love the idea of a collapsible tub and don't need something that's elevated, let me tell you about the adorable BaileyBear.
Not only does it come in fun colors like pink, green, and blue, but it has fantastic ratings among users.
Features & Pros
Very affordable, under $50!
Perfect size for toy to small breeds.
Can be used as both an indoor or outdoor dog tub.
Collapses down to 2.4″ thick when not in use.
Very light and easy to carry. It even has a handle.
Super cute (not really important, but a nice extra)
Made from 100% high quality silicone
Non-slip bottom & anti-skid legs
Cons
Not big enough for larger dogs (only holds up to 25 lbs).
No stabilizers, so you have to put it on a very flat surface.
Low to the ground, not great for people with back problems.
Too big to fit over a kitchen sink (even a double one).
Recommendation
As long as your dog is small and your back is in good shape, this is a fabulous budget-friendly option.
Everyone who has one seems to love it! I adore the fun colors, although I don't understand why the pink and green cost $5 more than the blue.
5. Flying Pig Grooming Professional Dog Bath Tub with Accessories
Be warned, the price on this one is a doozy!
However, if you're looking for a 50″ professional stainless steel dog pet grooming bath tub with ramp, this is the one you want.
Features & Pros
It comes with a walk-in ramp, hot & cold faucets and sprayers with hose, overhead grooming arm, drain kit and hair trap, floor grates and a stainless steel shampoo rack.
Professional grade tub made with rust resistant 16 gauge stainless steel.
Removable overhead arm with loops so you can configure it just right.
Back-splash and side-splash keeps water from getting all over the place.
All of the "splashes" are removable.
Floor grates are adjustable to accommodate large or small breeds.
Door is easy to open, close, and lock. It's also watertight.
Super durable!
Great customer service, according to reviewers.
Cons
Super expensive
Probably more tub than you need
Huge, so it takes up a ton of space
Needs to be installed, not something you can just set up and use right away.
Recommendation
Honestly, unless you're planning on starting a grooming business or have A LOT of dogs to groom every week, this one is probably way more tub than you need.
However, if you ARE going to start your own business, then it's actually a pretty great deal.
This next section is a little different.
Rather than actual dog bath tubs, we'll focus on options that either let you turn your own tub into a dog bath OR double as a pool for outdoor fun!
Again, check the table first, then read on for details.
6. Waterpik PPR-252 Pet Wand Pro Shower Attachment
If there's one brand that knows how to do water attachments right, it's Waterpik.
Your probably know them best as the makers of your water flosser! At least that's how I know them. Turns out, they also make a dog bath attachment!
Features & Pros
Crazy affordable, under $35!
Professional grade wand provides total coverage for dogs of all sizes.
Hook it up right to your shower or your outdoor hose, so you can use it inside and out.
Contoured water spray combs over your dog for great cleaning power and shampoo removal.
Gentle enough for delicate areas.
Extra long 8 foot flexible hose for extended reach
Easy enough to use with one hand.
Lifetime warranty
Cons
Does not include an adapter for the sink
Doesn't work well if you have low water pressure
Multiple complaints that the water diverter device broke within months.
Recommendation
Based on the numerous complaints, that water diverter WILL break at some point.
However, the unit does have a lifetime warranty, so you can get it replaced.
For the price, you can't beat it. Plus, if you're not bathing your dog every other day, it should last quite a bit longer.
If you bathe your dog maybe once every other week or so, it makes sense to grab something inexpensive like this than drop hundreds of dollars on a pricey full tub.
7. SmarterFresh Pet Shower Sprayer Set
The SmarterFresh Pet Shower is a great option if you want something that doubles as a human shower attachment.
Features & Pros
Strong water pressure makes it easy to clean your dog fast.
One-handed use, so you can hold onto your dog, too.
Easy to install on your own. No plumber needed.
Made of 304 stainless steel and solid brass.
3 way diverter to switch between between hand shower and showerhead in a split second.
Lifetime guarantee
Works fantastic for you, too.
Cons
Hose is kind of short
You need to have a regular shower head attached as well
Recommendation
I like this one because it's just as useful for people as dogs, so you don't need to switch back and forth between attachments.
That said, if you have a handheld shower head already and got rid of the regular one that comes standard with a shower, you're kind of out of luck.
I bring this up because I got rid of my old plain shower head once since I had a handheld one that totally replaced it.
When I changed to another model, I actually had to go buy a cheap head since it was required.
8. KOPEKS Outdoor Rectangular Swimming Pool Bathing Tub
Let's head outdoors for a moment and check out the KOPEKS swimming pool tub.
Obviously, this is only a good option for those who either live in a warm climate or plan to bathe their dogs in the summer.
Features & Pros
3 different sizes
Roomy enough for most breeds
Doubles as a pool so your dog can cool off on a hot day
KOPEKS is a well-rated dog brand.
Easy to set up, no inflating (which means it won't pop!)
Just as easy to drain with a twist-off cap.
Mae with heavy-duty industrial strength PVC
Easily folds so you can take it anywhere.
Cons
Liner is thin, especially at the corners
Not quite big enough for the really giant breeds (according to a Great Dane owner)
Recommendation
KOPEKS typically makes great dog products, so I have a lot of confidence in this one.
I like that it's not inflatable. My dog has sharp nails (even when we trim them), so I can't have anything that's even remotely popable!
9. Wondurdog Quality at Home Dog Wash Kit for Shower
Head back indoors for another great option that connect right to your own shower.
The Wondurdog kit comes with everything you need to get started, making it a good pick for new dog owners.
Features & Pros
Uses an Innovative Shower Brush Head with Splash Shield to keep water on the dog and not all over you.
Brush has rubber teeth to help give your pup a deep clean.
Design helps keep water out of your dog's ears and eyes.
All-In-One Deluxe Indoor Dog Shower Kit
Extra-long 8-foot hose.
Easy to switch back to your regular shower, just turn the dial.
Stores neatly out of the way when not in use.
Cons
Brush isn't removable
Some say it reduces the water pressure in their own shower head when installed but not in use
A few reviewers had problems with leaking
Recommendation
I love the concept of this one and feel like it would be great for a home that has fantastic water pressure (which I do not).
A small number of reviewers said that it leaked and needed modification after installing, but for the most part people really love it.
While I do wish that you could remove the brush, I'm kind of curious to know if it would work in my thick hair! Kidding! Sort of…
10. Jasonwell Foldable Dog Pet Bath Pool
Let's take one last trip to the backyard and check out the Jasonwell Foldable Dog Pet Bath Pool.
Yes, I know, we just did a pool a minute ago, but this one is a bit different and I do love to give you options.
Features & Pros
4 sizes, including XXL for giant breeds
Very roomy pool, so you could actually get into it with your dog
No inflation, just set it up and fill it up.
Bottom and side drains for easy water removal.
Made of super strong PVC.
Slip resistant material on the bottom.
Folds for storage and travel.
Portable: foldable, easy to store and bring with you and your dog everywhere
Cons
Not chew-proof, so don't leave your dog alone in it (you really shouldn't, anyway)
Needs to be used on very flat ground, otherwise the walls collapse outward
Liner is very thin, so you have to trim your dog's nails before using
Recommendation
I love that this one is big enough for all breeds. It has amazing reviews overall and feels like a great value for the money.
Alas, I don't have a single totally flat spot in my backyard, so I'd have a hard time using it myself.
Final Recommendation
While the best of the best depends entirely on your needs (indoor, outdoor, elevated, etc), I really love the first Flying Pig Grooming tub. It covers pretty much all the bases!
If you are planning to start your own grooming business, though, it's worth investing in the super pricey Flying Pig professional grade tub.
In fact, even if you're not going into business but just have multiple dogs that need regular baths, it may be worth it.
Your turn! What are your picks for the best baths for dogs? Share below!
Last update on 2022-06-29 / Affiliate links / Images from Amazon Product Advertising API