If you're looking for the best walk-in dog tubs to help make grooming easier, let me give you a hand.
Today, we'll look at the top 5 best options for dogs of all sizes.
We'll also take a quick look at why you'd want a walk-in model versus a standard portable tub in the first place.
If you want to just grab out #1 pick now, check out the 50″ Professional Walk-in Tub by Flying Pig (affiliate link)!
Check these Portable Dog Baths
Why consider walk-in dog tubs over traditional baths?
If you have a large or giant breed dog, the answer is pretty obvious. A walk-in tub is infinitely easier to use than a standard dog bath! Imagine trying to lift an Irish Wolfhound into a regular tub!
Even if your dog falls in the "medium" range, you still may want to consider a walk-in tub, especially if you have back problems like I do.
My dog Freya is considered medium, but there's no way I could lift her into and out of a tub without considerable pain.
For dogs who are scared of the bath, a walk-in model may also help them feel like they have more control over the situation.
Of course, there are drawbacks. Walk-in tubs are more expensive, for one. They also take up a lot more room than a portable tub.
Still, if you have the extra cash and the extra space, they're well worth it if you stick with one of the best models below. Let's take a look!
FYI, this post contains affiliate links. If you make a purchase through these links, we earn a small commission at no extra charge to you.
Top 5 Best Walk-in Dog Tubs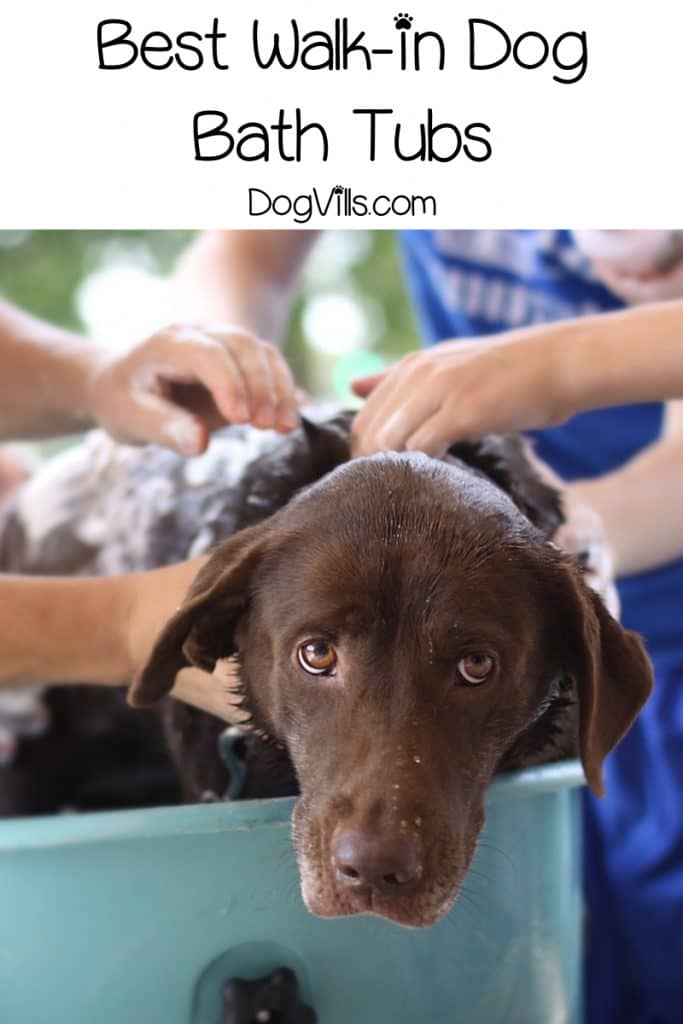 You'll notice that this list is a bit shorter than most of our other product recommendation lists.
I saw other similar posts during my research that, quite frankly, padded the list with things that stretch the concept of "best" or "walk-in" almost to the snapping point.
A 2-star tub definitely doesn't qualify as "best," and a 5″ high elevated tub with no steps isn't exactly a "walk-in" model!
I'd rather give you a short list of stellar recommendations than totally betray your trust by throwing in things that don't make sense.
That said, I did include one option that's significantly different than all the rest because I wanted to give you at least one choice that doesn't cost more than your mortgage payment.
So, without further ado, check out the table below for a quick peek at my favorites, then keep reading for more details.
1. Flying Pig Grooming 50″ Professional Stainless Steel Walk-in Tub
Flying Pig makes some of the best grooming tubs in the industry, so don't be surprised to see them pop up again on this list.
The 50″ Professional Stainless Steel Walk-in Tub is one of their most popular models.
Features & Pros
Professional grade tub made with rust resistant 16 gauge stainless steel.
Comes fully loaded with everything you need to groom dogs of just about all sizes.
Hot and cold faucets with sprayers and hoses make it easy to reach all parts of your dog.
Drain kit and hair trap keeps dog hair from clogging up your pipes.
Even comes with a stainless steel shampoo rack to keep supplies right at hand.
Overhead arm can be removed or positioned in numerous ways.
Removable splash guards on the back and side keep water from getting everywhere.
Watertight door is easy to open and close.
Cons
Very pricey
Takes up a lot of space (although it's not the largest on this list, surprisingly)
Needs professional installation (unless you're comfortable hooking up the water supply).
Recommendation
Flying Pig has a fantastic reputation, so if you're in the market for a professional-grade tub, you can't go wrong with them.
I've heard wonderful things about their customer service, which makes me even more comfortable calling them my #1 choice!
This one is expensive, yes, but so are pretty much all of the best walk-in dog tubs (except #5).
2. PawBest Stainless Steel Dog Grooming Bath Tub
If the price tag on my top choice is enough to give you heart palpitations, the PawBest Stainless Steel Grooming tub may be a littler easier to digest.
While it's still not what I'd call "cheap" by a long shot, it's nearly a grand less than the Flying Pig tub. Let's see how it measures up, though.
Features & Pros
Included ramp lets dog walk right in, then can be hidden underneath when you don't need it.
Large enough for most dog breeds (including a mastiff, according to one user).
Built with the same type of rust resistant 16-gauge 304 type stainless-steel as the Flying Pig.
The fully welded single piece basin helps prevent leaks.
Fully welded base frame adds stability.
Sliding door has watertight seals to keep water from leaking out.
Comes with a 6″ faucet and a sprayer.
Also includes an overhead grooming arm with 2 loops, a drain & hair trap, and an anti-slip mat.
Cons
Same basic cons as the Flying Pig- pricey, needs to be installed, bulky.
Some complain the plumbing fittings aren't really compatible with standard copper pipes.
Users also complain that the tub is a few inches too short to allow for proper drainage.
Recommendation
While the lower price tag means fewer bells and whistles than the Flying Pig model, this is still a very solid option.
Most of the missing "extras" (like the shampoo holder) are easy enough to buy separately.
3. Mophorn 62 inch Professional Dog Grooming Tub
So far, we've looked at options that fall in the 50-52″ range. While they can fit XL breeds, if you want something that's guaranteed to hold your English Mastiff, you'll want this one by Mophorn.
Features & Pros
At 62″, it'll hold even the greatest of the Great Danes.
As with most stainless steel walk-in tubs, the body is made with 304 type steel.
The included high-pressure sprayer has chromium coating and a brass core for added durability and resistance to rust.
Comes with a stainless steel shampoo rack.
Anti-skid pedal on the floor of the tub keeps dogs from slipping.
The walk-in ladder-style ramp also has anti-slip features.
Hair trap and s-shaped drainage pipe keeps dog fur from clogging your drains.
Cons
Pricey, bulky (even more so than the others) and needs to be installed.
Hot and cold water controlled by a single faucet.
Stairs aren't as ideal as a ramp.
Instructions are hard to follow.
Recommendation
Given the way the description is written, I can only imagine how challenging the instructions are to read. Basically, it reads like something that was run through bad translating software.
That said, if you really need something that you're 100% sure will hold your giant breed, it's one of the best walk-in dog tubs.
4. Flying Pig 50″ Stainless Steel Professional Electric Lift Pet Grooming Tub
Let's head back to Flying Pig and see what they have to offer for those who need even more help getting their dogs into the tub.
This particular model doesn't come with a ramp. Instead, the electric lift feature lowers it to the ground so your dog can step in, then raises it back up to make grooming a breeze.
Features & Pros
Made of rust-resistant 16-gauge stainless steel like their other model.
Holds dogs up to 220 lbs.
Base has a lifting range of 32" to 46"
Includes a drain kit with a flexible hose and a hair trap.
Backsplashes and sidesplashes that can be removed.
Removable floor grate can be adjusted to support dogs of all sizes.
Doors with watertight seals are easy to open and lock securely.
Includes faucet, hoses, sprayers, and shampoo rack.
Cons
Same as the other model, except even more expensive!
Grates are hard to clean
Although it holds dogs up to 220 lbs, it's a bit tighter of a squeeze for giant breeds than the slightly roomier 52″ model.
Recommendation
Unless you really need the electric lift feature, I would stick with the first Flying Pig on this list.
However, if you have severe back problems and need a tub that is easily adjusted to the perfect height, it's worth the extra $200-ish.
5. Jasonwell Foldable Dog Pet Bath Pool
So far, we've looked at professional-grade tubs that you'd find at the groomers rather than in the average household.
What if you just want something to wash your dog occasionally during the summer and don't really have $1K to spare?
That's where the Jasonwell comes in super handy!
Features & Pros
Costs under $100, even for the largest size.
Made of extra-tough PVC.
Easily folds open and closed, so you can tuck it away when not in use.
Made with eco-friendly material.
Sizes large enough even for giant breeds.
Doubles as a pool for your dogs, your kids, or both!
Excellent customer service.
Cons
Not good for dogs who chew (mine ate her last baby pool, and that was plastic!).
Not great on your back since you have to bend down to bathe your dog.
Needs to be set up on super flat ground, otherwise the sides collapse out.
Recommendation
Like I said, this isn't exactly a pro-grade tub, but it's great for those of us who don't really need to bathe our dogs frequently.
Obviously, it's also really only ideal for those times of year when you can bathe Fido outside, too.
I'd have to watch my dog very closely with it because, as I mentioned, she's a chewer.
Final Recommendation
If you want the absolute best of the best walk-in dog tubs, go with the first one by Flying Pig.
They have outstanding customer service and they're a leader in the grooming industry for a very good reason.
Do you have any other picks for the best walk-in dog tubs besides those on my list? Share below!
Last update on 2023-09-24 / Affiliate links / Images from Amazon Product Advertising API