What is a Pomchi? Is the Pomchi Dog Breed Right for You? Is the Pomchi hypoallergenic? Read on and discover everything you ever wanted to know about this adorable breed.
Who do you love most: Daddy or Mummy?
Which is most adorable: A Pomeranian or a Chihuahua?
Some questions are impossible to answer, and if you're struggling to decide between a Pomeranian and a Chihuahua, then why bother? The obvious answer is to have both in the shape of that adorable teddy bear cuteness that is a Pomchi!
Related: 5 best medium-sized dogs for apartments
All About the Pomchi Dog Breed
If the Pomchi is the new pup on the block as far as you're concerned, then here's what you need to know.
Take your pick as to whether you call the Pomchi a designer dog, a hybrid, or a good old-fashioned but incredibly cute cross breed, because a Pomchi pup is all these things. A blend of two purebred breeds, the idea is to bring out the best from both parents to create a paws-itvely perfect canine companion.
Hybrid dogs have undergone an exponential growth in pup-ularity in the past few years; due mainly to the likes of those delectable doggy mixes the Cockapoo, Labradoodle, and Cavapoo. They first came about as deliberate mating to decrease shedding from popular breeds such as the Labrador, but the result was so paw-fect that the idea stuck.
Don't forget to check the temperament of this breed ► Everything You Need to Know About the Temperament & Life Expectancy of a Pomchi
What is a POMCHI?
With regards to the cross between a Pomeranian and a Chihuahua, the Pomchi personality is typified by saying they are a big character in a little package. These dogs know what they want and have the brains to work out how to get it. This is down to the Chihuahuas' traits of standing up for themselves, and the Pomeranians strength of character.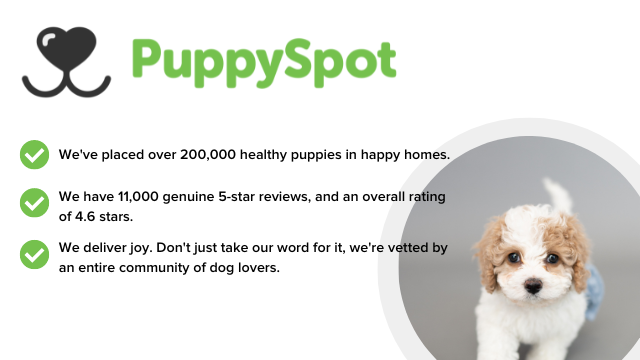 So, if you're considering getting a Pomchi pup based on their teddy bear cute looks, then know this breed is not an impassive lapdog, but a confident, sometimes cocky little dog that faces trouble head on (albeit at knee level.) Indeed, the Pomchi is a deceptively energetic dog despite his size and will enjoy taking part in activities such as agility that are usually linked to bigger breeds.
Sizing Up Pomchi Puppies
Your Pomchi pup may be bundles of fluff now, but what about as a full-grown dog?
The average Pomchi stands around 6 – 9 inches tall to the shoulder, and a maximum weight of 18 pounds. Happily, small dogs have a reputation for longevity and the Pomchi is no except with an average lifespan of 12 – 18 years.
They come in a variety of colors, ranging from fawn through to black, brown or white, largely depending on which of the parent dog's genes dominate. Indeed, this is also the case with health issues. Both the Pomeranian and the Chihuahua are prone to certain inherited conditions, so here is the risk list for the Pomchi.
Chihuahua:
• Wobbly kneecaps
• Liver shunts
• Weak windpipes
• Seizures
Pomeranian:
• Baldness
• Skin problems
• Wobbly kneecaps
• Seizures
Think about the financial implications of owning a Pomchi. Your dog needs routine preventative healthcare such as deworming, parasite treatments, vaccinations and desexing, but there could also be unexpected expenses for sickness or injury so consider taking out a pet insurance policy.
What you Need to Know about Pomchis
Do you live in an apartment? How well do you get on with the neighbors?
This is relevant because the Pomchi has genes from two notorious barkers, the Chihuahua and the Pomeranian, which could add up to double trouble on the woofing front. On the one paw this makes a Pomchi as a great guard dog because the loud bark is certainly going to raise the alarm, but on the other, they are apt to bark at the slightest of noises. This can mean your dog turning up the volume when they hear a neighbor moving around upstairs, and it's best to be aware of this before bringing home a Pomchi pup.
Another aspect to consider is the Pomchi dog buying into "Small dog syndrome". This is where a small dog gets idea above their station about who's in charge. This occurs when a loving pet parent mistakenly cuts their dog some slack, precisely because they are small. After all, why teach a Pomchi to walk to heel when you can just pick him up?
Unfortunately, the answer is "Because it teaches the dog who's in charge." By carrying the dog, you send out the message that he's top dog and what he says goes. When it comes to training use the rule of thumb "Would this behavior be acceptable from a Rottweiler?"
If you wouldn't let a Rottweiler jump up at guests, then neither is it appropriate for a Pomchi. When you ignore this principle, you risk your precious pup turning into a doggy diva who is more than likely happy to nip or bite as it gets him what he wants.
Most Common Types of Pomchi Dogs
Just like the breeds that they come from, Pomchi dogs come in many colors and sizes. Let's look at a few of the most popular!
Pomchi with Black Fur
Black Pomchi puppies are among the most popular of the breed, and for good reason! They're absolutely adorable! Keep in mind that there is no "Pomchi Black" breed, it's merely a color variation. They have the exact same health and personality traits as any other color.
Pomchi with Short Hair
Pomchis can have short, long, or medium-length hair, depending on which gene from the parents comes through the strongest. In fact, you can find all three hair lengths within the same litter! Don't let the short hair fool you, your Pomchi's fur still needs regular grooming regardless of how long it grows.
Teacup Pomchi
The itty-bitty teacup Pomchi is one of the most sought-after variations, but it's steeped in controversy. Some sources say that "teacup Pomchi" is merely a term used by puppy mills and backyard breeders for smaller-than-average dogs. While adorable, they do tend to have more health issues than full-size Pomchi dogs.  On the other hand, if you breed a small Pomeranian with a Miniature Chihuahua, it's entirely possible that you'll get a teacup Pomchi naturally. I think the most important thing to do is find an ethical, responsible breeder and check out both mom and dad.
Is the Pomchi Hypoallergenic?
Sadly, the Pomchi is NOT hypoallergenic. Both of its parents fall into the non-hypoallergenic category. Some say that chihuahuas are more allergy-friendly than other non-hypoallergenic breeds because of their small size. The reasoning is that it's easier to manage their dander.
If you're incredibly allergic to dogs, then the Pomchi isn't right for you. If you just have mild allergies, though, you might be able to get away with owning a short-haired Pomchi. You'll need to really keep up on grooming and talk to your doctor about ways to manage your allergy, but they're definitely friendlier on your system than, say, a German Shepherd.
►►

Looking for a hypoallergenic dog?

Check this complete

list of hypoallergenic dogs.
The Well-Adjusted Pomchi Dog
What every pet parent wants are a happy, confident dog that fits in with the family and behaves well. This is no less important when the dog is small. To this end, pay careful attention to where you buy a Pomchi puppy from.
Ask questions of the breeder and obey certain basic rules in order to avoid puppy mills.
• Ask other Pomchi owners to recommend their breeder
• Check the breeder's reputation online and with previous clients
• Always see the puppy with their mother
• Look for a puppy raised within the home, rather than in a kennel
• Ensure the mother and puppies have had preventative healthcare (such as vaccinations and deworming) appropriate for their age and life stage
• Ask the breeder what efforts they have in place to socialize the puppies.
A good breeder will want to talk and volunteer information about the mother, father and the puppies. They will also ask you lots of questions because they care about the pups and want to see them go to good homes.
Tempting as it is, if you suspect the puppy came from a puppy mill and needs "rescuing", please walk away. Hard as this seems, buying the pup only provides a market for this immoral, cruel trade. Without public to buy their 'products' (which is all a puppy is to a puppy farmer) they quickly go out of business.
Is the Pomchi a Family Dog?
Yes and no. The Pomchi's small size can make them feel vulnerable around small children. When threatened, the natural boldness of Pomchis can show itself as snappiness and aggression. However, on the plus side, they are a loyal dog and when treated fairly, will return the favor with furry love.
Another point to consider for a busy family is whether you have time to train a Pomchi. Remember, they are intelligent and not above using their wits to get their own way. To avoid conflict, it's important to train them…which takes a daily commitment to succeed.
Caring for a Pomchi
That gorgeous teddy bear plush coat takes some caring for. They have a double coat, with a particularly thick and fluffy undercoat. This needs brushing through regularly to stop it becoming choked with shed fur or forming mats.
A common issue faced by many Pomchis is tear staining on their faces. This is where the dog's tear ducts are narrow, and tears tend to spill over and run down their face, leaving behind rust-colored tracks. This can look unsightly but can be prevented with regular wiping of the eyes on clean cotton wool.
When it comes to food, some Pomchis are greedy eaters whilst some are fussy. Overfeeding is bad news as it predisposes them to health problems such as diabetes and arthritis. At the other end of the scale, avoid fussing over picky eaters, as this rewards the behavior. Instead, leave the room while they eat, return after 10 minutes and throw the uneaten portion away. This helps sharpen the dog's thinking about mealtimes being their best opportunity to eat, and cuts through fussiness.
Welcome to the World of Pomchis
If you have read this and made a balanced decision that the Pomchi is for you, then congratulations! Life is never dull with a pocket-sized bundle of trouble that is the Pomchi, and they will brighten your day without exception. However, do make sure you have the provision to care for a Pomchi for many years into the future, as they are long-lived. But for a delightful, pint-sized companion, who mentally agility matches their physical energy, you can do far worse than the perky Pomchi.
Do you have a Pomchi? Share your thoughts and stories below!