If you're searching for some of the most spectacular Egyptian dog names, we've got you covered!
There was a time when Egypt was vastly explored in Hollywood movies, with films such as The Mummy, The Prince of Egypt and many more.
Maybe watching those movies gave you some inspiration or you are simply fascinated with their ancient and rich culture.
Whatever the reason, we have some Egyptian dog name ideas for your fur baby boy and girl.
You may also love: 140 Royal Dog Names for Your Regal Pup
Male Egyptian Dog Names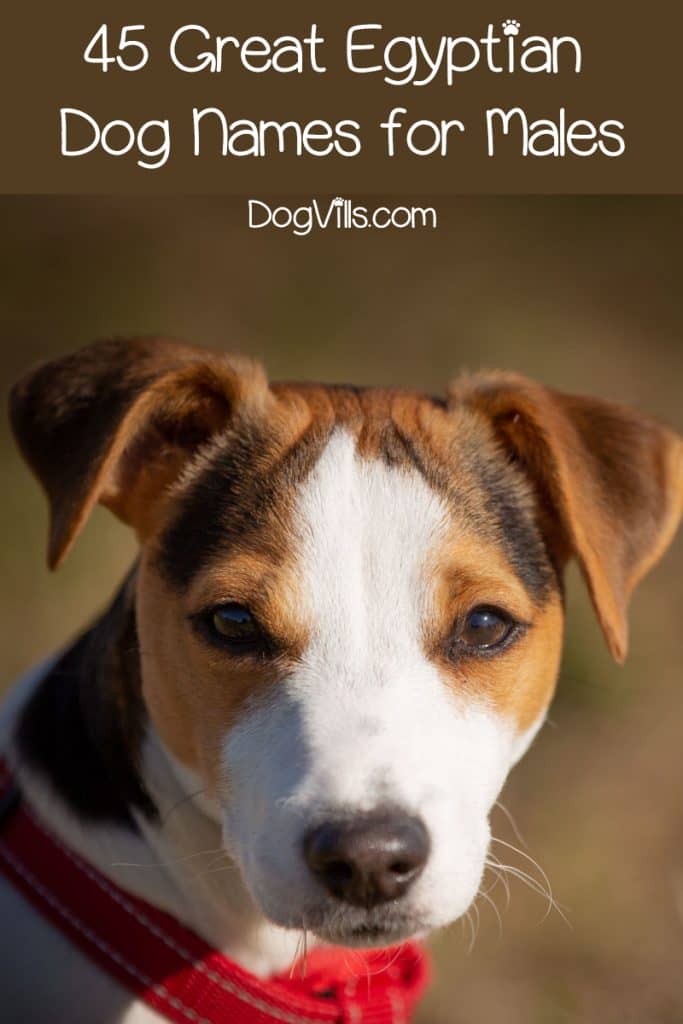 For some reason, we feel Egyptian names taken from Gods or Pharaohs just give your dog a sense of regalness and masculinity.
Find one that matches your dog's aura from the list below!
Pharaoh – The King of Egypt. A pharaoh has power over all the land and it's people. We'll bet money your dog rules your house the same way.
Ra – God of the Sun
Osiris – A wise and good Pharaoh, the son of Geb and Nut.
Set – Often portrayed with a dog face, Set was the King of Evil (name with caution).
Horus – Son of Isis and Osiris, the hero who eventually defeated Set.
Anubis – Also often portrayed with a dog face and often makes an appearance in movies, Anubis is the God of Funerals and Death.
Khufu – A tyrannical ruler, but built the Pyramid of Giza.
Ramses – Possibly the greatest and most powerful Pharaoh ever.
Ka – Spirit or soul
Nile – The great river.
Moses
Oasis
Cairo – Capital of Egypt
Tut – After King Tutankhamen
Imhotep – Peace. Although you might realize it was the name of the antagonist/super-villain of The Mummy movies.
Kahotep – Peaceful
Khalid – Immortal. The name has been modernized by a rapper.
Mihos
Nephi – Good son. Perfect for good little male fur babies.
Seth – God of Chaos
Luxor – A main temple
Skylar – Meaning sky.
Karim – Noble and generous
Omar
Bast
Mosiah
Ozymandias – King of Kings
Zosar
Hasani
Wallis -Newborn
Shu – God of Air
Saa – God of Nature
Omorose – Beautiful child
Omari – High born. Which is true since your dog is the king of the house.
Jabari – You might recognize this word from the movie Black Panther, while it means "brave and fearless" in African, it has Egyptian origins.
Bastet – While it is the name of a cat goddess, it sounds more like a masculine name in the modern world.
Amon – The great God of Thebes.
Net – The Divine Mother. Who said you can't name little boys after female deities?
Adom – Like Adam, but the Egyptian version.
Manu – Born second
Mosi – Born first
Ptolemy
Rashidi – Wise. Great if you have a boy and a girl and name the girl Rashida.
Theoris – Great
Zaid
With names that just exude power like Pharoah, Ra and Anubis, what more could you want?
If it were up to us, we would definitely choose to name our precious one after a king or a god. Ozymandias, Ra, Pharoah and Rameses were among our favorites.
Now let's zip on over to the other side of the coin and take a look at names for little girls.
Female Egyptian Dog Names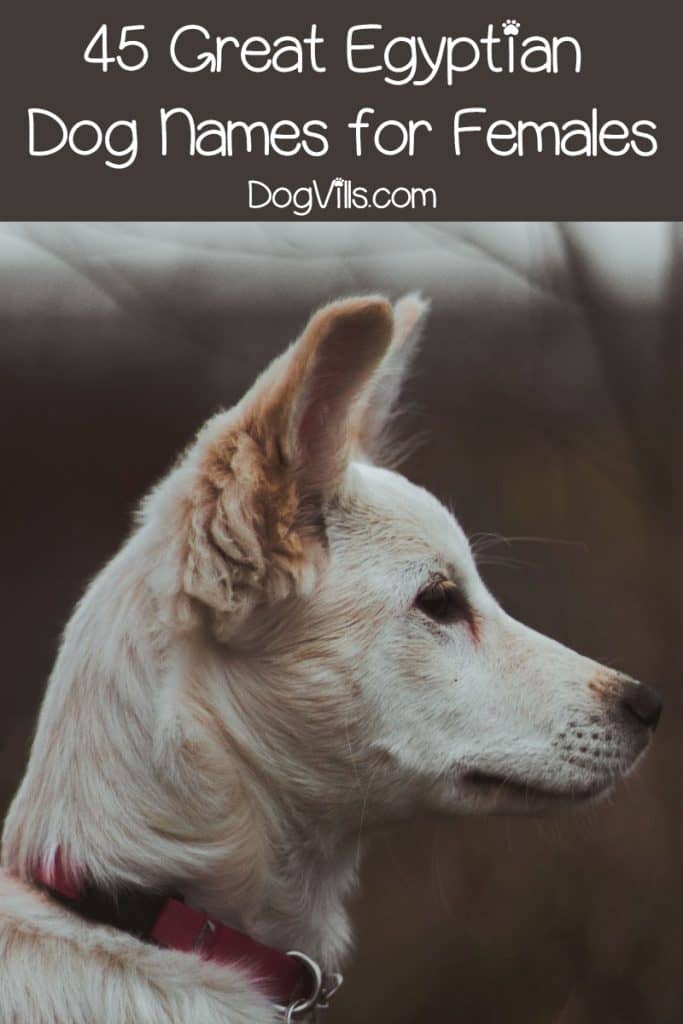 Queens of Egypt such as Nefertiti go down in history as great rulers. Did you know that eyeliner is said to have originated from Egypt?
It was used to protect their eyes from the desert sun, much like our sunglasses today.
These names would match dogs with black rings around their eyes.
Isis – Osiris's wife and Goddess of Magic.
Sphinx
Sahara
Cleopatra
Berenice
Kiya
Nefertari
Nefertiti
Amenti – Goddess of the West
Tia – A princess
Shani – Wonderful woman
Phoenix
Aziza – Precious
Nubia – Golden treasure, which I'm sure your dog is to you.
Ebony – Perfect for the dogs with natural eyeliner.
Lapis – A precious stone
Kamilah – Perfection
Rana – Beautiful woman
Sarah or Sara – It's a common name we use today which actually means "princess."
Chione – Daughter of the Nile
Kissa
Nefertiri – Gorgeous and prettiest one
Safiya – Pure
Tiye – Queen of the Light
Rashida
Rania
Nailah
Nawa – Storm
Tiahna – While it might have been for a man, we feel it sounds beautiful for a female.
Shani – Wonderful
Sanura – While you might not want to name your puppy after its "natural enemy" Sanura means kitten.
Ramla – Prophetess
Neema – Born to wealthy parents (one can hope).
Layla
Hasina
Amunet – Goddess of Mystery and the villain in the newest reboot of The Mummy starring Tom Cruise.
Jamila – Beauty
Serapis
Halima
Kaphiri
Kasiya
Musa
Nabirye
Nashwa – A wonderful feeling, probably the one you get from owning a dog.
Safiya
And there you have it, that completes our list of Egyptian inspired dog names.
There are tons more, but we carefully sifted through and chose ones that are easier to roll off the tongue.
Some of the options we came across were real tongue twisters!
You know our favorite picks for male names, we love Safiya, Nailah and Tia were among our favorites, now it's your turn to tell us which ones you love!
Which of these Egyptian dog names are your favorite? Leave a comment and tell us what you think about our list.