When you're out doing all that holiday shopping, don't forget to pick up a few Christmas gifts for dogs!
I love my three canine kids and want to make sure they feel included in the festivities. From treats to toys to a decadent new bed, you pup will love waking up on Christmas morning to find that Santa left him a little something under the tree too!
Check out our guide to spectacular Christmas gifts for dogs of all sizes!
Christmas Gifts for Dogs of All Sizes
Affiliate links included below. We earn a commission if you make a purchase, at no extra cost to you.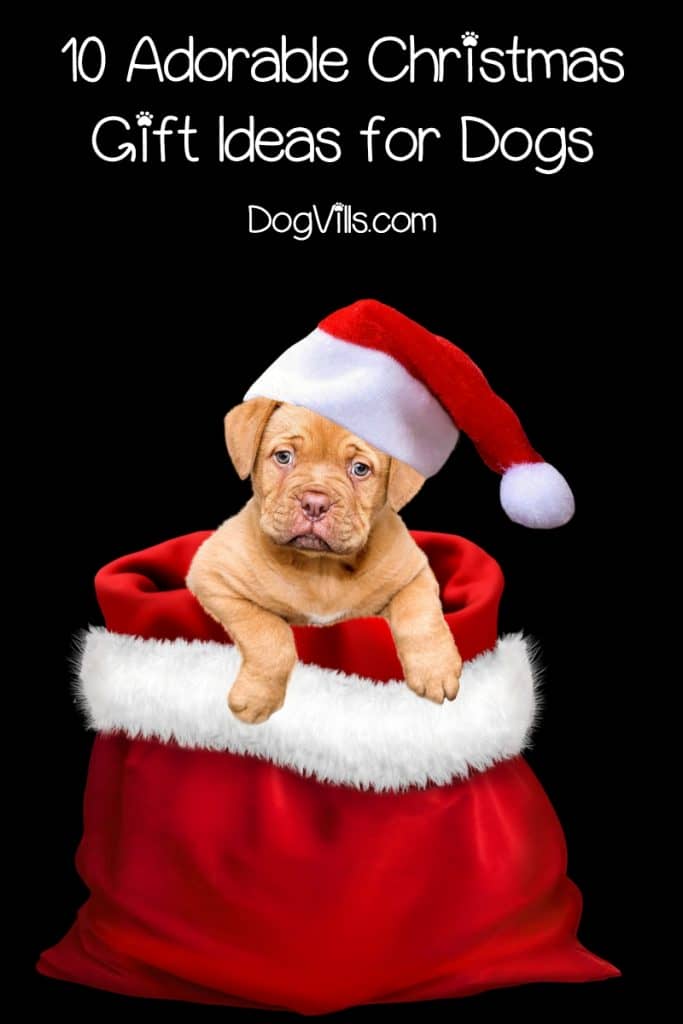 A Little Something Fun to Play With
 1. This Insanely Cute Hedgehog
Oh, the cuteness! This has to be one of my favorite Christmas gifts for dogs. I kind of want it for myself! I'm a bit of a hedgehog kick these days. Just look at his little Santa hat!
While this guy is perfect for large dogs, he also comes in a Jr. version for small breed dogs.
2. An Invincible Santa
These toys are called "Invicibles" because they're super sturdy and hard to destroy.  It has no filling and FIVE squeakers! Five!
My dog Maia would be in her glory. If I could get her a box of just squeakers, she'd be the happiest dog on the planet.
 3. Indoor Fetch Fun

Grriggles Snowball Gang – Santa: This fun plush Santa ball is also pretty inexpensive. Since it's soft, it's great for indoor winter games with your dog.
4.  Santa's Friends
Can't let Santa go it alone! Add in this festive, cute Reindeer made of soft, durable plush materials to complete you dog's stocking! Zanies makes all types of winter characters, including an Elf and a Snowman!
Sale
5. A Stylish Nordic Bone
A little something different for those who don't celebrate the Santa theme, this blue Nordic Bone is a great Hanuka gift for dogs! It's super inexpensive, making it a great stocking stuffer too!
6. Christmas Lights They Can Play With!
Planet Dog Orbee-Tuff Holiday Bulb Dog Toys:
They watch us string the lights on the tree and see our frustrations. They want to help us out by attacking those nasty lights and putting them in their place! With these toys, they can do just that! These non-toxic, eco-friendly, and totally recyclable toys even have a minty scent!
A Tasty Treat to Eat
7. Healthy Treats from BLUE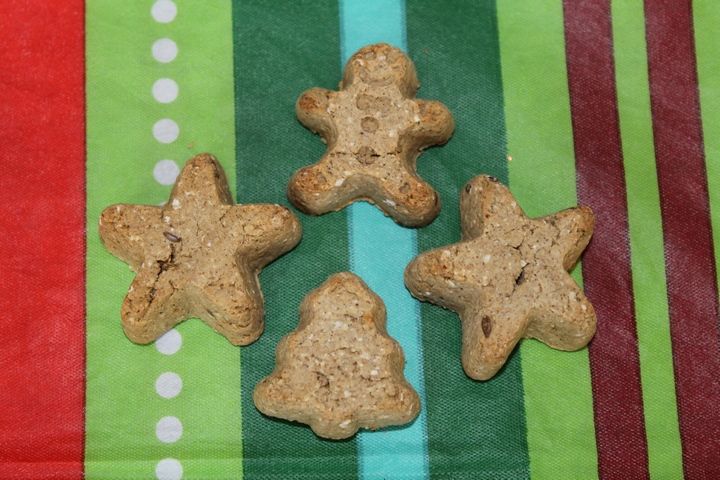 BLUE Santa Snacks: Blue Buffalo's BLUE Santa Snacks come in a festive bag filled with fun shapes, but they're made with all the high-quality ingredients you'd expect from BLUE.
These are seasonal snacks, though, so if they're not available on Amazon right now just wait until closer to the holidays to grab them.
8. Buddy Biscuits for Your Best Buddy
Cloud Star Holiday Buddy Biscuits are shaped like cute little gingerbread men and come in all different flavors. My dogs love peanut butter, but if shop closer to the holidays you can also find yummy gingerbread flavor!
9. Homemade Hypoallergenic Dog Treats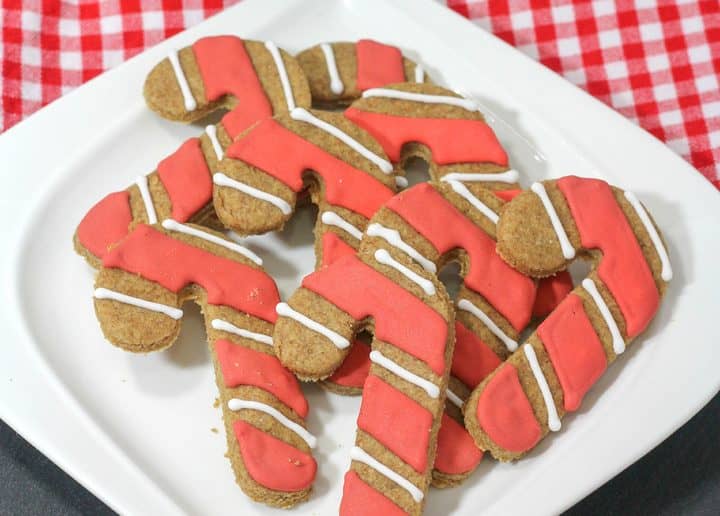 Candy Cane Hypoallergenic  Dog Treats: No rule says you have to buy your Christmas gifts for dogs! Make a batch of these hypoallergenic treats for your sensitive pooch! They're easy to make and super cute!
A Soft New Place to Sleep
 10. Affordable Comfort for Older Dogs
Aspen Pet Foam & Fiber Lounger: Dog beds can get pretty pricey. Trust me, I know! If you don't have a huge budget but still want a comfy spot for your senior dog, the Aspen Pet Foam & Fiber Lounger is a great buy.
It's made with orthopedic foam for superior comfort.
 11. A Nap Pad that Saves the Planet

I love the Eco Nap Pads  because they're made from 100% Post Consumer recycled plastic, yet super soft for your pup. They're machine-washable and come in several stylish colors and sizes.
12.  A Blanket As Soft as a Cloud
When my dogs were younger and could climb on the couch and beds easier, we bought a lot of dog blankets to protect the furniture and give them a softer spot to lay. My pups would have loved these!
They're made of fleece and suede, so they're super sturdy yet machine washable. A large is big enough to protect pretty much your whole bed!
A Little Something Pretty to Wear
13. Santa Claws is Coming to Town!
Otis & Claude Fetching Fashion Holiday Santa Sweater: An adorable, classy and warm little sweater for your sweet little dog! I like this one because it's simple and sweet.
14. For Your Penguin Fan!
Every fashionable dog needs a few extra winter sweaters in his closet, right? This penguin sweater is just so fun!
15.  A Pair of Boots Made for Walking
These are more practical than stylish, although the red is pretty festive! Protect Fido's feet when he's playing outdoors with you with a pair of all-natural dog boots!
There you go, my fellow canine-loving' friends! Our 15 favorite Christmas gifts for dogs to get you started on your holiday shopping! I love buying my dogs presents because they love pretty much anything I give them.
My son is 10 and getting hard to shop for, but my dogs are happy with new toys to destroy and treats to devour, no matter who faces is on them! Still, I like buying festive gifts because it's just so much fun!
Do you buy Christmas gifts for your dogs? Share your favorite ideas in the comments!
Last update on 2023-09-28 / Affiliate links / Images from Amazon Product Advertising API