This post is sponsored by Blue Buffalo™ and the BlogPaws Professional Pet Blogger Network. I am being compensated for helping spread the word about BLUE Santa Snacks, but DogVills only shares information we feel is relevant to our readers. Blue Buffalo is not responsible for the content of this article.
Today we're sharing some great holiday stocking stuffers for dogs from our friends at Blue Buffalo™! The BLUE™ Santa Snacks aren't just adorable in your pup's stocking with their holiday packaging and fun shapes, they're delicious healthy dog treats that you'll feel good about giving!
Our dogs are literally at the center of some of my favorite holiday memories. Whether they're sitting in the middle of the madness, watching Jake open gifts or zonked out on the couch with the family after a long day of playing, for the last 14 years they've been as much a part of the holiday as any of the 2-legged family members. In fact, they even get to give Santa their wish list!
I used to take them all the time to get their picture taken with the jolly old elf. Once they turned ten, it became harder for them to get in and out of the car, so we stopped. I still make sure their wishes are delivered to the North Pole, though! A new squeaking "baby" for Maia, a stuffed ball for Tasha and something fun to tear to pieces for Coop. Plus treats all around!
Healthy Dog Treats for the Holidays from Blue Buffalo
This holiday season, Blue Buffalo has your dog's holiday wish list covered with terrific healthy snacks that they'll devour with joy. BLUE Santa Snacks and BLUE Santa Stew Holiday Feast are festively packaged on the outside and loaded with good stuff on the inside. I headed to my local PetSmart to check out their holiday display and grab my pups an early Christmas gift!
The BLUE holiday display was right near the front of the store in my PetSmart. I love shopping there because they have just about everything I need for all my pets. While I was there, I picked up a few bags of BLUE Santa Snacks (some for now, some for later!), a few cans of BLUE Santa Stew Holiday Feast, and some new toys for my pups.
The goal was to take lovely pictures of my sweet pups all playing with their new holiday toys and eating their BLUE Santa Snacks. I knew they love the taste of oatmeal and cinnamon baked into a crunchy treat. As their pet parent, I love that the BLUE Santa Snacks are made with natural ingredients. This isn't surprising, though, as all Blue Buffalo products are made with high-quality, natural ingredients.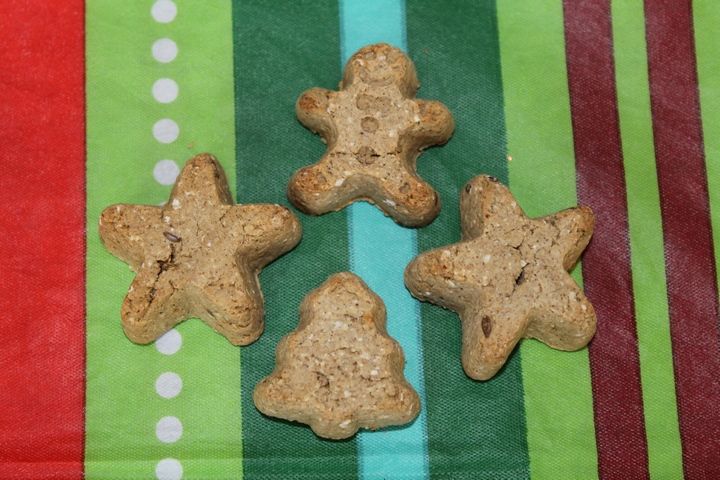 The BLUE Santa Stew Holiday Feast is just what we need to include our dogs in all the holiday feasting. Look at those hearty meat slices and veggies! It's actually made with all the foods you typically find on a holiday table: turkey, sweet potatoes, green beans and cranberries!
So now you're wondering "where are those lovely pictures of your dogs playing with their toys and eating their snacks?" Yeah, I'm not sure what kind of TV commercial I stepped into with that goal! Here's what actually happened: Cooper kept shoving his toy at me to show me how awesome he is at squeaking it,  making it only possible to photograph his rear end.
Maia barked the whole time because she didn't think it was fair that Cooper's toy squeaked, even though hers did too. I put the camera down to show Maia where the squeaker was, someone stole the Santa Snacks (Cooper or Tasha, my money is on Cooper though, he could steal the crown jewels if they smelled like food), and then everyone ran out the door to bark at the neighbor. So basically, a mini version of Christmas morning in our house! While I envy those who can get their dogs to sit pretty for pictures all the time, I wouldn't trade my crazy crew for anything in the world!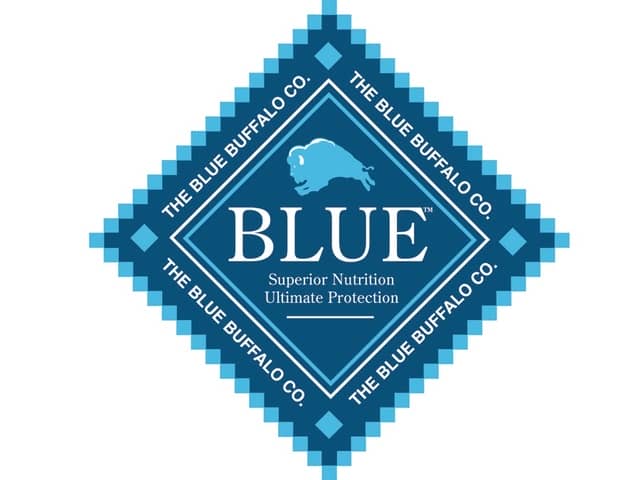 Both of these fun holiday stocking stuffers are part of Blue Buffalo's Seasonal Sensations line and are available for a limited time. Find them at your local PetSmart or on PetSmart.com. You can also use the product locator to on the Blue Buffalo website to find them in other stores. Follow Blue Buffalo on Facebook and Twitter to keep up with news. Check out their Instagram feed for fun photos!
How do you include your dogs in your holiday celebrations? Tell us in the comments!