What puppy food is best for diarrhea?
That question is far more common than you might think, especially considering the fact that puppies have sensitive tummies!
Today, we'll go over some reasons why puppies get loose stools, then we'll talk about how best to deal with it.
We'll also talk about some of the best puppy food for sensitive stomach and diarrhea (as the first often leads to the second).
Let's get started, shall we?
You may also like: High Quality Kibble: Grain Free, Gluten Free or Neither?
What causes puppy diarrhea?
Before we get into the causes, I just want to say one thing: if your puppy has the runs, call your vet first.
I can give you basic information and tips for dealing with a sensitive puppy belly, but only your vet can rule out serious problems and really delve into the issue.
Okay, now we can (and should) talk about what causes diarrhea in puppies, as this will play a huge role in choosing the best puppy food for firm stools.
Related: Best puppy food for firm stools
1. Parasites & other infections
Parasites, bacteria and viruses are a major potential cause of loose stools in puppies. This is why calling your vet should be your first order of business.
Some potential examples include:
All of these can be fatal for a puppy. It's better to assume the worse and be safe than assume it's just stress and be sorry.
In other words, call your vet. Come on, you knew that was coming, right?
2. Eating something they shouldn't have
This is another potential cause that requires immediate veterinary attention.
Puppies are supremely curious creatures who explore the entire world with their mouths, making it all too easy for them to ingest something they shouldn't.
I dealt with this more often than I care to admit with Freya. She ate everything from hair ties to socks.
Then, she'd get the runs until she puked it back up. Fun, right? Fortunately, she's been hair-tie-free for a good six months now, so hopefully we're done with that stage.
Related: large breed puppy food vs regular puppy food
3. Stress and anxiety
If you think about how your own stomach feels when you're stressed or anxious, this potential cause makes a lot of sense.
Remember, unless he was born in your home, he recently left behind everything he knew (including his mom) to come live with you.
Everything is new and scary! It's no wonder his tummy is tied up in knots.
4. Diet
Now we come to one that we can actually control with food. If your pup has loose stools, it's entirely possible that he's sensitive to what you're feeding him.
Food allergies in dogs aren't uncommon, so you'll want to talk to your vet about changing his diet.
Remember, even if your puppy has diarrhea but seems fine, it's best to call your vet to rule out any major issues.
I know I keep repeating that, but a lot of you skim and I want to make sure you really, really, really get it. 🙂
Okay, so now that we know what can cause diarrhea in puppies, let's take a look at how to choose the best food, then we'll look at a few specific brands.
What puppy food is best for diarrhea?
The best puppy food for loose stools is one that has limited ingredients and a single animal protein.
However, it's not as simple as just buying one of the brands below. You need to figure out what in your current food is causing the issue.
After talking to your vet, you'll want to try an elimination diet. Get rid of all the extras except your dog's food.
That means cutting out all of the treats, too. It stinks, I know, but you can find other non-food ways to treat your puppy.
You need to cut it all down to just the food so you know exactly what is causing the problem.
While it's best to work with your vet to choose the right food to start with, if for some reason you need to do it on your own, start with one very simple protein.
Chicken is a good option IF you know your dog isn't allergic to it. Unfortunately, it's the biggest allergen, so you'll need to rule that out first.
Other good single protein sources include lamb, salmon and turkey.
FYI, the rest of this post contains affiliate links. If you make a purchase through these links, we earn a small commission at no extra charge to you.
Top 5 Best Puppy Foods for Loose Stools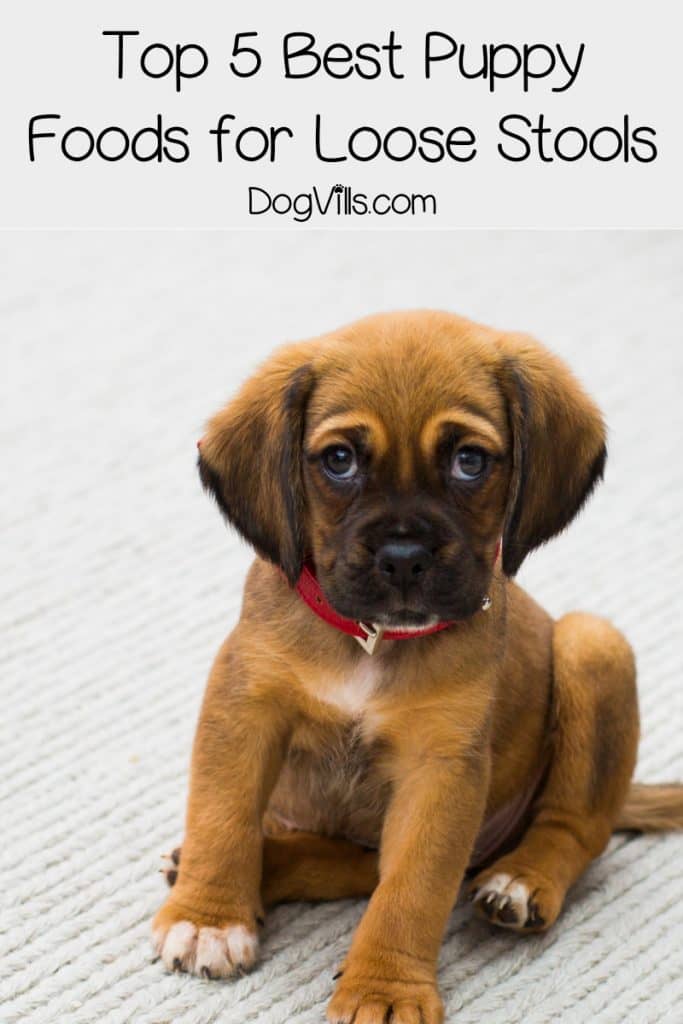 The brands below mostly contain single high-quality proteins and limited ingredients, making them a good place to start.
1. CANIDAE All Life Stages Lamb Dog Food
CANIDAE All Life Stages is great not just because of the high-quality ingredients, but also because both puppies and adult dogs can eat it.
If you have more than one dog in your house, you know how hard it is to keep them from eating each other's food, so it's smart to choose something they can all eat.
While All Life Stages comes in a few different formulas, I recommend trying the Lamb Meal and Rice. Lamb is fairly low on the allergen meter.
Pros
Equally safe for puppies, adult dogs, and seniors
Protein comes from lamb meal (meal isn't the dirty word that you may think it is)
Free of other common allergens like wheat, soy and corn
Added vitamins and minerals
Cons
Fairly pricey at $50+ for 30 pounds (although not as pricey as some other options)
Not a limited ingredient food overall
Not all ingredients are sourced from the US
Recommendation
I've only used CANIDAE a couple of times because, quite honestly, it's out of my budget. However, I know a lot of dog owners who absolutely love it.
It's a good option for puppies with sensitive stomachs and diarrhea IF the issues aren't caused by allergies.
I say that because even though it's free of major allergens, it's still not a limited ingredient diet.
Also, it does have peas in it, which have been under a lot of fire lately after a report came out saying grain-free dog food can cause heart problems.
The study is currently labeled as "inconclusive," so don't let it panic you, but do be aware that it's a potential problem that needs more investigating.

2. Natural Balance L.I.D. Potato & Duck Formula
Duck isn't quite the novel ingredient (meaning not frequently used in dog foods) that it once was, but it's still a good option for dogs who are allergic to chicken.
I've used Natural Balance quite a bit with my dogs over the years, including with puppies prone to diarrhea.
Features & Pros
Just one single protein source
Grain-free with limited overall carbohydrates.
Nothing artificial (no fake colors or flavors)
Smaller kibble for tiny puppy moths
Includes omega- 3 fatty acids from flaxseeds for a healthy coat.
Cons
Pricey (about $60 for a 24-lb bag)
Kibble may be too small for larger breeds
Recommendation
Like I said, I've used NB a lot with my dogs and they all did very well on it.
Right now, it's out of my budget (tough times and all) but I would definitely recommend it if you can afford it.

3. Nulo Freestyle Limited+ Salmon Recipe Grain-Free Puppy & Adult Dry Dog Food
Nulo is a highly rated brand that I've never had a chance to try yet but that comes recommended by a lot of dog-loving friends and associates.
Yes, it's even more expensive than the first two (although still not the priciest on this list), but it's worth it.
Not only is it a limited ingredient food, but those few ingredients it does have are super super high quality.
Features & Pros
Single animal protein formula with salmon as the first ingredient.
GanedenBC30, specially-formulated probiotics help promote gut health (which is a must for sensitive bellies).
Lower in carbs than other foods.
No potatoes or tapioca, so it's good for dogs with allergies.
Entirely made in the USA.
NO Chicken
Cons
That price tag.
Probiotics can cause diarrhea (see below for why it's still on this list)
Recommendation
If probiotics can cause the runs, then why am I putting it on a list of the best food for a dog with diarrhea?
Basically, probiotics only aggravate SOME tummies, and only until you're used to them (this goes for people as well as dogs).
Once you do get used to them, though, they actually help prevent digestive issues, including diarrhea.
They also help restore your pup's gut health after a bout of the runs.
It's worth noting that this is one of the few foods on Chewy without a single 1-star review.
Also, I did notice in the reviews that someone was upset because the label says "no potatoes" and the ingredients include sweet potatoes.
FYI, sweet potatoes are not actually potatoes, so the brand isn't fibbing.

4. Tylee's Human-Grade Pork Recipe Frozen Dog Food
Now for something a little different (right before I smack you with the priciest food on this list), we have an option for those who want to avoid kibble.
Tylee's is a Chewy brand (which I just learned) of human-grade frozen food that requires no cooking and can be used alone or as a topper.
They have a couple of options, but I'm going with pork here because it's a slightly more novel ingredient than chicken, turkey or beef.
My dog absolutely insanely loves Tylee's. I buy it for her when it's on sale and use it as a treat.
Features & Pros
Made with real human-grade ingredients that you can actually identify.
Nothing sourced from China.
No cooking needed (although you do need to thaw it)
Minimally processed so ingredients keep their flavor and nutrients.
No fillers like corn, soy, wheat or by-product meals.
Chia seeds, ground flaxseed and sunflower oil help keep your pup's fur looking great.
Cons
Ships separately and takes a bit longer than the rest of your Chewy order. Still ships free with orders over $49, though.
Requires forethought, since you have to thaw it out. You can't just slap it in their bowl and serve it.
Not limited ingredient dog food.
Not specifically for puppies (you'll have to give them a bit more to meet their requirements).
Recommendation
Since Tylee's isn't a limited ingredient food and does contain beef (even the pork version), you'll want to make sure your dog doesn't have allergies first.
I like it because it's not over-processed, so it's not as likely to aggravate bellies.
Plus, you can actually see all of the ingredients in the bowl, rather than as just a mashup of brown kibble.
Like I said, my dog loves it and it's never bothered her stomach.

5. Zignature Trout & Salmon Meal Limited Ingredient Formula Grain-Free Dry Dog Food
My top pick for the best dog food for diarrhea prone is also the most expensive, although only by a few bucks.
First, I promise, I don't just love it because of that super pretty bag (although I am a visual person with an appreciation for good packaging, so I have to point it out).
Like the first food on our list, this is an all-stages formula (almost all of Zignature's foods are).
Features & Pros
Grain-free, limited ingredient formula made with one protein source.
Trout and Salmon come from the USA.
Trout is loaded with essential heart-friendly Omega-3 Fatty Acids, Vitamin B12, Niacin, B6, Phosphorus and Selenium.
Free of the most common potential canine allergens, including corn, soy, dairy, chicken and wheat.
Potato-free and low glycemic
Interchangeable with other Zignature formulas for dogs on a rotation diet.
Cons
Once again, the price.
It was named in the FDA report against grain-free dog foods (see below).
Recommendation
I feel so bad for Zignature because they were called out in that super confusing FDA report.
Again, that report is NOT CONCLUSIVE. I feel it's only fair to link to their rebuttal as well as this in-depth explanation of the report.
It really is a terrific brand for dogs with sensitive stomachs (or just dogs in general, really).

Final Recommendation
So, what puppy food is best for diarrhea? I can't tell you straight out which of those brands to buy.
I can't even tell you if you should try other brands instead. I can tell you what I've said a dozen times before. Talk. To. Your. Vet.
IF, and only if he rules out other issues like parasites, specific allergies, or poisoning, THEN you'll want to give these sensitive tummy foods a try.
What are your thoughts? What puppy food is best for diarrhea in your opinion? Share below!