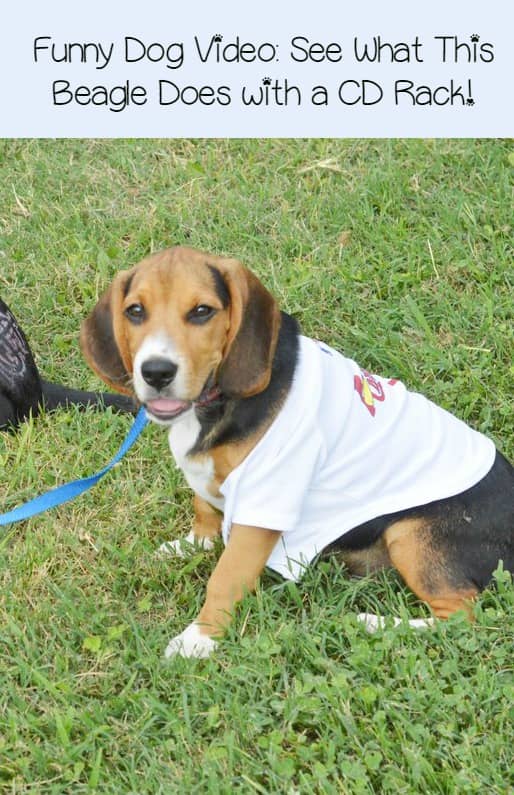 When it comes to dogs being silly,  we just can't get enough! Last week, we showed off a beagle who really loved his tug toy. This week, the same beagles are back and starring in a funny dog video that shows off how much they love their CD rack. Hey, we live in an age of digital music, those racks need to have some purpose now, right? I guess you could say they've gone to the dogs! Beagles are one of my favorite dog breeds, so I love watching these little guys in action!
Funny Dog Video: Two Dogs Just Lovin' Their CD Rack
At only 0:57 seconds in length, this video shows a lot in a short amount of time. Two dogs are playing with the same "toy", but at some points in the video, it looks like one of the dogs is a little stuck in the toy and the other dog is trying to either get him free or trying to take the toy away for himself.
Importance of Dog Socialization
Just as toddlers need play dates to get used to the art of socializing, so do dogs. Dogs that only interact with his human family will end up being vocal and high strung when they encounter other dogs or even other people.
Check Out Some Other Cool Videos of Dogs at Playtime
2 Dogs Playing– This video is 3:42 in length and has been viewed 1, 597 times to date. It shows a white dog and a gray dog. The white one definitely seems to be the dominant one in the beginning of the video but towards the end, the white dog is trying to catch the gray one.
Two Dogs Play Fighting/Loving Each Other– This video is 1:37 in length and has been viewed 7,823 times to date. While it may appear these two are fighting, they are actually just playing around with each other. You can even see them cuddling together a few times in the video.
Two Golden Doodle Dogs Playing– This video is 0:53 in length and has been viewed 9,587 times to date. It shows two Golden Doodle dogs rolling around outside on the grass play fighting. They look like they are having so much fun.
Two Dogs Playing– This video is 3:39 in length and has been viewed 1,452 times to date. It shows Carla, a tan dog and Lucy, a border collie rolling around on the living room floor, having a great time playing with each other.
Do you have a favorite funny dog video? Tell us about it in the comments! We'd love to check it out!