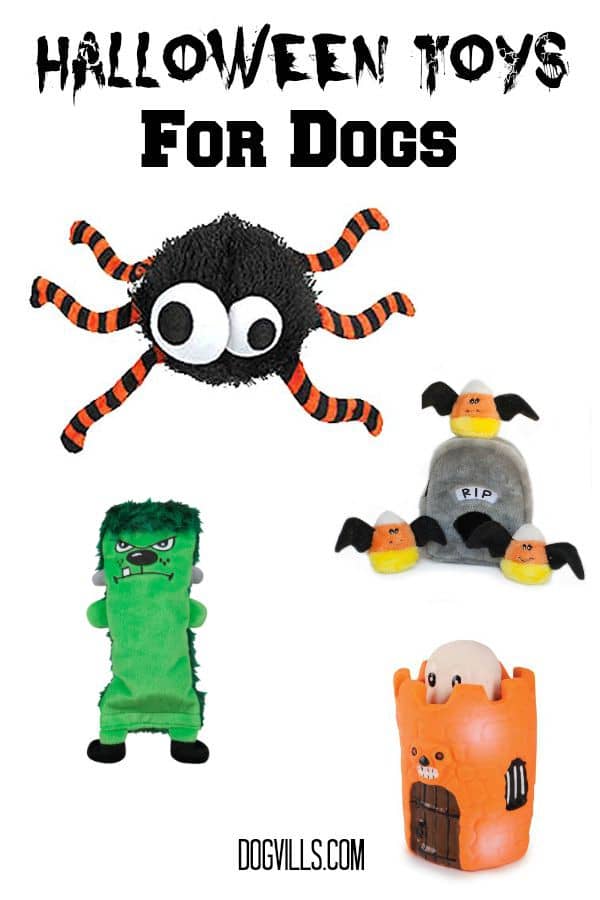 Here are some super Fun Halloween Toys For Dogs to consider grabbing and putting in their trick or treat bucket this year. Halloween treats for your dogs are the next best thing to the candy you'll be enjoying on your own. Since so many candies and traditional treats can be dangerous to your pets health, these treats are your best options for the holiday.
Fun Halloween Toys For Dogs
Griggles Spooky Time Spider Toy: Spiders are often chased by dogs, but now you can give them a giant spider that your dogs can play with with no fear. This one is super fun with the big goofy eyes!
Kyjen Hide A Toy Pumpkin Treat Dog Toy: Dogs love digging for treasure. This hide a toy pumpkin is perfect for hiding a bone or treat inside along with the other smaller toys for your dog to dig for.
ZippyPaws Halloween Spooky Gravestone Hide A Treat For Dogs: Another fun hide a treat or toy plush that you can enjoy watching your dogs dig around inside to find something fun.
Jax And Bones Halloween Rope Dog Toy: Play tug of war with this super fun and durable dog toy that is a perfect Halloween toy for dogs.
Zanies Halloween Tussle Tug Toy: If you dog likes to play tug of war, this is a great choice for you to play with them.
Frankenstein Squeaky Dog Chew Toy: This super fun squeaky toy is perfect for tossing and playing fetch with your dog.
Kyjen Halloween Candy Corn Plush Toy: Another fun plush toy for your dog to play with. Great for playing fetch, or to add to a puppy bed for them to snuggle with.
Loofa Devil Dog Toy: This Halloween themed dog toy is a great one for you to play tug of war, toss to play fetch and more with!
Zanies Latex Peek A Boos Dog Toy: This squeaky dog toy is perfect for giving to your dog to entertain themselves for hours.
Zanies Squeaktacular Halloween Dog Toy: This simple Halloween toy for dogs is super fun and a great addition to your dogs treat bucket. They can chew, chase and play with this for hours.
These fun Halloween dog toys are perfect for having fun with your dog while your kids go trick or treating. Give these fun toys to your dogs to keep them happy and having fun while you are out getting candy and treats for your family!
Aren't these Halloween dog toys adorable? Which would you give your pooch as a fun treat?