Today we're telling you about Petcube, an interactive camera that shows you what your dogs do when you're away!
Have you ever wondered what your pets do when you are at work?
I know I have!
Do they act like the toys in Toy Story and start talking?  (I'm guessing no, but how cool would that be!)
Remember when home security systems first allowed you to see what was going on inside and outside your home from your smartphone?
Thanks to advances in technology you are now able to watch your pets while away from home!
Petcube Camera Shows You What Your Dogs are Up To
This post contains affiliate links. We earn a commission if you make a purchase.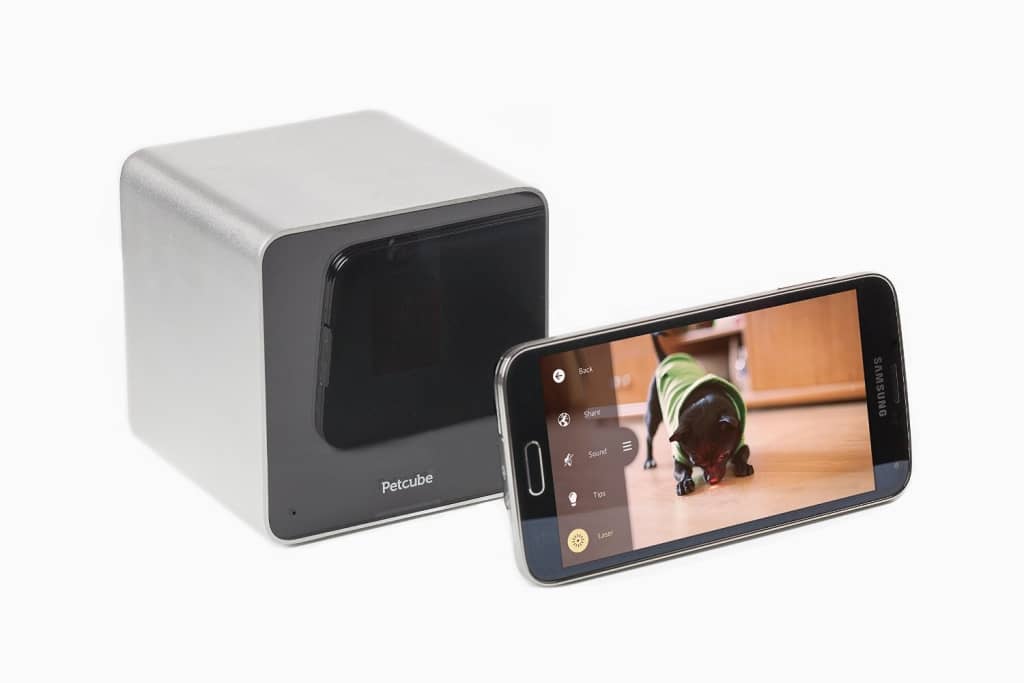 Petcube is a remote wireless pet camera for your home that allows you to watch what your pets do while you are away.  Oh, but it is so much more than just a camera.  You can actually play with your pets and talk to them all while being away from home.  I can hear you saying "what?!"  Yes you can!

Petcube is iOS and Android compatible so you can operate it from any smartphone.  Petcube's features include a two-way speaker and microphone so not only are you able to talk to your pets, but you can hear them too!  A 138* wide-angle camera allows you to view a good portion of whatever room you place it in.  The Petcube camera is light weight and small, weighing in at just over a pound and measuring 4x4x4 inches.  Connecting to your home wifi makes it easy to operate.

Your smartphone allows you to play with your pet via the built in laser pointer from the Petcube.  Just swipe your finger around your smartphone screen to move the laser pointer around the room and watch your cat or dog chase it!  Check in on your pets while on your lunch break and find that Scruffy has found one of your shoes to chew on?  You can talk to him through the Petcube camera!  He might look for you when he hears your voice.  He might also cock his head to one side and looked confused once he realizes you are in a box on the shelf (at least that is what he is going think).

Not only are you able to play with your pets, but your friends and family members can download the app and play with them as well  Your younger niece or nephew could have a great time with this!  It also allows you to take photos with your pets via the app and save them and share them with others.

Does the Petcube camera sound like something you could use and have fun with?  Check out this video to see for yourself all the cool features of this new camera!
Would you use the Petcube camera to spy on your dog? Tell us what you think below!