If you're considering adopting a Shar Pei Golden Retriever mix, aka a Golden-Pie, you'll want to check out our guide first.
First, we'll go over the traits of each half of the mix individually.
Then, we'll put them together and see what we get!
From health issues to personality to training tips, we've got lots to discuss, so let's get going!
Content & Quick Navigation
What is a Shar Pei Golden Retriever Mix Breed Dog
First of all, the Golden Pie isn't exactly a breed, since it's a mix. The AKC only recognizes pure breeds, not designer combinations.
That said, the Shar Pei Golden Retriever mix is exactly what it sounds like: a dog that has a Shar Pei as one parent and a Golden as the other.
Fans of the combo lovingly refer to them as Golden-Pies and I personally can't think of a cuter name (even if it's grammatically incorrect since they're "peis" and not "pies").
Before we can talk about the two together in one dog, we have to understand the individual breeds. So, let's star with the Shar Pei.
About the Shar Pei
If you've read our other posts on Shar Pei mixes, like this one about Shar Pei Labs, then a lot of this information isn't going to be new to you. I won't be upset if you skip ahead.
For those who are just beginning to consider Shar Pei designer breeds, you'll want to keep reading.
The Chinese Shar Pei is part of the AKC's "Non-Sporting Group," meaning he wasn't bred for things like hunting or working.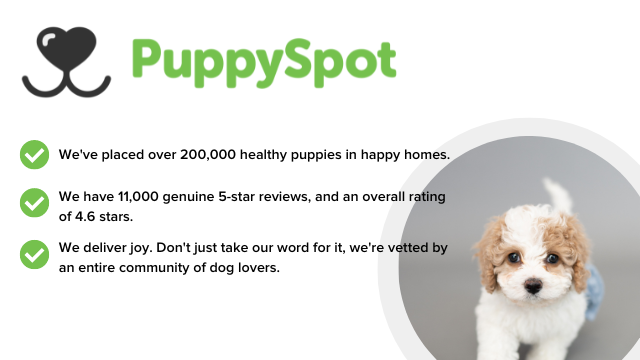 In fact, he was created to be a loyal companion to royalty, something that he still remembers today.
Shar Peis are incredibly loyal to their families. However, they're a bit aloof with strangers.
Let's check out some Shar Pei fast facts:
A medium breed, he weighs between 45-60 pounds and stands about 18-20 inches high. Males are, as always, larger than females.
He's the #64th most popular dog (out of 191) putting him right near the end of the middle half of the list.
Like the Chow, he has a blue-black tongue. He also has a short snout and deep-seated eyes.
Although he's usually calm, this breed also won't back down from a threat.
Thanks to that short sand-like coat, he doesn't require too much grooming.
Shar Pei Trainability
Although Shar Peis are super smart, they're also a bit on the stubborn side. That's always a recipe for potential disaster! Trust me, I have a smart and stubborn dog, I know.
However, with patience and praise (reward training works best), there's no reason why you can't have a well-trained Shar Pei.
Since they have such domineering personalities, early socialization is an absolute must. Otherwise, they'll try to run the show everywhere they go.
Health Conditions
Here's where things get a little sad. Shar Pei dogs are prone to some major health issues, and their life expectancy is on the short side (only 8-12 years).
Because of their short and squat hippo-like noses, they're prone to respiratory issues that can become fatal if not properly treated.
They're also predisposed towards eye problem, including entropion, retinal dysplasia, and glaucoma.
About the Golden Retriever
America's #3 most popular dog (after the Lab and the German Shepherd) needs very little introduction, but I'll give him one anyway!
A Sporting Group dog, the Golden is known for his loyalty, intelligence, and people-pleasing personality.
Let's take a look at a few fast facts about the breed:
Standing at 21.5-24 inches and weighing in at 55-75 pounds the Golden is technically a medium breed dog. Surprised?
The golden coat that gives him his name is dense and thick, so he requires significant grooming.
He has friendly eyes, a broad head, short floppy ears, and straight muzzle.
While he's serious when he's working, the Golden loves to relax with his family.
These dogs get along with just about anyone, including kids and other pets.
Trainability
Goldens are among the easiest dogs to train, as they're major people pleasers.
As with all dogs, reward training works best, so stick with positive methods only.
There's a reason this breed makes such a great service dog. He was bred to work and isn't happy unless he's doing so. His training should reflect that!
For example, once he's mastered the basics, you can try agility training or even therapy dog training.
Health & Life Expectancy
Goldens live between 10-12 years, which is about average for a dog of their size. However, my ex-husband's Golden lived until just short of his 17th birthday!
As far as health goes, they're fairly healthy dogs all around.
However, they are frequently affected by the joint conditions that affect most larger breeds, including elbow and hip dysplasia.
Goldens are also prone to heart problems and eye issues (such as cataracts), and those floppy ears are prone to infections.
Now that we've seen both of the parent breeds on their own, let's put them together!
Shar Pei Golden Retriever Mix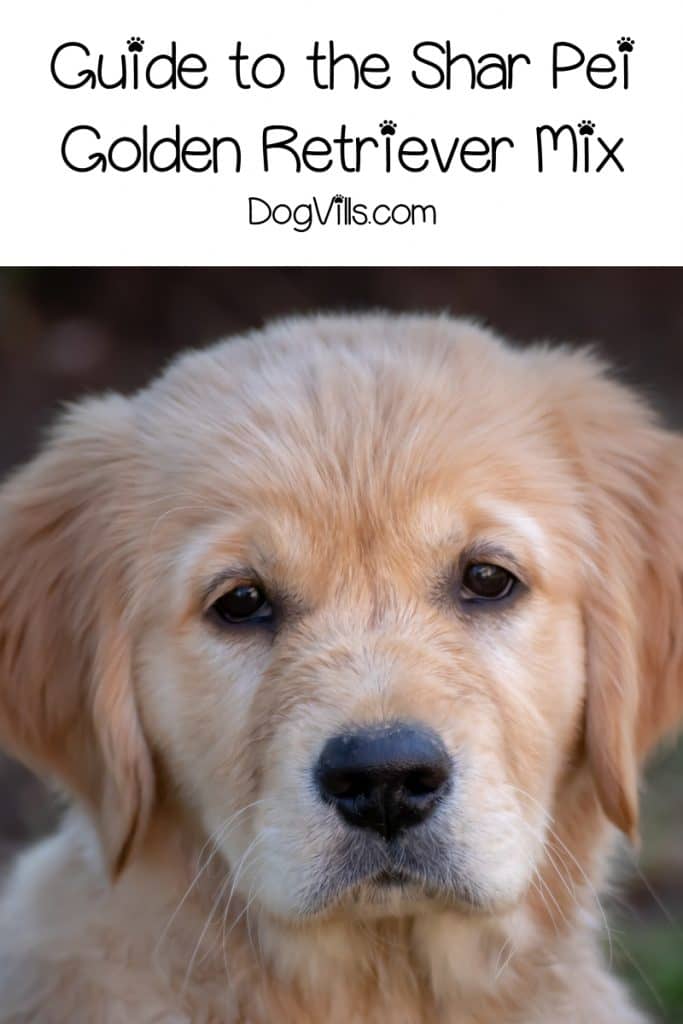 Want to know what to expect from a Shar Pei Golden Retriever mix?
Put all of the Shar Pei's traits on one 20-sided die. Now put the Golden's on another. Give them a good shake and roll them out. There you go!
Seriously, as I've said before, when you mix two breeds together you never have a guaranteed outcome.
Still, we'll give it a go and take a look at a few distinct possibilities for appearance, trainability, and health.
APPEARANCE
Let's take a look at the major physical attributes that you can expect from your Golden Pie first, then we'll get into training and health.
Height & Weight
Since both breeds are one the upper end of the medium dog spectrum, it's highly unlikely that you'll magically end up with a large-breed dog.
Looking at the average weights, we can assume that your Golden Pie will land between about 40-70 pounds, likely closer to around 50.
It's also reasonable to expect him to stand just short of two feet (let's say about 20-23″).
So, basically, you won't get a giant breed but you also won't get a lap dog!
Coloring
As far as your Golden Pie's coat goes, it really depends on the Shar Pei parent's coloring.
Shar Peis can be black, white, brown, beige, and pretty much every shade in between. Goldens are, obviously, gold.
So if you have a beige Shar Pei, expect to end up with a sand-colored pup. Beyond that, it's anyone's guess. Possibilities include red, brown, yellow, and even chocolate.
Coat & Grooming
On the one hand, we have a short sand-like coat that requires very little grooming.
On the other, we have the Golden with his thick, dense, water-repellent coat.
Put them together and you end up with either or both. In other words, he could have longer hair, short hair, or something in the middle.
It's logical to expect that you'll have to groom him more frequently than his Shar Pei mom, but he won't need the twice-weekly brushing that his Golden dad requires.
TEMPERAMENT & TRAINING
Both breeds are super smart, which definitely helps make them easier to train.
However, as we saw above, Goldens are people pleasers while Shar Pei dogs are a bit more stubborn.
Likewise, Goldies are working dogs while Shar Peis were bred to chill with the royals.
So, when it comes to temperament and training, it truly is a major dice roll. That said, both breeds are incredibly loyal to their families, so that shouldn't change.
HEALTH CONCERNS & LIFE EXPECTANCY
Here we have one breed that's prone to rather unique issues (the Shar Pei) and one that's generally pretty healthy until the later years (the Golden).
What do we get when we combine the two? Fortunately, mixed breeds tend to have fewer of their parents' health issues, but you're not totally out of the woods with a Golden Pie.
The most likely candidates for health issues include the joint and eye problems.
Depending on whether your pup inherits the Shar Pei's short ears or the Golden's longer ones, you may also need to worry about ear infections.
As far as life expectancy goes, if we average out both breeds, we end up with a span of 9-12 years.
SHAR PEI GOLDEN RETRIEVER MIX PUPPY FOR SALE
As always, I encourage you to adopt before you shop. Sadly, mixed breeds aren't all that difficult to find in shelters, even when they're designer combos.
If you can't find one in a shelter and you aren't willing to consider other mixes (a Shar Pei Golden Retriever Pit mix, for example), then you'll want to look for a reputable breeder.
In other words, take great care to avoid puppy mills. Ask to see the parents, the accommodations for the pups, and references.
If a breeder can't give you access to all three, then move on.
DO YOU HAVE A SHAR PEI GOLDEN RETRIEVER MIX? SHARE YOUR THOUGHTS & EXPERIENCES BELOW.