Teaching your dog to lay down is one of the most important training tasks for both you and your pup.
See, it's an effective way of diffusing any situation.
For example, if your dog's playing a little too rough, just give them the "go lay down" command and it will stop interaction immediately.
Honestly, learning this command will make your life so much easier as a dog owner.
Below, we'll give you a step-by-step guide on how to teach your dog this command.

How to Train Your Dog to Lay Down
This post contains affiliate links. If you make a purchase through these links, we earn a small commission at no extra charge to you.
Step 1: Find the Right Treat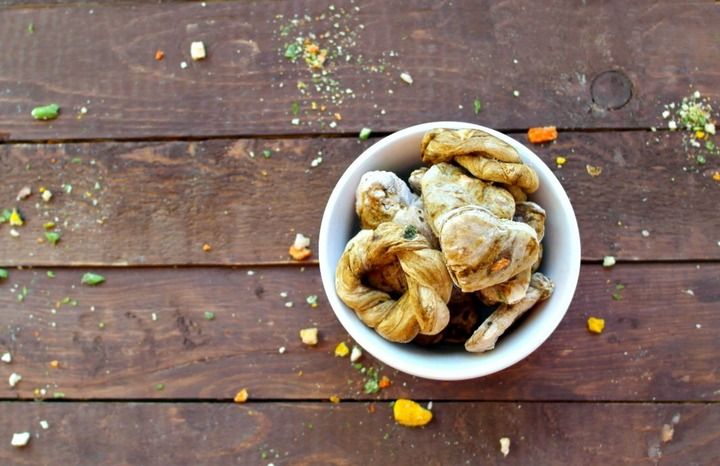 The first thing you need to do is find a treat your dog enjoys. You're not going to accomplish anything with a low-quality treat. It also needs to be something your dog doesn't get every day, so make sure it's extra special and tasty!
Luckily, this step isn't difficult, since dogs are perfectly willing to help you do a few taste tests!
Buy (or make) a few different treats and see which one your dog responds to best.
When you find the right one, hold it out in front of your dog, so they can smell it, but not eat it.
Letting them eat the treat defeats the entire purpose of this exercise. They need to accomplish something first before eating their tasty reward.
Related: Best Training Treats for Dogs and How To Choose Them!
Step 2: Have Them Sit
If your dog already knows how to sit, training your dog to lay down will be much easier.
However, this guide will work even if your dog doesn't know the sit command.
When they're sitting down, bring the treat closer to their nose. Moving the treat close to your dog will convey what they're doing is a good behavior. But, most likely, this will cause your dog to jump up in excitement.
When this happens, move the treat away from them and get them back to sitting. Depending on the dog, this part could be a little time-consuming, but it's essential in training them.
Once they don't jump at the treat, it's time to kneel down and get close to their level. This step is all about teaching your dog patience and getting them comfortable with the idea of treat-reward training techniques.
Need help teaching "sit" to your dog? Check out 10 Essential Puppy Training Tips You Need to Know!
Step 3: Down
This step is the most important in this guide. It's the step where you introduce the command, "Down."
As you hold the treat in your hand, say, "Down" and point to the floor with the treat.
Try this a couple of times to make sure they know you're trying to make them do.
Now, make sure you say the command every time, or it won't get stuck in your dog's head. And don't worry about failing right now; this step is about getting them used to the command.
Related: 10 Most Common Voice Commands Used in Dog Training
Step 4: Trick them into Lying Down
After, you have failed to do step 3 on the first couple tries (and you will fail, it's part of the training process), it's time to trick your dog into lying down.
To do this, put the treat between their front legs. Your dog will proceed to sniff the treat, and their nose will touch the floor.
Then, move the treat along the floor towards yourself. This useful trick will lead to your dog sprawling out on the floor without them even knowing.
However, when you're trying to trick them into lying down, your dog might jump up. If this happens, move the treat away quickly. It will discourage this habit from continuing. Then, get them back in the sitting position and start the trick over again.
Related: 9 Easy Steps To Teach Your Dog To Roll Over
Step 5: Stop them from Getting Up
Your dog's going to try and walk toward the treat. It's natural to them.
To discourage this behavior, put your hand on their shoulder. This technique will deter them from getting up and make this process a lot less annoying.
Then, continue moving the treat along the floor towards yourself. Your dog will continue to follow it without getting up and walking toward you.
Now, some dogs are going to keep getting up. In this situation, there's a simple trick you can try to stop this behavior.
First, you sit down in front of them on either side.
Put your legs on the floor.
Then, slowly move the treat down to the floor and proceed to move it under your legs.
In response, your dog will have no choice but to crouch down under your legs. Again, you're tricking them into doing the very thing you want them to do. And once, they're entirely on the floor, give them the treat.
Step 6: Return to Step 3 
Now, that your dog understands what exactly you're trying to accomplish, return to step 3.
Get your dog in a sitting position and hold the treat in front of their nose.
Then, say the command and see what happens.
If this doesn't work, go onto step 4 &5, until they get it.
When they do get it, say, "Yes" in a happy, excitable tone to enforce the idea this is a positive behavior. After several successful sessions, it's time to make it more challenging.
Step 7: Make it More Challenging 
You want to make sure the command sunk in, so, every time your dog successful lies down wait an extra second before giving them the treat. By doing so, you're confirming your dog will wait for their reward.
You're testing their patience.
After you've added a few seconds, try adding some distance from you and your pup.
Back away a few steps back from your dog and say the command and see the reaction.
Each time you get a successful reaction take another step back.
If you're satisfied with the distance, then add in some distractions. For example, bounce a ball or face a different direction. It will test how focused they're in learning the command.
All of this proves the actual depth of how well your dog knows the command. And if your dog does fail here, return to the circumstances of the latest successful experience.
Bonus Step: Try the Command from a Standing up Position
Now, if you want to make this command more complicated, try it from your dog's standing position. As you would for the sitting position, hold the treat above them and say, "Down." They should go right to the floor.
If you're having trouble with this, here is a great YouTube video explaining how to train your dog lay down from a standing position effectively.
With these seven steps, you should have no problem training your dog to lay down. And if you want to get crazy, the bonus step will make sure you have completely mastered this command!
Do you have any other tips for how to train your dog to lay down? Share below!