Teaching roll over has gotten a reputation as one of the hardest tricks to teach a dog.
I can see why.
If you don't do it properly, it rarely if ever works, and so owners all over decide that it's the "impossible trick."
It really isn't, though!
Let's see how to do it!
RELATED: How to Teach Your Dog to Crawl in 5 Easy Steps

Content & Quick Navigation
Teaching Roll Over to Your Dog the Easy Way
Affiliate links included below. If you make a purchase through these links, we earn a small commission at no extra charge to you.
Teaching roll over to your dog is actually not as hard as most people think it is.
Rolling over is the one trick that everyone loves to have their dogs do above all others. There's nothing more adorable than a dog flopping down and rolling. It pegs the cute meter.
Although rolling over isn't a hard trick to teach, it does require a foundation of basic commands. This isn't a trick you start off with, which is probably why so many people have trouble teaching it to their dogs.
Teaching a dog to roll over requires a good bond built by good training.
The dog needs a good foundation of commands like sit, stay, and down to help him learn the new trick.
This basic command mastery also means that he's had time training with you to build that bond of wanting to be successful to please you and knowing that his success will be rewarded.
If you have the basic commands nailed down, teaching roll over should be easy as pie, er, treats, as it were.
RELATED: How to Teach Your Dog to Give You Kisses
Here's the breakdown.
9 Steps to teach your dog to roll over
Give your dog the down command so that he is laying down in front of you.
Kneel down and hold his favorite treat to the side of his head just near his nose.
Coax him into laying on his side by moving the treat from his nose toward his shoulder.
Repeat the process several times, praising him and giving him a treat when he lies flat on his side, head on the floor.
Begin again from the down position, getting him onto his side and then continue moving your hand from his should to his back. This gets him onto his back.
Continue moving the treat so that he rolls over onto his other side.
Repeat the entire roll over maneuver until he reliably follows your hand and add in the roll over command.
Continue this process over multiple sessions, gradually reducing your hand movement and treat lure until your pooch can perform the trick with just the comment.
Don't forget that treat when he does a good job!
Need a visual aid? Check out this video:
If you want to add some more fun to the trick, this video below shows you how to continue the training session and teach "play dead" at the same time!
That's it. As long as you have that sound foundation, teaching roll over is simply a matter or repeating the process over and over until your pooch gets the hang of it.
But what if you're having a hard time getting started with that foundation?
Some dogs are a little trickier to train than others.
Let's do some troubleshooting in case your pooch just doesn't seem to grasp roll over.
Once you've mastered this trick, learn how to teach your dog to crawl!
Why your dog isn't learning to roll over
1. You're going too fast or skipping steps
You can't teach roll over if your dog doesn't understand the concept of "lay down." It's kind of like trying to teach someone advanced trigonometry before they know how to add and subtract!
Start slow and make sure your pup really understands the very basics of training. When you work on roll over, master each step before moving on to the next.
2. You're trying to train when your dog just isn't into it
Think about this: there are times when you're just not in the mood to put on a good show, right? If your typically cooperative dog seems to be ignoring your commands, ask yourself if something else is going on.
Maybe you're working on training too close to dinnertime? Being both hungry or full isn't really conducive to training.
Perhaps it's close to your dog's nap time? Or maybe it's just too hot outside to do much more than lay around?
Try again later on before worrying that your dog just isn't catching on.
3. The rewards aren't enticing enough
Some dogs only respond to reward training, and those rewards must be enticing! If you're trying to train your dog using their "everyday" biscuits or something that they get regularly anyway, they may not respond.
Try keeping a few different types of treats on hand that you only use for training sessions. You can make our delicious beef stew training treats!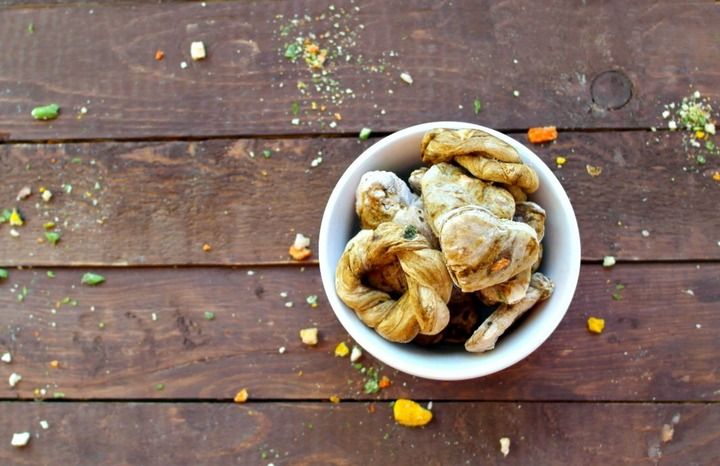 In a pinch, use cheese or small pieces of baked or boiled chicken. Key word: small. You don't want to overdo it!
4. You're freaking your dog out!
Dogs have a sixth sense about people. Sometimes, dogs don't respond to training because they sense anger, frustration, or just a weird vibe coming from you.
When you're working on any trick, you want to make sure you're calm and patient. Don't yell, don't get annoyed if Fido takes a bit longer to catch on, and never, ever, ever use physical punishment.
Teaching your dog tricks should be fun for both of you!
Follow these tips and give it a try, and your dog should be wowing people with his rolls in no time!
Did you teach your dog to roll over? Share your best tips below!