How can I tell if my dog is in pain? That's a question that all of us pet parents worry about, especially as our pups get older.
Today, our special guest, Brenda from Cuddle Your Dogs, is going to share a few tips to help you determine if your dog is dealing with pain.
Read on for her advice. Remember, though, if you think your dog is hurting, always call your vet!
Related: How can I comfort my dog in pain? At home
How Can I Tell if my Dog is in Pain?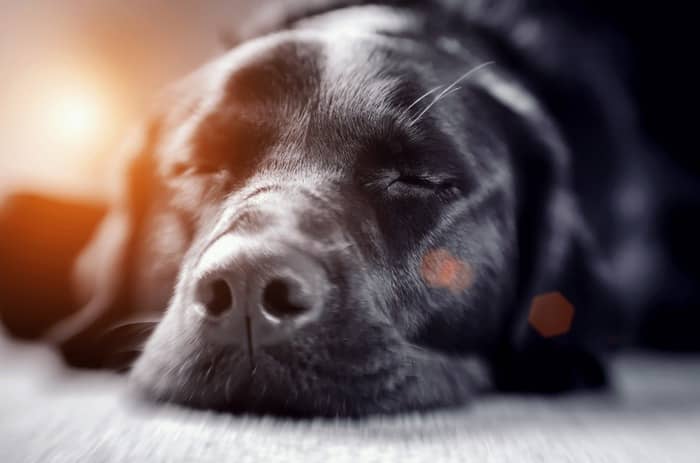 The decision to have pets around the home is noble, but it also comes with an added responsibility of minding the animals. Family pets require constant care to keep them well fed and healthy. Even with the best care, sometimes the family dog will suffer from injury ranging from minor to more severe cases.
It helps to understand your dog's behavior at normal times and when he is suffering. Knowing his different mannerisms will help you identify signs of trouble. The signs and symptoms vary depending on the intensity of the discomfort and even experienced dog owners may not always read the signs. In this article, we outline typical signs that your dog will display when something is amiss.
Lack of appetite
Similar to humans, dogs experience a declined appetite when they are in pain or suffering from an illness. The dog tends to shy away from the feeding area due to lack of interest or because they cannot walk to the food bowl. If the dog is having trouble walking, you can intervene by bringing the food closer to him as you nurse the aches and pains in his leg. If the dog still refuses to eat, offer him a treat like homemade dog biscuits.
If this gesture goes unappreciated, it may be a sign of a more serious underlying problem. Do not wait this out; make an appointment with the vet immediately and have your dog checked. The vet will perform a series of tests to pinpoint the source of the problem.
Behavioral changes
After having a family dog for quite some time, it is fair to say that you are well acquainted with the puppy's behavior. From running up and down the front yard to climbing the lawn furniture and other typical activities that the dog likes to do like sniffing the grocery bags.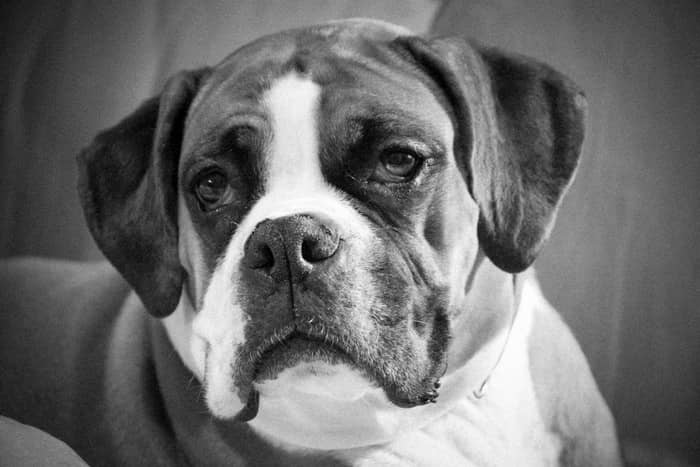 The puppy may also refrain from playing with the kids after they come from school, opting to sit quietly by himself in a corner. For a hyperactive dog, you will cosign that this behavior is unusual. Walk up to the dog and pet him to see if he responds. Hand him one of his favorite toys and attempt playing with him, if this effort proves futile, your dog could be depressed or in pain.
When a dog is in pain, he tends to lay flat on his side rather than sleep curled up in his crate. You may also notice that your puppy is having trouble squatting to relieve himself. If the pain is persistent, the animal may ditch the effort and end up relieving himself at the sleeping area.
Panting vehemently
While a dog panting is a norm, heavy breathing is likely to be a sign of discomfort. Typically, a dog will pant heavily after a round of exercise or during the hotter days, particularly in the summer. If neither of these factors is at play, heavy panting can signify a heightened level of stress.
The animal could have encountered some injury a few days before, and it is trying to cope with the pain. If the affected area goes untreated, it becomes increasingly difficult to cope leading to stress. If your dog accompanies you on your evening runs, it may have encountered sharp objects in the terrain or even barbed wire.
Check the limbs for signs of injury like scrape marks from barbed wire and treat this with supplies from your first aid kit. If the supply bag is empty and you are pondering on what to give your dog for pain, visit the vet to get a prescription for pain medication like Tylenol.
Localized grooming
Dogs groom themselves quite often, and this activity can easily go unnoticed. If you happen to see the dog focusing on a particular area, he may be doing so in an attempt to nurse pain. It is a natural instinct for pets to pay extra attention to body parts that are hurting.
Sometimes, the affected part has no visible signs of injury like a wound, but it is worth checking out. If your dog persistently licks one area of his frame, inspect it gently and call the vet if necessary.
Conclusion
What can I give my dog when he is in pain is a question that dog owners grapple with often. Keep the first aid kit fully stocked and perform routine checks on your dog. Visit the vet regularly for full checkups and vaccinations.
Do you have any other tips for how to tell when your dog is in pain? Share in the comments.
This is a guest post: I'm Brenda Leary. I have a passion for dogs. My ambition is to found a community for dogaholics that everyone could share useful knowledge about dogs. I'm here to break down all the complex dog's tips/advice and try my best to give you the stuff that actually useful and works! Follow my steps at Cuddle Your Dogs  to discover dogs' daily routines, tips, and advice on caring a dog/puppy and many many things about this wonderful world.