If you're looking for Halloween-inspired dog names, we have a treat for you (pun intended)!
Below, we've rounded up 100 cute, clever, and spooky ideas that are just perfect for your new puppy.
With 50 each for males and females, it won't be tricky at all to find the right one!
Okay, enough with the puns, let's check them out!
Halloween-Inspired Dog Names For Males
We love finding inspiration in scary movies, different languages, and common spooky words.
Take a look at what we came up with for the boys!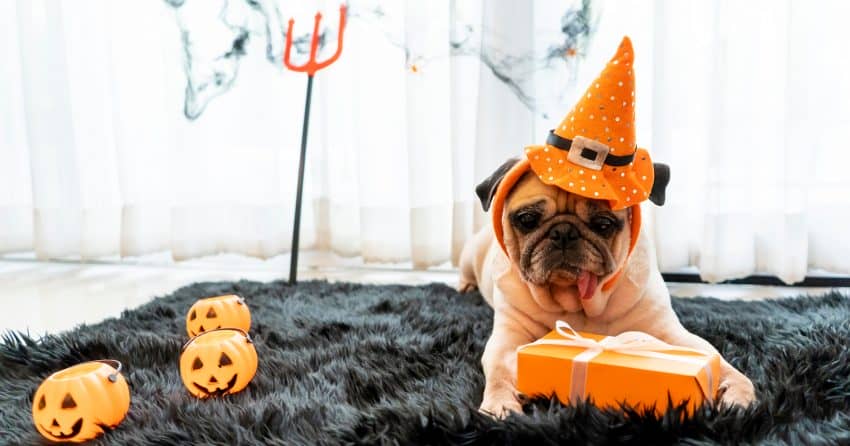 Bat – After the bird, or the man, you choose!
Bogey -a frightening name for any dog!
Bones – as in skeleton bones.
Bruxas- part of the Portuguese phrase for Halloween (dia das Bruxas)
Cackles – for the funniest dog out there!
Calan– Calan Gaeaf means Halloween in Welsh
Carver – as in pumpkin-carver.
Castiel – from the Supernatural series.
Cauldron – for a pup who has a spell prepared!
Cobweb – can't miss the Halloween fun with this name!
Creeper – after the frightening Minecraft mobs!
Dracula – one of the most important Halloween figures.
Eerie – for a strange, yet wonderful dog!
Fangs – this can also be the perfect costume!
Fantazmë – means "ghost" in Albanian
Fog – it's spooky, it's cute, it's perfect!
Frankenstein – after Dr. Frankenstein.
Frankenweenie – after Frankenstein's first experiment!
Fright – for an easy-to-scare pup.
Gaeaf – the other part of the Welsh word for Halloween is great, too!
Gargoyle – perfect name for a French Bulldog!
Geest– means ghost in Dutch.
Ghost – perfect name for a white pup!
Goblin – for a mischievous pup!
Gremlin – Gremlins are still very frightening.
Halloween – you can't lose with a classic!
Halovīni – means Halloween in Latvian.
Haunt – perfect name for a pup who follows you anywhere you go.
Hocus – name his brother Pocus and it's the best combo!
Howler – this name goes without saying!
Jack – after Jack-o-Lantern or Jack Skellington, you choose!
Monster – perfect name for a gentle giant.
Nightmare – perfect Halloween dog name!
Pocus – Hocus' brother.
Poltergeist – a mischievous ghost.
Prank – for a little trickster
Pumpkin – you can't miss with a specific!
Reaper – a dog name Reaper is never scary!
Roho-Swahili for ghost
Skeleton – imagine how happy your dog would be to meet a skeleton.
Skellington – from 'The Nightmare Before Christmas.'
Spider – for a black pup!
Specter– a ghost
Spooky – can be spooky in a very cute way!
Spookley -from the children's movie Spookley, the Square Pumpkin
Trick – perfect name combo if your other one is named 'Treat.!
Werewolf – one of the scariest dog names!
Zero – after Jack Skellington's ghostly dog in 'The Nightmare Before Christmas.'
Zombie – probably the scariest thing in the world!
Xus– Hmong for Halloween
Halloween Dog Names For Females
We took inspiration from iconic horror movies that we watch on Halloween beautiful ways of saying common spooky words, and more.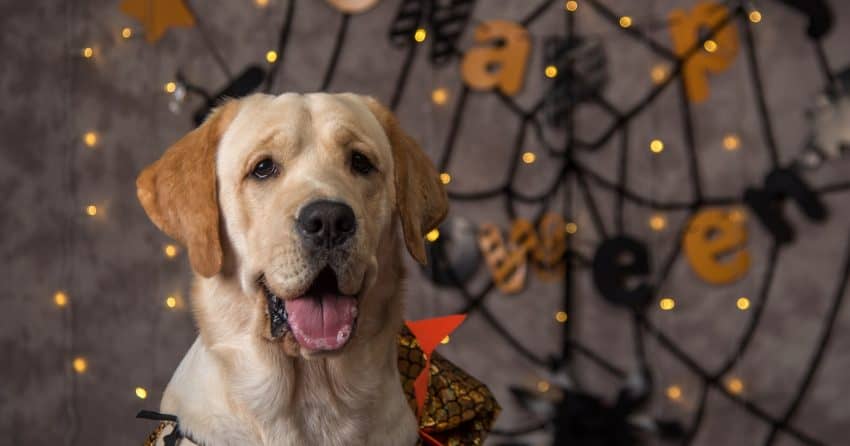 Aave– Finnish for ghost.
Autumn – after the Halloween season.
Blade – after the Vampire Hunter
Blair– after the Blair Witch Project
Bonbon– "candy" in French.
Buffy – after the Vampire Slayer
Candy – for the cutest pup around!
Clarice– from Silence of the Lambs.
Crow – one of the coolest Halloween names.
Crystal – after a witch's favorite stone!
Dynia– Polish for pumpkin.
Eleven – after the Stranger Things character.
Elvira – after the mistress of the Dark.
Fantasma– Italian for ghost.
Huntress – a very cool Halloween name.
Janet– from The Rocky Horror Picture Show, of course.
Jynx – who wouldn't want to be Jynx on Halloween?
Kohe– Estonian for "spooky"
Luna – in Latin, this name means 'moon.'
Magic – because your pup is magic!
Mamua – Basque for "ghost"
Matoatoa– Malagasy for ghost.
Morrigan– the Goddess of Samhain.
Morticia – from the Addam's Family
Naranja – Spanish word for 'orange.'
Night – perfect name for a black pup!
Noir – in French, it means 'black.'
Nuku– Maori for October
October– the month of Halloween makes a beautiful name!
Omen – your dog can be a good omen!
Potion – think about the most delicious potion!
Puca– Irish for ghost.
Pwmpen– Welsh for pumpkin.
Raven after the spooky bird.
Rosemary– after the classic horror film, Rosemary's Baby
Sabrina – from the classic show.
Salem – after the legends about this place.
Sally – from 'The Night Before Christmas'
Scarecrow – a popular Halloween prop.
Shadow – great name for a grey or black pup!
Sookie– from the HBO show, True Blood.
Spirit – the name that's spooky just on Halloween!
Tabitha– a witch's name in many movies and shows!
Tarot – for a truly magic pup!
Tikva– Bosnian for pumpkin.
Treat – she can be 'Trick's' sister!
Twilight – after the iconic movie!
Vanessa – from Penny Dreadful
Wednesday – after the Addam's family daughter!
Winifred– from Hocus Pocus, the iconic Halloween movie.
See, no tricks! Just plenty of fun Halloween-inspired dog names!
We love the names from different languages.
They make common Halloween words like "ghost" and "candy" sound so much more interesting.
Which will you choose? Tell us below, what are your favorite Halloween-inspired dog names!