Did you know that September 23rd is International Deaf Dogs Rock Day?
We created a special line of T-Shirts, hoodies, and accessories for dog parents to show our support!
Whether you want to tell the world that you love your deaf dog, or need a special gift for another fur-parent, we've got you covered!
Read on to see these fabulous shirts,  and more!
Related: 15 Cute T-Shirts Every Dog Lover Needs in Their Lives!
Gift Ideas to Celebrate International Deaf Dogs Rock Day
This post contains affiliate links. If you make a purchase through these links, we earn a small commission at no extra charge to you.
Our new line of deaf dog merchandise includes 6 different designs across a myriad of clothing and accessories products. While I personally love them all, I do have some favorites!
Check them out, then head over our Amazon or Redbubble shop page for even more options!
FYI, all of the designs come on 50+ other products in our Redbubble Shirt.
So, for example, you can get the Deaf Dogs Hear With Their Heart on a t-shirt, hoodie, dress, notebook, pillow, and more.
On the other hand, our Amazon shirts and hoodies are Prime-eligible, so you won't have to pay for shipping.
I've included both links when available, so just choose the option that works best for you!
1. Deaf Dogs Hear with their Hearts T-Shirt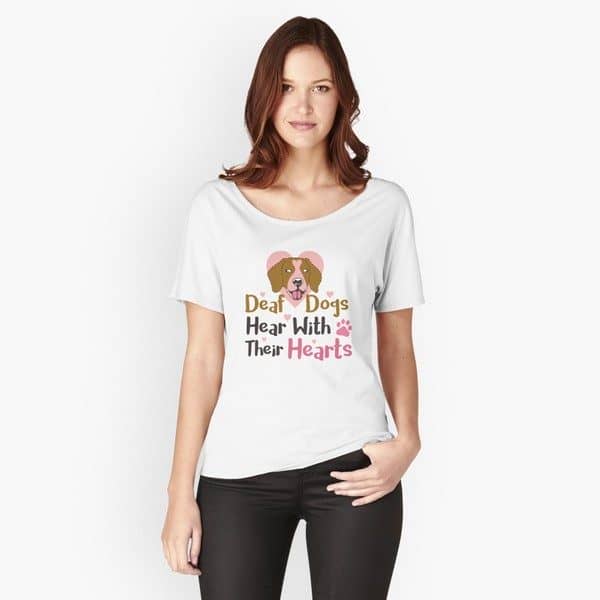 This gorgeous t-shirt reminds us all that the heart is a dog's most powerful tool when it comes to listening. Our deaf dogs may not be able to hear with their ears, but their hearts are always wide open and ready to receive!

2. Deaf Dogs Rock Hoodie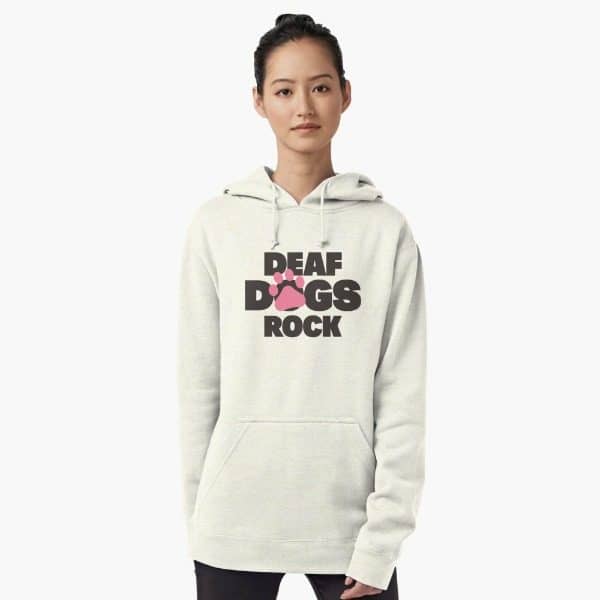 One of two of our "Deaf Dogs Rock" designs, this hoodie will keep you warm and cozy while letting everyone know you support deaf dogs everywhere.

3. Deaf Dogs Taught Us to Listen T-Shirt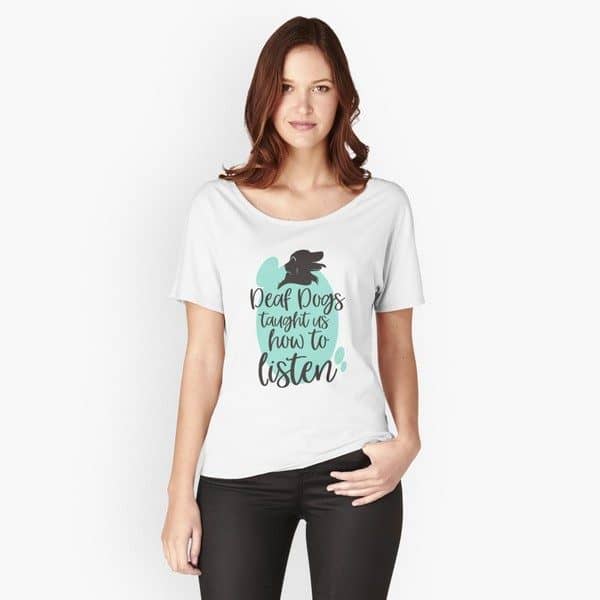 It may sound strange, but caring for a dog that can't hear teaches you to listen more closely, both literally and figuratively. When my girl Tasha lost her hearing in her older years, I learned to become more aware of her "non-verbal" cues.

4. Open Your Heart to a Deaf Dog Hoodie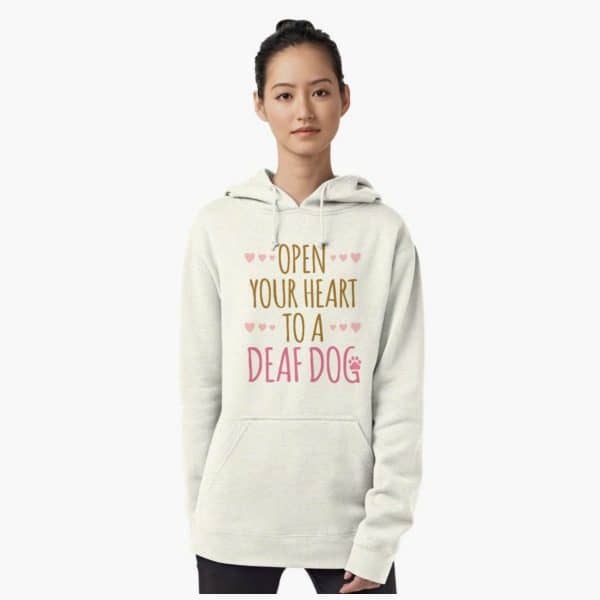 Deaf dogs deserve loving "furever" homes just as much as their hearing counterparts. Yes, caring for one requires a bit more work, especially as you're working on training them. Trust me, though, it's worth it!

5. Large Print Deaf Dogs Rock Shirt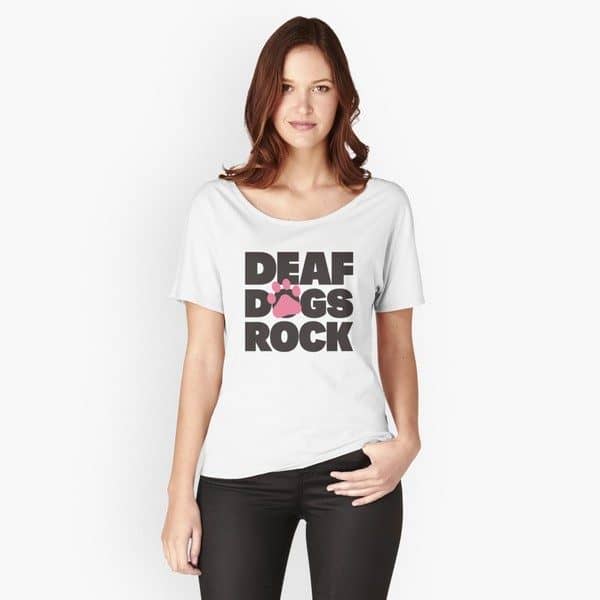 For those who love the Deaf Dogs Rock design but prefer a larger print (or something more asymmetrical), grab our LP Deaf Dogs Rock t-shirt!

6. I Love my Deaf Dog Hoodie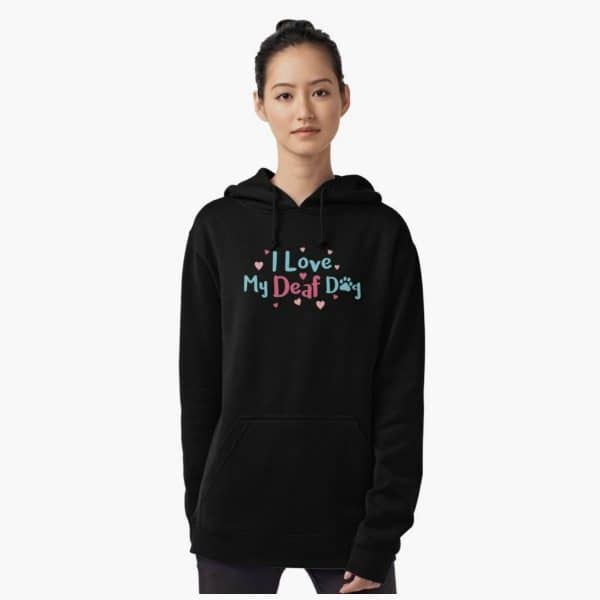 I adore the colors of this "I Love My Deaf Dog" hoodie, don't you? It's a simple yet meaningful statement.

7. Open Your Heart Framed Print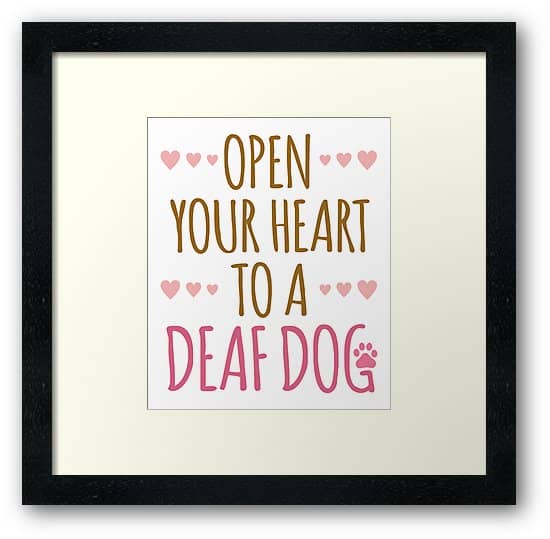 All of our Redbubble products are also available as framed prints, but I really love this one. It would look gorgeous hanging on your wall or sitting on your mantle. It comes in three sizes and multiple frame options.

8. Deaf Dogs Rock Large Print Tote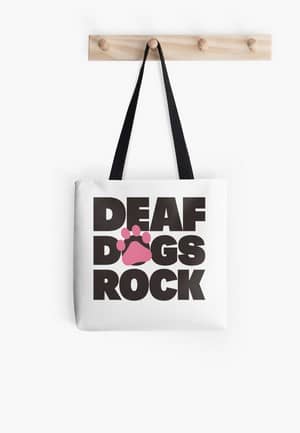 Save the planet AND tell the world that Deaf Dogs Rock with our tote bag! I've received numerous tote bags from Redbubble over the years, so I can attest to their high quality. The designs never fade, and they're strong enough to carry groceries, books, and more.

9. Deaf Dogs Taught Us How to Listen Phone Case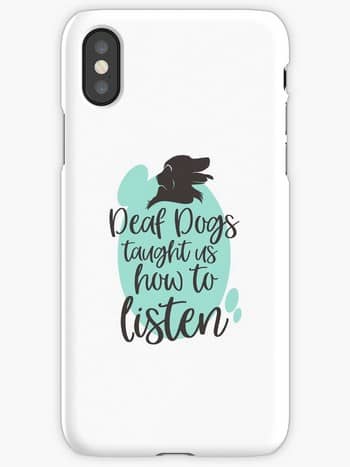 Our popular "Deaf Dogs Taught Us How to Listen" design is ready to protect your phone! Like most Redbubble products, I've had a couple of phone cases over the years. While the Snap Case is perfect for those who are careful with their phones, I highly recommend spending the extra few bucks to get the "Tough" case if you're accident-prone like me.

Celebrating and showing support for deaf dogs is easy with these fabulous gift ideas.