Mount Rushmore has a staggering amount of people, almost 2 million, who visit the monument yearly. It's easily one of the more popular attractions in the lower 48. But popularity doesn't make it necessary a good spot for our canine friends to visit.
So it begs the question of whether Mount Rushmore is a dog-friendly monument. Read on, and find out if it or any national monuments should be seen on your next trip with your best friend!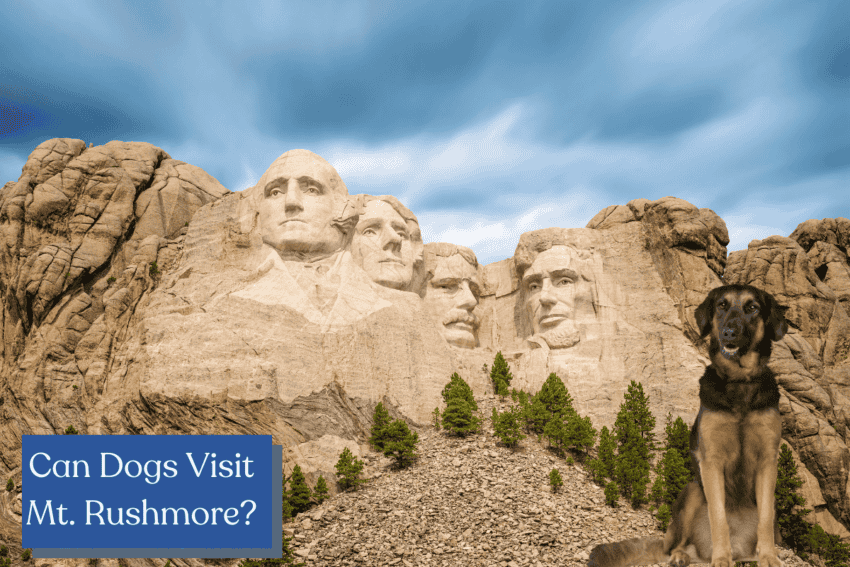 Are Dogs Allowed at Mount Rushmore?
Pets are allowed at Mount Rushmore, but the regulations are rather strict. Standard pets without service identification aren't allowed within the memorial. I can't blame them, considering they don't want a dog to defile the area by relieving themselves near it.
However, all hope isn't lost for people visiting with their dogs. Mount Rushmore has a designated area and short trail for pets traveling with their humans. You'll see signs for a short course near the memorial's main entrance (yellow print stickers).
This short trail and designated area aren't the only places for dogs to explore. Our furry friends are welcome to explore the parking garages, all sidewalks/green spaces between the parking garages, the Blackberry Trail, and the pet exercise area.
The only caveat is pets need to be on at least a 6-foot leash to avoid any issues. Someone looking to explore Mount Rushmore with an off-leash dog is out of luck. I should also note that all pet-friendly areas are shaded orange on the park's map. 
Lastly, please remember to pick up after your pets. You don't want them to second-guess allowing dogs in these respective areas. They even offer bags within this area to avoid any issues, so don't be the person who ruins it for everyone else.
Are Service and Emotional Support Dogs Allowed at Mount Rushmore?
The next logical question is if service and emotional support dogs are allowed. Service dogs can adventure into all public areas with people who have disabilities. It even includes inside the memorial to ensure these people can visit without issues.
So if your dog is a licensed service dog, there shouldn't be any trouble. Mount Rushmore will be more than willing to ensure you have a perfect visit. But this privilege doesn't extend to in-training service dogs; they must have their certifications before entering the memorial.
Meanwhile, emotional support dogs won't have the same luxury. They'll have to follow all the same rules as any other dog when visiting Mount Rushmore. So please, don't go there expecting your ESD to be allowed into all the areas.
Are Other National Monuments More Dog-Friendly?
Generally, the restrictions for national monuments often follow what you see from Mount Rushmore. Dogs can be around the grounds in designated spaces but aren't allowed inside buildings or monument areas. However, some monuments are a bit more lax.
In most cases, the less strict monuments are forts, trails, parks, or rock formations. In other words, places where a dog's presence won't have much negative effect or cause a raucous. You may even find a small number of them encourage pets to visit!
8 Other Dog-Friendly National Monuments and Landmarks
So I've established Mount Rushmore and most monuments aren't the most dog-friendly vacation spots. Some national monuments have even stricter regulations about pets than Mount Rushmore. But as I mentioned earlier, there are a few more lax about dogs.
I thought it'd be a good idea to list a few of these dog-friendly options. I also added some national landmarks that are perfect for our canine friends. These discussions will help you plan the next trip when traveling with your dog.
Trust me; there are some excellent options within these ten national monuments and landmarks!
1. Fort Stanwix National Monument (Rome, New York)
Our first monument, Fort Stanwix, is located right in the middle of New York State. It made this list because it's a fantastic spot for any history buff, especially military history. So if you're traveling through the Northeast, make it a priority to visit this monument. 
Of course, your dog won't care too much about this historical site. But there's no need to worry, though, as Fort Stanwix has plenty of room for them to adventure. They're allowed in all outdoor areas open to the public, and there are state parks/forests surrounding the fort.
My only advice is to skip this monument during the winter months. The Northeast is a miserable place to be when it's cold unless you're a fan of snow. I certainly wouldn't fit into that category. 
2. Natchez Trace National Parkway (Natchez, MS to Nashville, TN)
Natchez Trace National Parkway is a must-see attraction for humans and canines. It's a 444-mile route with various attractions, including exhibits, hiking, traits, breathtaking scenery, and archaeological sites.
But the best part is there are only a few restrictions when it comes to dogs. Your dog isn't allowed inside buildings, must be on a 6-foot leash, and owners must clean up after them. Aside from these rules, your dog is free of any retrains to enjoy everything you do. 
3. Devil's Tower National Monument (Crook County, Wyoming)
Devil's Tower remains one of the more jaw-dropping US national monuments. This massive geological formulation in Crook County, Wyoming is a stable of the American West. It'd be a travesty to travel out there and not see it at least one time.
Additionally, there are numerous forests and trails located around this monument. It couldn't be a better setup for an adventure for our favorite canines. But remember, Devil's Tower is a sacred location for many people. So be gracious and adhere to every sign or rule about dogs visiting.
In other words, don't go there expecting to let your dog off-leash. It's just not a good idea for anyone involved. 
4. Berryessa Snow Mountain (Lake County, California)
One of the newer monuments, Berryessa Snow Mountain, was a must-have addition. It's an ecological treasure trove with striking views, wildlife, streams, and endless trails. Dogs will have the time of their life sniffing all over this mountain.
However, I do have to note that you won't be only on this mountain. It's home to populations of bald eagles, black bears, cougars, elk, and other large animals. So it's essential to be cautious and keep your dog on a leash. It also won't hurt to bring some bear spray!
5. Biltmore House (North Carolina)
At first, Biltmore House may not sound like a dog-friendly place. But this enormous privately owned home (the largest in America) offers 8,000 acres of hiking trails and gardens. Plus, several outdoor restaurants with outdoor seating are around the residence. It's a beautiful place to spend a day with your favorite canine.
However, you'll need someone to watch the dog when exploring inside. Biltmore House won't allow pets inside the residence for obvious reasons. I couldn't even imagine the scandal of someone's dog having an accident inside the home!
6. Fort McHenry National Monument and Historic Shrine (Baltimore, Maryland)
Fort McHenry is famous for being the first fort commissioned by the US government. The fort is also notable for its role in the War of 1812 when British forces attacked Baltimore. US forces prevented them from advancing, even after days of attacks.
Their resilience became the foundation for our national anthem. So seeing where this piece of history was born is a majestic experience. Furthermore, the site and the surrounding grounds are beautiful, as they're on the water.
I didn't even mention that there's a designated path for walking, biking, or running: a perfect spot to take your dog on a walk and enjoy the sites. The best part about this monument, though, is visiting the surrounding grounds is free (the historic area where your dog can't go costs money).
7. Grand Canyon National Park (Northwest Arizona)
Visiting Grand Canyon National Park should be on everyone's bucket list. It's an environmental marvel with awe-inspiring views that aren't available anywhere else. Your dog will enjoy walking and running down all the trails, especially the South Rim Trail.
But anyone who wants to go below the rim won't be allowed to go with their dogs. Instead, your dog will need to stay back and travel on all the other available trails. There's even a dog-friendly lodge and boarding kennel on the South Rim Trail for them to wait and relax. 
8. White Sands National Monument (Otero County and Doña Ana County, New Mexico)
The last national monument refers to miles of white gypsum dunes. As a result, these dunes are called White Sands and see massive amounts of visitors yearly. It also represents a perfect place for a fun dog/human bonding trip.
For instance, these sand dunes are an excellent spot for picnicking and dog walking. Your dog will love all the new and endless spaces to explore. But as with all monuments or landmarks, leashes are required for everyone's safety. 
Conclusion
All in all, dogs are allowed at Mount Rushmore and most other national monuments. But the rules at these places will vary about how much they can do and explore. It makes planning a crucial part of visiting these historic places.
So I'd advise researching any monument beforehand to ensure there won't be any issues. Otherwise, you may encounter a national monument that isn't dog-friendly. It'll end up a waste of time, unlike White Sands or Devil's Tower.
Don't forget to let me know how your trip turns out in our comment section. I'd love to hear about how fun or not fun a certain monument was for your favorite dog. Thanks for reading!