If you're looking for tips to keep your dog safe during camping, I've got you covered!
Camping is a brilliant way for nature-lovers to take their dogs along on vacation with them.
However, before you hit the hiking trails and pitch your tent, make sure you take some time to consider Fido's safety.
Today, we'll go over the top ten things you need to do both before and during your camping trip!
Related: Best Dog Tents For Camping
10 Tips to Keep Your Dog Safe During Camping
While most of these tips involve things you'll need to do during your camping trip, a few do require a bit of advance planning.
Let's start with those, then we'll get into tips for at the campsite!
FYI, this post contains affiliate links. If you make a purchase through these links, we earn a small commission. Thanks!
What to Do & Know Before You Go!
1. Keep up to date with vaccines and pest prevention
Before you even start packing for your trip, take a look at your dog's records and make sure she's up-to-date on everything.
You'll especially want to check the date of her last rabies vaccine!
While you're at it, check to make sure her dose of flea and tick medicine will cover her while you're away. If not, add that to your packing list.
The same goes for heartworm preventative, especially if you're heading to a state with a high incidence rate.
Check out this video to learn more about protecting your pet:
2. Know your poisonous plants
During your camping trip you'll need to keep an eye out for poisonous plants, so spend some time reading up on them now.
You can find a great infographic with a list of 199 plants to avoid here.
Once you know the names of plants to avoid near your campsite, I recommend researching each one and getting a good idea of what they look like.
It's a lot of work, yes, but totally worth the time and energy. Of course, you could also bring along a plant identification book! I like this bundle (preview below) because it's free through Kindle Unlimited.
3. Stock a doggy first aid kit
A first aid kit for humans is usually at the top of a camping packing list, right? Well, add one for your dog right next to it!
At the least, it should include things like:
Check out this guide for making a DIY first aid kit for dogs! Of course, you can also just buy one, if you prefer!
4. Give them shelter
Although you'll do this while camping, I'm putting it in the "before you go" section because you'll need to plan ahead a bit.
Even if your dog sleeps in your tent with you, I recommend bringing along a smaller dog tent for throughout the day.
You can also use a canopy bed like this one. I like it because it covers two needs with one product.
A shelter of his own gives him a place to go to get out of the sun and away from all the activity.
5. Consider his diet and overall food safety
If you feed your pooch dry food, you don't have to do much here. Just pack it in an airtight container before you go.
Even with a wet-food diet, you can put leftover food in a sealed container.
For dogs on a raw diet, though, you'll need to think ahead a lot more.
First, raw meat attracts animals that you may not want visiting your tent!
Second, it attracts all sorts of nasty bugs, especially when it's sitting out all day.
Last (but not least), raw diets usually involve careful measurements, extra supplements, and so on. Basically, they're not "whip up at the campsite" friendly.
You may want to consider using freeze-dried raw food during your camping trip, as it's a lot easier to deal with.
Things to do while you're camping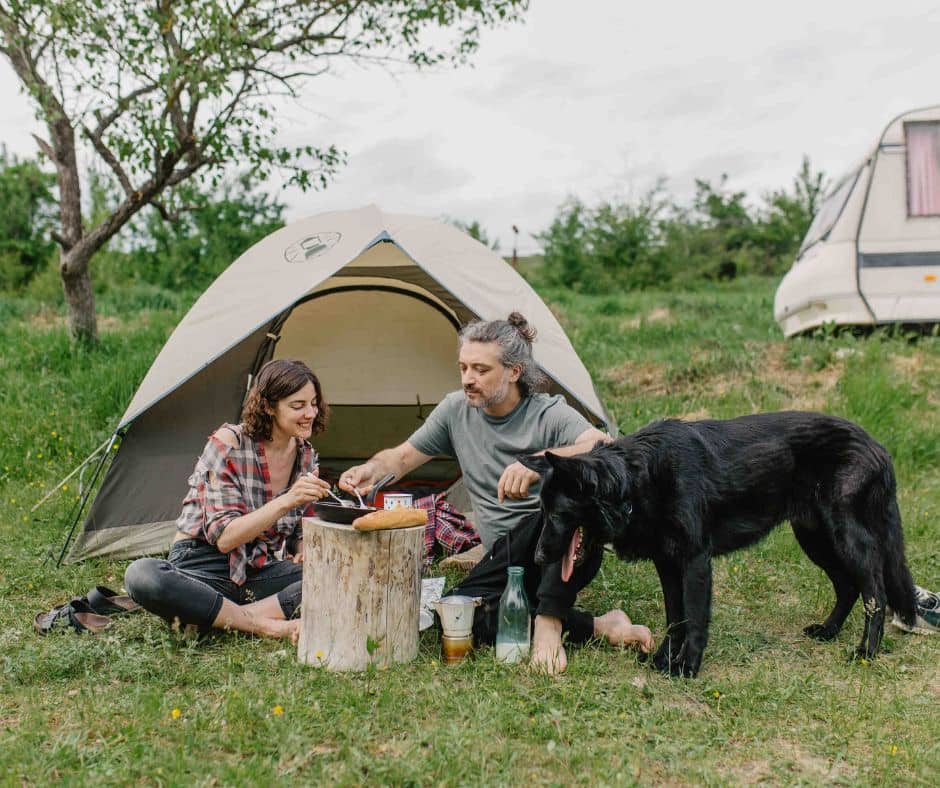 6. Obey all leash laws & pet rules
As soon as you arrive, take some time to read through the campsite's rules regarding pets, then make sure you actually obey them.
Those laws exist for a reason, and it's not to take all the fun out of your trip, I promise!
They keep your dog safe from harm as well as other people safe from your dog.
The last thing you want is for your dog to run off after a wild animal and get hurt, or to get spooked and hurt someone else.
Be mindful of other campers around you as well as future campers who would like to be allowed to bring their dog. It only takes one rule-breaker to ruin it for everyone!
7. Make sure he stays hydrated
One of the most important tips to keep your dog safe during camping: make sure he gets plenty of fresh, cool water to drink!
Bring along a collapsible water bowl and pack extra bottled water for Fido.
Don't let him drink out of ponds, lakes, or other standing water. You have no idea what types of parasites lurk in there!
8. Keep them far away from the fire
Make sure your dog stays a safe distance away from the campfire at all times.
Sitting close to the fire isn't just too hot for your fur-covered pal, it's also dangerous!
Stray sparks can burn your dog even easier than they can burn you.
Instead, keep his pup tent or dog bed close enough that he can still enjoy your company but far from the reach of sparks and embers.
9. Check on him regularly
Even if you're using a good flea and tick medicine, you'll still want to check Fido regularly for bugs.
Get into the habit of giving him a good once-over in the morning before you start your day and at night before you turn in.
Throughout the day, check his ears, "armpits," and other warm areas where ticks like to hide out.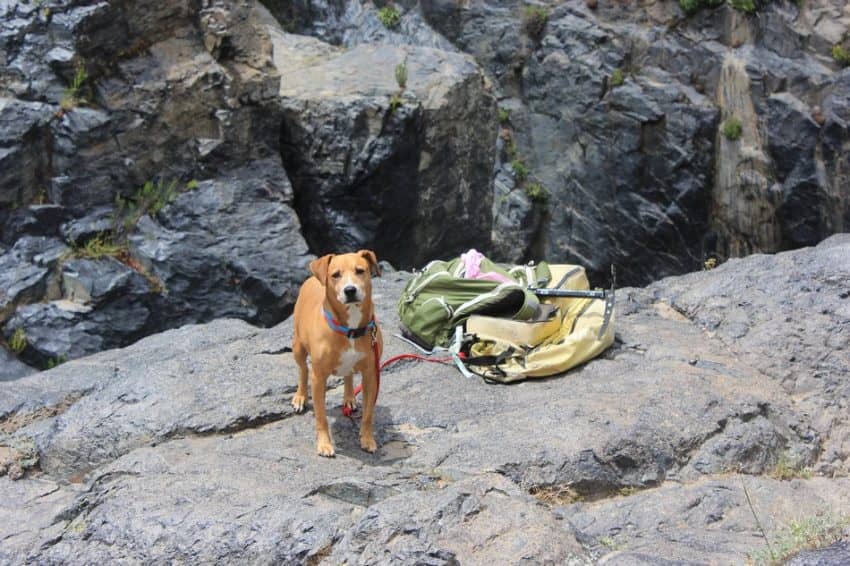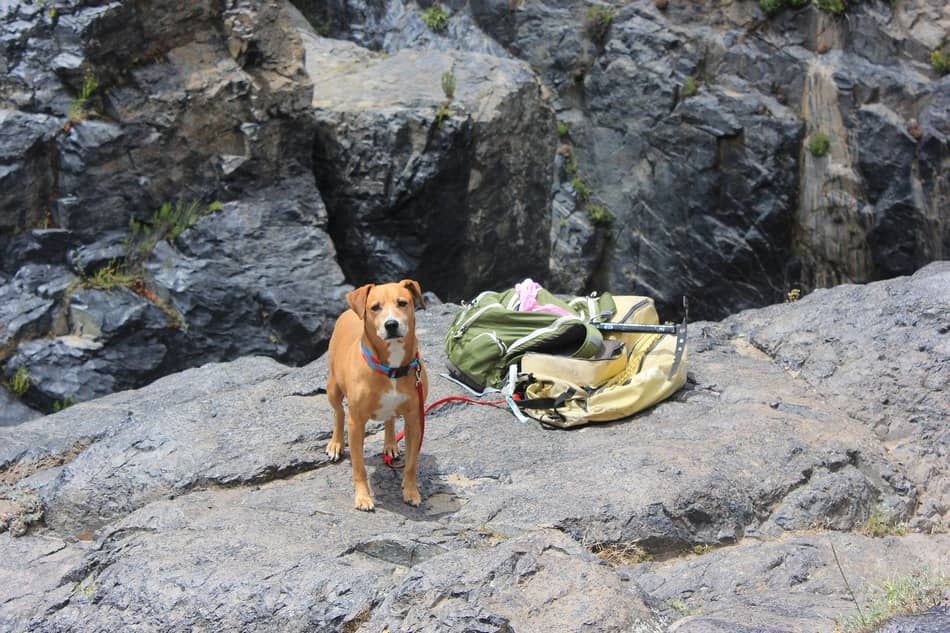 10. Know where to find help!
Make a note of the nearest emergency vet or animal hospital and add their number to your phone (so you don't have to go digging for it in the midst of an emergency).
It's also a good idea to write it down somewhere and keep it on you, just in case your phone gets lost while hiking.
Follow these tips to keep your dog safe during camping and you'll have a wonderful outdoor vacation with your canine pal!
Do you have any other tips to keep your dog safe during camping? Share below!