What can I give my dog for arthritis?
Here are some of our favorite Super Products For Dogs With Arthritis that are sure to help them feel better physically while you as their owner care for them.
As our pets age, there will be some common physical ailments they encounter just as we possibly would.
While they can't speak and tell you how they feel, you can rest assured that you are doing the best that you can to ensure their comfort.
Find out how to help a dog with arthritis at home!
5 SUPER PRODUCTS FOR DOGS WITH ARTHRITIS
First things first: before you buy any products for dogs with arthritis, please make sure you talk to your vet to make sure it actually IS arthritis!
For dogs with severe aching joints, your vet may be able to recommend some medication that will relieve a lot of the pain.
Now that we've got that little disclaimer out of the way, let's check out these super products for dogs with arthritis!
This post features affiliate links. We earn a commission if you make a purchase, at no extra cost to you.
1. Orthopedic Dog Beds
There are a number of excellent orthopedic dog beds for dogs with arthritis.
Looking for beds that have great memory foam padding, waterproof covers and are easy for your pet to get on and off of are important factors.
We love this heavy duty dog bed that provides your pet with a comfortable bed for rest that will soothe their aching body in the process.
The design is really simple, which means even the pickiest pup is likely to use it. If it doesn't speak to you, though, BuddyRest has a bunch of other great orthopedic beds.

Juliet Orthopedic Dog Bed - Fathom - XL 50" L x 34" W x 5" H
Relieves arthritic pain and helps dogs with mobility issues
Does not get hot like other memory foam dog beds
Utilizing high tech Crypton performance fabrics, it's waterproof, stays clean, doesn't smell and rarely needs washed. No longer will you have to constantly wash smelly dog beds covers
2. Dog Arthritis Supplements
Many of the same supplements that ease arthritis pain in humans can help your pet as well.
Some of the top supplements for arthritis include glucosamine
, Chondroitin Sulphate
, and MSM
.
You can buy them separately or all together in one super supplement. Sometimes it's best to buy them separate, at least in the beginning. That way, you can get an idea of which supplements work.
If you prefer to buy just one product, check out our review of WellyTails for information on one of our favorite brands.
I love it because the powder is easy to mix into my dog's wet food (not so much with dry food). If you have a dog that's hard to give meds to, you know how important that is.
On the other hand, if you have a picky dog, you can also go the pill route and hide it in pill pockets.
Again, it's super important to check with your veterinarian before beginning any regimen of supplements with your dog.
Read about various products first, but never begin giving to your pet without asking their veterinarian for proper dosage and advice.
3. Pet Steps 
There's nothing more heartbreaking than watching your dog look longingly at your bed, where he used to sleep by your side, and know that he just can't make the leap.
For the dog that is used to sleeping in your bed or on your couch, a set of simple pet steps can make it much easier on arthritic bones to get up and down.
With a multitude of versions out there, this simple set of pet steps is one of our favorites.  Compact, useful and sturdy it can support dogs of all sizes.
If you're handy with tools, check out this video tutorial on how to make your own!
4. Water therapy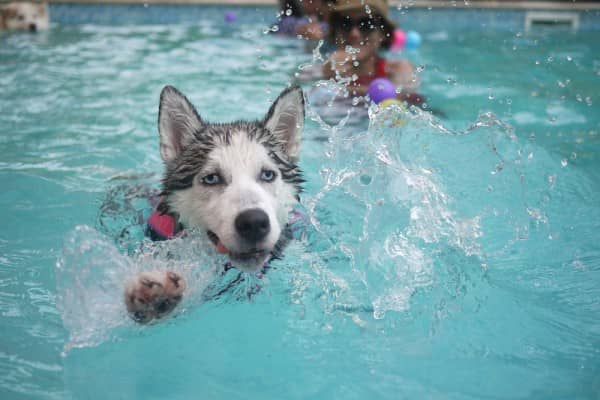 While this isn't really a product, it's still a great way to relieve your dog's pain. In fact, water therapy is perhaps one of the best pain relievers for both humans and dogs!
Getting your pet started in water therapy doesn't just help soothe aching joints, it's also a great way to work their muscles and build strength overall.
This isn't a product necessarily, but a great service you can look into by taking them to your pool, a local pet daycare or checking with your veterinarian.
You can also buy your own doggy pool
, especially if you have a smaller dog.
5. Heated beds and clothing
There are a multitude of pet beds and throws that are heated.
Providing a warm place for them to snuggle their bodies can help with their pain levels.  H
eating pads or heated throws can offer your pet with a comforting place to rest while soothing the aches in their body safely.
Remember to follow guidelines and set on lowest settings to protect their sensitive body from burns or overheating.
Treat you dog with love and care by investing in some of these super products for dogs with arthritis.
Giving them a boost of care and protection will lengthen their lives and encourage them to keep pushing forward with renewed energy.
Have you used any of these products for dogs with arthritis? Tell us about it in the comments.
Last update on 2023-09-23 / Affiliate links / Images from Amazon Product Advertising API