What flea and tick preventative does everyone use for their babies?
A member in our dog lover's group on Facebook recently asked this question, and it sparked some interesting debate.
We all know that we absolutely MUST use it to keep our pups safe, but few of us can agree on which medication is the best.
Read on for a list of pretty much every available option, then keep reading to see which ones rank highest in terms of effectiveness.
List of Flea and Tick Preventative Medications
Fleas and ticks carry parasites and bacteria that can seriously impact your dog's health, so it's important to give your dog preventative medication to keep those little nasties at bay.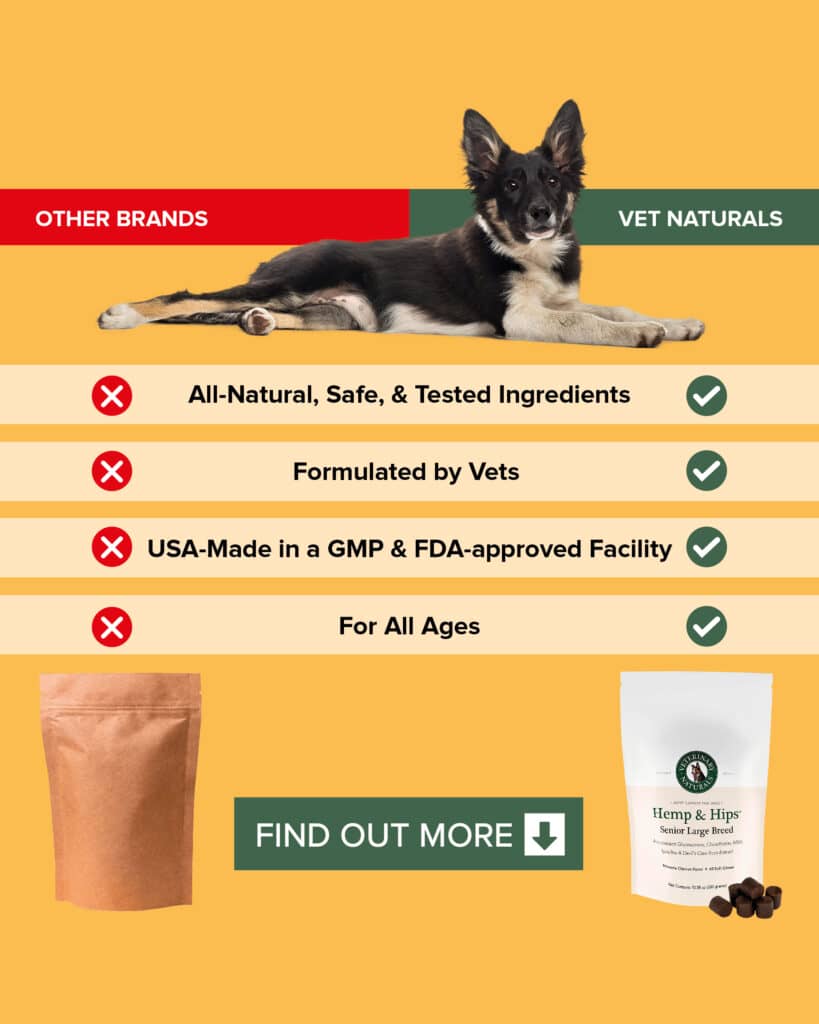 From oral to topical; prescription to over-the-counter, there are a wide variety of medications used to protect dogs from fleas and ticks.
Some owners opt for prescription preventatives, while some buy over the counter options.
Some owners even make their own flea and tick repellents using essential oils.
Today, we're going to take a look at all of these options, and what they mean for your dog.
Prescription Flea and Tick Preventative
To begin, we'll look at prescription flea and tick medications. As a former vet assistant, I always advocate for the use of these products.
They have been proven to work, are monitored, and tend to be the most effective option you can use. Let's take a look at the many different brands available.
*This post contains affiliate links. If you make a purchase through these links, we earn a small commission at no extra charge to you.
| Brand Name | Our Rating | Buy It Here |
| --- | --- | --- |
| Revolution | 🐶🐶🐶🐶 | |
| Advantage Multi | 🐶🐶🐶🐶 | |
| Bravecto | 🐶🐶🐶🐶 | |
| Frontline Plus | 🐶🐶 | |
| Frontline Gold | 🐶🐶🐶 | |
| K9 Advantix II | 🐶🐶🐶 | |
| NexGard | 🐶🐶🐶🐶🐶 | |
| Simparica | 🐶🐶🐶🐶 | |
| Seresto | 🐶🐶🐶🐶 | |
| Credelio | 🐶🐶🐶 | |
1. Revolution
Revolution is a spot-on medication applied monthly to protect against fleas and heartworm.
It has a very narrow kill window for ticks, however, only killing the American dog tick.
This product can be used on puppies over 8 weeks of age and adult dogs.

►►►Check out this video ◄◄◄ for tips on how to apply Revolution (and other similar preventatives)
2. Advantage Multi
Advantage Multi
is a spot-on medication applied monthly to kill fleas and protect against heartworm.
It doesn't protect against ticks, which limits its usefulness when compared to other preventatives. It is safe for use on puppies 8 weeks or older and adult dogs.

3. Bravecto
A relative newcomer to the market, Bravecto is sold in both topical and oral formulations and kills fleas and a variety of ticks.
What makes this product unique is that it can be given every three months rather than monthly. This product is also indicated for the treatment of flea infestations.
It can be safely used on adult dogs and puppies 6 months and older.

►►►Check out this video ◄◄◄ (or see below) for an overview on how the chews work. 
4. Frontline Plus
This monthly spot-on preventative kills fleas, ticks, and chewing lice. It is safe for use on puppies 8 weeks and older and adult dogs.
Frontline Plus
is also available without a prescription, which makes it easier to find.
Unfortunately, since it's among the most popular flea medicine, it may not be as effective on fleas in your area.
5. Frontline Gold
Like Frontline Plus, Frontline Gold
spot-on kills fleas, ticks, and chewing lice. It claims to work for three months, but that is only for fleas.
Additionally, the box recommends monthly application in areas of concentrated flea activity.
It's safe for use in puppies 8 weeks and older & adult dogs. It's also available without a prescription.
6. K9 Advantix II
This spot-on preventative is applies monthly and repels and kills ticks, fleas, and mosquitoes, however, it does NOT protect against heartworm disease.
K9 Advantix II
 can be used on puppies 7 weeks and older and adult dogs.
7. NexGard
NexGard is an oral flea and tick preventative which is given monthly. It protects against a variety of ticks, and can be given to puppies 8 weeks or older and adult dogs.
This prescription-only treatment is our editor's top pick for her dog, and a great option for dogs with sensitive skin that make topical treatments a challenge.

8. Simparica
This oral preventative kills fleas and ticks and is indicated for both flea and tick infestations. It can be safely used on puppies 6 months or older and adult dogs.
Simparica is available only through a prescription.

9. Credelio
A new-comer to the market Credelio is a monthly chewable that kills fleas and ticks. It has been shown to be safe and effective and can be given to puppies 8 weeks and older and adult dogs.
10. Seresto
Seresto
is a new type of flea and tick preventative in the prescription market – a collar.
Most flea and tick collars are stinky, greasy, and frankly, rarely work well. However, Seresto is getting rave reviews from both owners and vets.
It has no odor, isn't greasy, and lasts for up to 8 months. It can be used on puppies 7 weeks and older and on adult dogs.
Also, while it is a prescription-strength collar, you don't actually need a prescription to buy it.
OTC Flea and Tick Preventative
"OTC" is kind of a misnomer, since you can buy several of the above "prescription" medications without an actual vet prescription.
However, aside from those sold on Amazon, you still need to go to a pet store to buy them, and they're often locked behind glass.
These OTC meds below, though, are readily available in stores like Walmart, Target, and even in grocery stores.
1. Spot-On Treatments
OTC flea and tick preventative spot-ons are too numerous to list because they are basically the generic form of prescription medications.
These OTC flea and tick preventatives often contain the same or similar active ingredients as their prescription counterparts.
However, almost all vets will discourage the use of these treatments. That's because these treatments are not well regulated.
They can be "watered" down so that their protection is lessened.
They also often use older flea and tick killing compounds which have been shown to be harmful to dogs and sometimes don't work at all.
2. Collars
OTC flea and tick collars are also easy to find. Although they can and do kill fleas and ticks, they don't do it effectively.
These collars are generally stinky and greasy, which is why the work AND why they don't work.
OTC flea and tick collars work by transferring preventative from the collar to the dog's skin.
However, the area of effectiveness is greatest around the collar area, with efficacy falling sharply farther away from the collar.
In addition to not being very effective, that stinky, greasy medicine can rub all over you, your couch, and your house.
3. Shampoos
There are numerous flea and tick shampoos on the market.
These can sometimes work for knocking down infestations on a dog, but they should never be used as a long-term preventative measure.
These shampoos only work for a short time after the bath, leaving your dog exposed to all the fleas and ticks out in the world looking for a meal.
You'll notice that none of these rank very high on my list of effective flea and tick preventative medications.
Basically, if you can buy it for a few bucks and it's not locked behind glass, it's probably not effective.
Check out ►►► this great video ◄◄◄ for a guide to flea and tick medication from an actual vet!
Homeopathic Flea and Tick Preventative
As a former professional in the veterinary industry, I cannot discourage the use of herbal flea and tick prevention enough.
I know that's not a popular opinion, but bear with me for a moment.
Fleas and ticks are incredibly tough to kill with exoskeletons that are difficult to penetrate.
In fact, most flea and tick preventatives work by getting into the bloodstream of a flea or tick after they have bitten the host. They die so quickly that the dog experiences no discomfort.
Essential oil and herbal preventatives are basically just repellents, and they are repellents that don't always work.
In my years working at the vet, I saw many dogs come in with flea infestations because their owners had been using essential oil or herbal mixtures to repel those little biters.
If you still want to give them a try, check out this article on PetMD for safe remedies. Although keep in mind, your mileage may vary!
A Lot of Options for Flea and Tick Preventative
Of course, as a veterinary field professional, I always advocate for prescription medications. They are well regulated and highly effective.
However, finances can be a factor in many cases, and some prevention is better than nothing. In order of effectiveness, your flea and tick preventative breaks down like this:
Prescription
OTC Spot-Ons
Shampoos (Only for Infestations)
OTC Collars (Only Localized Effectiveness)
Essential Oil or Herbal Repellent (Not Recommended)
If you can, go for the prescription flea and tick preventative every time. If money is an issue, the Chewy Pharmacy has reasonable prices on most of their flea and tick meds.
They're often lower than your vet's prices, and it's fairly easy to get your dog's prescription sent over to them.
If you're still unable to secure prescription medications, though, I recommend finding an OTC spot-on.
Shampoos can help somewhat, but it's dicey. After that, everything else is effectively a waste of money.
What are your thoughts on the best flea and tick preventative? What do you use on your dogs? Share below!