If you're looking for an amazing fresh dog food delivery service with recipes custom-tailored to fit YOUR pup's needs, you'll love Nom Nom.
With REAL high-quality ingredients and ZERO fillers or added junk, it really is a game-changer in pet nutrition!
Keep reading to learn everything you need to know about Nom Nom, from who and what they are to why they're such an extraordinary fresh pet food option. I have a lot to say (don't I always?), so let's dive in!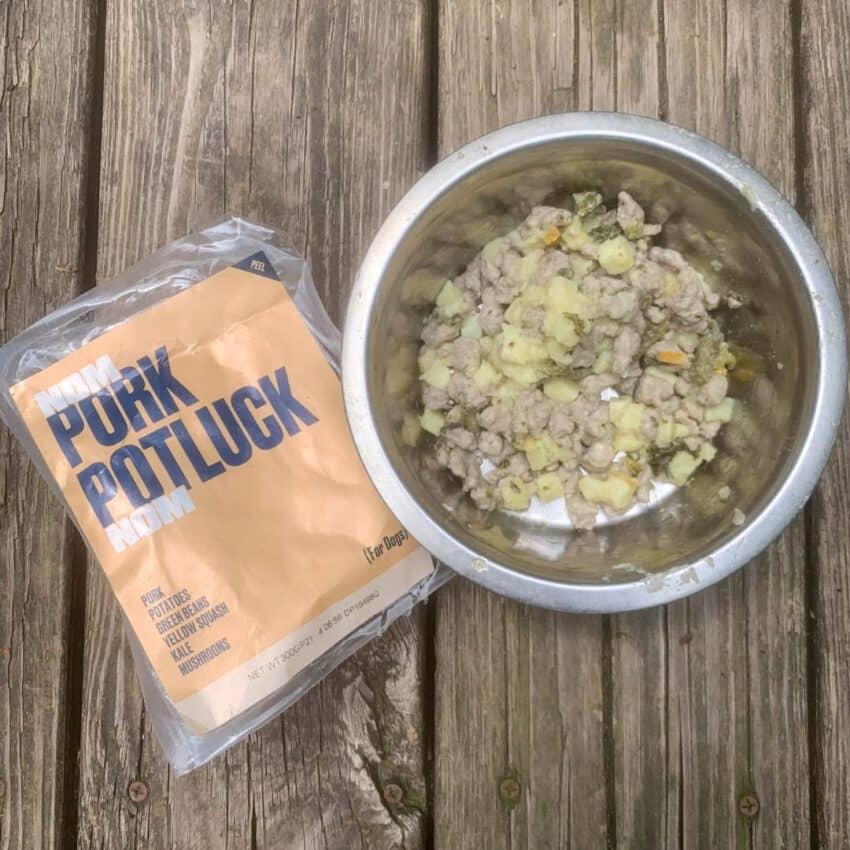 One little thing before we begin: Nom Nom provided me with samples to facilitate this honest review. Also, this post also includes affiliate links. If you buy anything through these links, we earn a commission at no extra cost to you. I would NEVER recommend something to you that I wouldn't give my own dog, and I'm neurotically picky about what I give her. 🙂
Content & Quick Navigation
What is Nom Nom? (Overview & Key Features)
If you found us by searching for Nom Nom dog food reviews, then you can skip ahead a bit since you probably already know what it is. For everyone else, though, let me just give you a very quick overview.
As I'm sure you surmised from the intro (if you actually read the intro; I usually skip right over them in posts, to be honest) Nom Nom is a fresh pet food delivery service that prides itself of on offering "real, good food for dogs."
Their Board Certified Veterinary Nutritionists carefully craft each perfectly pre-portioned meal with all-natural ingredients using recipes that meet AAFCO (Association of American Feed Control Officials) guidelines.
Before we dive into my review, let's go over a few quick things that I know are among the first things I ask when I'm considering a new dog food brand.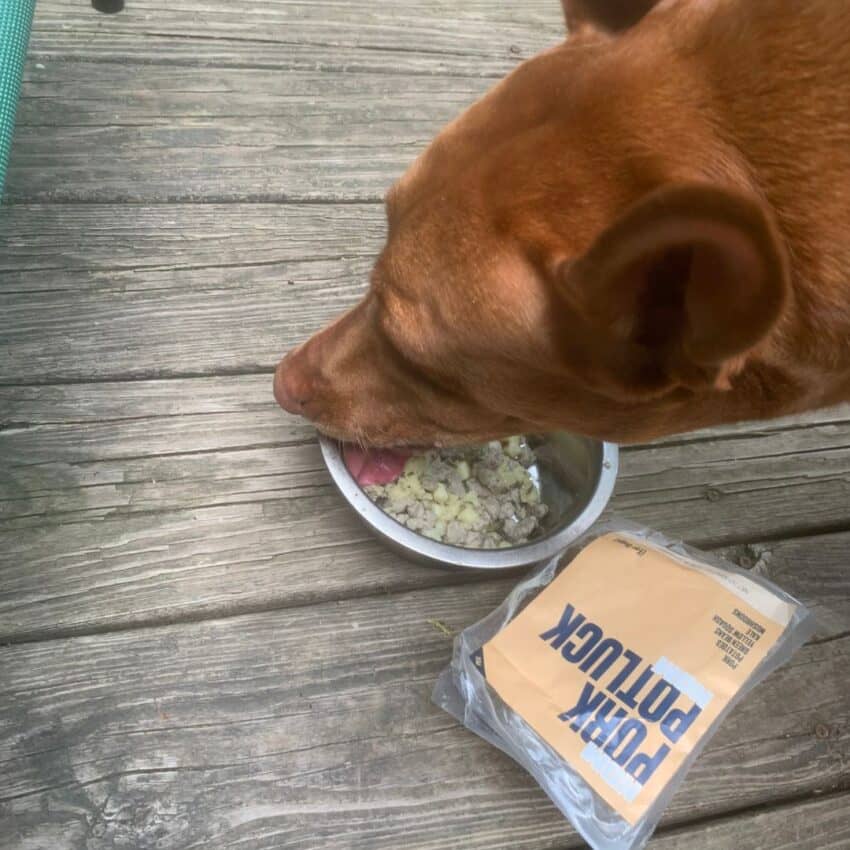 Where is Nom Nom dog food made?
Nom Nom dog food is made in the USA, in either Nashville, TN or the San Francisco Bay Area (they have kitchen facilities in both locations). I'm SUPER picky about where my dog's food comes from, so this was the first thing I checked. I won't feed her anything that's not made either in the US or in one of the countries with stricter pet food guidelines (most countries in the EU, for example).
How much is Nom Nom dog food?
That's a tough one to answer because Nom Nom tailors every plan specifically to your dog. Plans start at as little as $2.40 per meal. The screenshot below gives you a rough idea of what to expect for a 65-lb dog. If that's a bit out of your price range but you still want to try it, you can also get half portions and use it as a mix-in or meal topper.
Get your personalized Nom Nom quote now!
Can I get a free trial of Nom Nom?
Nom Nom doesn't offer free trials. However, they do have some great money-saving options for trials. First, as you can see in the screenshot I shared above, they offer a 50% discount on your first two weeks of food. They also have a Sampler Variety Pack with all 4 of their recipes for $20 that you can buy without a subscription. It comes with 7 oz of each recipe, which is more than enough to see if your dog likes it.
How does Nom Nom work?
Nom Nom offers four different recipes, including Turkey, Beef, Chicken, and Pork. Before you place your first order, you'll fill out a quick 3-step questionnaire. First, you'll tell them a bit about your pup, including her name, age, gender, and breed (that last one is optional).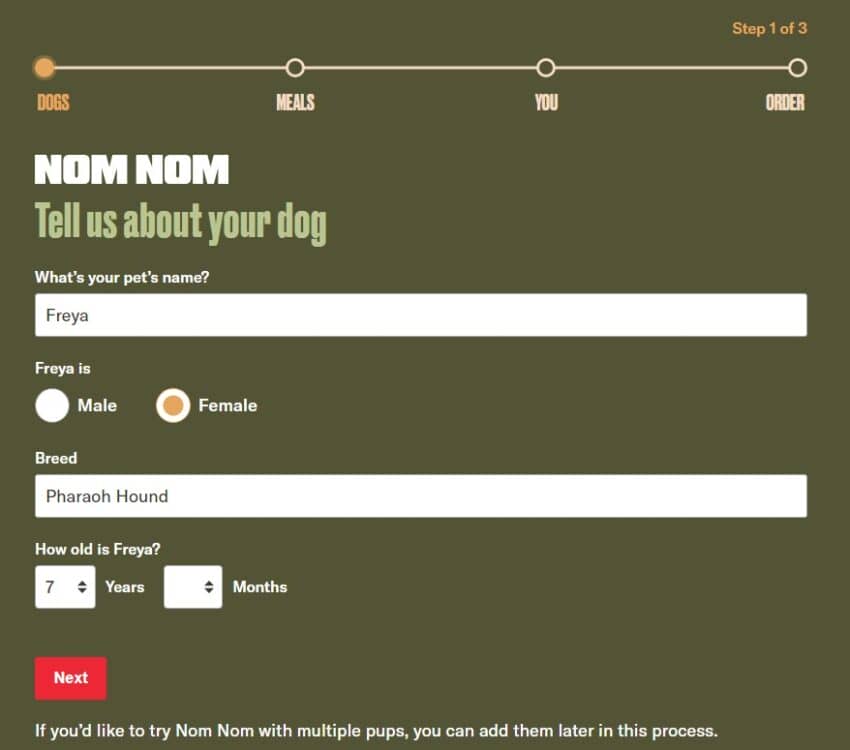 Next, you'll describe your dog's actual weight, body composition, and ideal weight. During this step, you can also mention any food allergies or eating habits. Freya is a picky eater AND she has sensitivities to beef.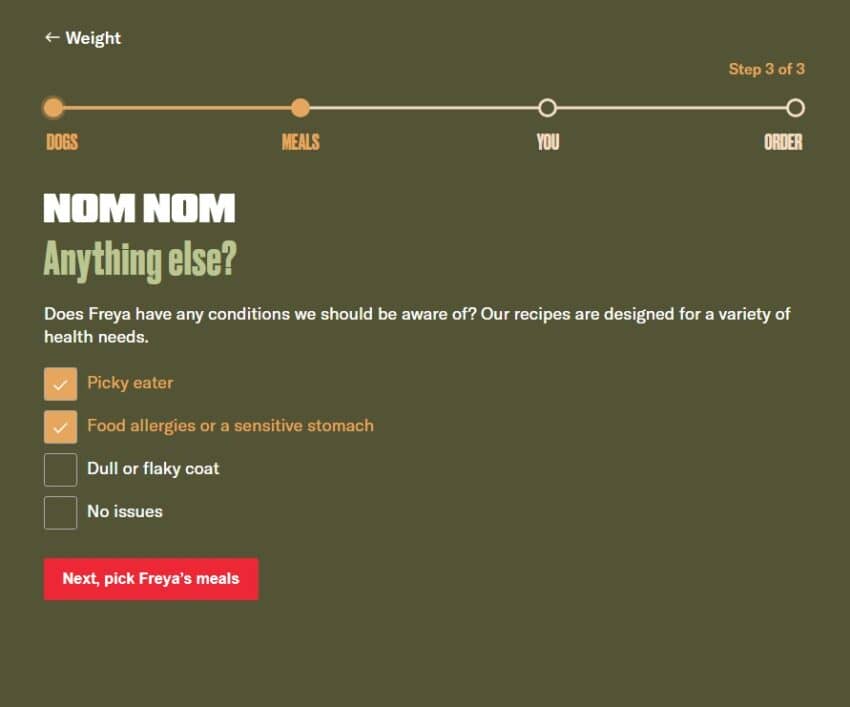 In the final step, you'll choose which recipes you'd like to try. They'll give you a recommendation, but you can choose any (or all) of the four options.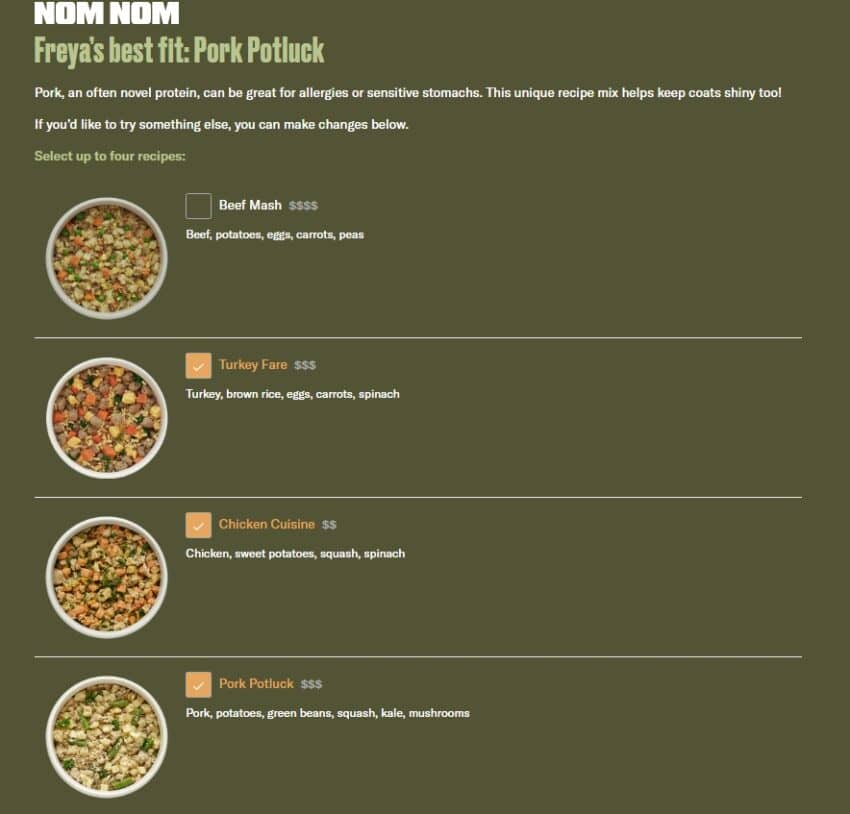 After that, you can either add on extras (like supplements and treats) or just continue on to check out! It's SUPER simple. Your first batch will arrive within a few days, all ready for you to thaw and serve. We'll talk more about that in a moment.
What ingredients are in Nom Nom dog food?
You can kind of see an overview of the ingredients in the picture above, but let's take a closer look at each recipe. FYI, the pictures below are screenshots. If you need a closer look, you can see them all on Nom Nom's website.
As you'll see in a moment, the top 5 or 6 ingredients are really the only ones that change. The rest are a variety of oils, vitamins, minerals, and other supplements, albeit in different concentrations. These include:
Vitamins A, B vitamins (1,2,3,6 and 12), C, D, and E
Calcium, copper, zinc, manganese, and potassium minerals
Fish, Sunflower, and Canola oils
Taurine
Natural flavors
Chicken Cuisine
The Chicken Cuisine recipe (one of Freya's top two favorites) includes chicken, sweet potato, squash, water, and spinach as the top 5 ingredients.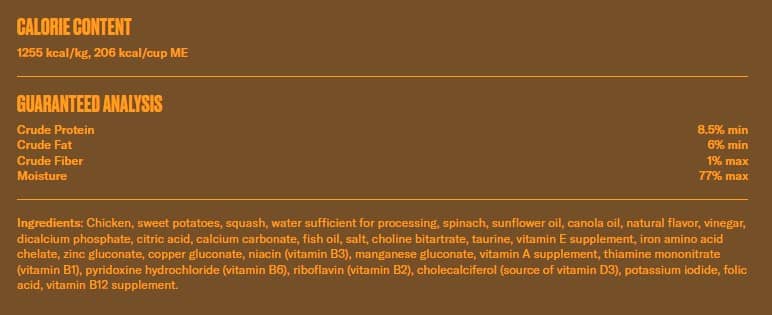 Turkey Fare
Freya's other favorite, the Turkey Fare, includes turkey, brown rice, eggs, carrots and spinach.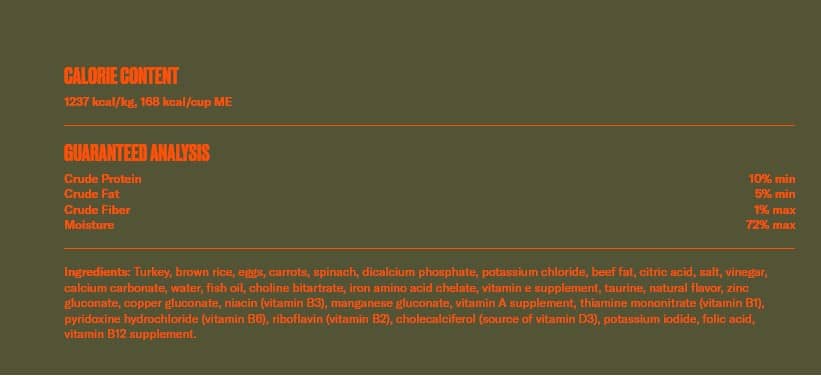 Pork Potluck
Pork Potluck is pretty unique! Its top ingredients include ground pork, russet potatoes, green beans, squash, kale, and cremini mushrooms.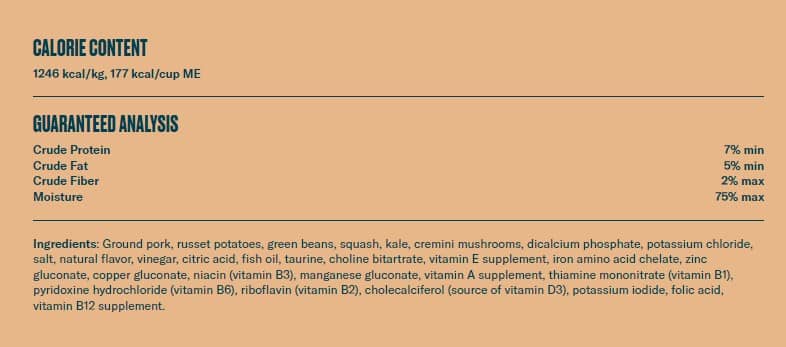 Beef Mash
The Beef Mash is the only one we didn't try because Freya is somewhat sensitive to any dog food containing beef. The top ingredients here are ground beef, russet potatoes, eggs, carrots, and peas.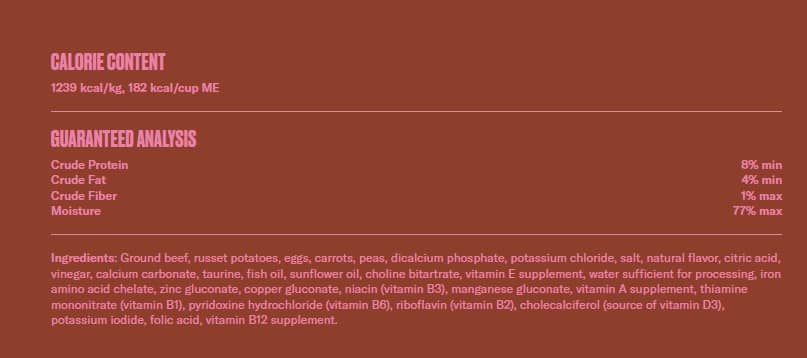 Nom Nom Fresh Dog Food Review: Why is it Worth Trying with Your Pup?
As a lifelong dog lover and pup parent, I completely understand the challenges of giving your furry friend balanced, wholesome meals. It's not always easy to find the time to prepare nutritious food for our dogs with our busy schedules.
Then, when you do have plenty of extra time, you find yourself struggling to figure out exactly what ingredients (and how much of each) to put in your pup's homemade dog food. Honestly, I am just not all that confident that I could come up with the exact right recipe for Freya on my own. I've made homemade dog food as toppers for her before but never as her full meal.
That's why I was so thrilled to try Nom Nom! It basically combines all of the benefits of a vet-crafted recipe AND homemade dog food. Let's look at a few of the top benefits.
1. Superior Nutrition for Optimal Health
When it comes to the well-being of our pups, nutrition is pretty much EVERYTHING. Nom Nom understands this, which is why they prioritize high-quality ingredients and tailor their recipes to meet the specific needs of each individual dog.
By using fresh, whole foods, Nom Nom ensures that YOUR dogs receive the essential nutrients they need for THEIR optimal health. In other words, they're not "one size fits all (we hope)" meals the way storebought brands typically are.
These meals are formulated by real board-certified veterinary nutritionists, making them a balanced and complete option for dogs of all ages and breeds. From lean proteins to vibrant fruits and vegetables, Nom Nom delivers a nutritionally dense diet that promotes shiny coats, healthy weight management, and improved energy levels.
By the way, Nom Nom scores 5 stars on Dog Food Advisor! Well, all except the Pork Potluck, which scored 4.5 stars (so close enough). I mention that because it's one of the first things I check before I give Freya any new foods.
2. Limited Processing and No Fillers
Unlike many commercial dog foods that are heavily processed and packed with fillers, Nom Nom takes a different approach. They prepare their recipes in small batches, using minimal processing techniques to preserve the natural goodness of the ingredients.
You won't find any artificial additives, preservatives, or mystery ingredients in their meals. Instead, Nom Nom focuses on using real, whole foods that are easily digestible and packed with essential nutrients.
By eliminating fillers and unnecessary additives, Nom Nom ensures that your dog's meals are free from potential allergens and unnecessary bulk, promoting optimal digestion and reducing the risk of food sensitivities.
3. Personalized Meal Plans
Whether your dog needs to shed a few pounds, maintain a healthy weight, or has specific health concerns, Nom Nom can adapt their recipes to provide the optimal balance of proteins, carbohydrates, and fats.
For example, Freya is a bit on the chunky side. We've been struggling with her weight ever since she got spayed. We've finally got it under control and she's getting back to where she should be. She has a few pounds to go, but she's getting there!
Anyway, I was really worried that I'd have a hard time figuring out portions with Nom Nom and end up over-feeding her. But as I mentioned above, when you fill out the questionnaire you tell them how much your dog weighs and how much they SHOULD weigh. They craft the individual portions around that, so you don't have to worry about trying to figure it out yourself.
4. Convenience and Time-Saving
With their subscription-based delivery service, you can say goodbye to the hassle of grocery shopping, meal planning, and food preparation. Nom Nom delivers freshly made, pre-portioned meals straight to your doorstep on a regular schedule, ensuring your dog never misses a nutritious meal. The easy-to-open packages make serving a breeze, and the recyclable containers mean less time spent on cleaning up.
5. Dogs love it!
It doesn't really matter how many benefits a dog food offers if your pups won't touch it, right? Well, you don't have to worry about that with Nom Nom. Freya LOVED it, and she's kind of picky. She liked all three recipes that we tried, but the Chicken Cusine and the Turkey Fare were her favorites.
6. AMAZING Customer Service
Okay, so this really a benefit of the food, but it still definitely deserves mentioning. Nom Nom has EXCELLENT customer service. I actually had an issue that was not their fault, and it gave me a unique perspective on how they handle shipment problems.
So, here's what happened. Nom Nom uses FedEx. My local FedEx station is a freaking nightmare. For perspective, out of the last 20 packages I received from them, only ONE came on time. Alas, my Nom Nom order wasn't one of them.
I was supposed to get my order on a Saturday. It was on the truck for delivery, but they never brought it. Nom Nom immediately sent out an email letting me know that they were sorry the order was delayed, but that as long as the packages were still "cool to the touch," the food would be fine.
Then I was supposed to get it on Monday, but again, they never got around to delivering it. So it triggered a "damaged shipment, return to sender" event. I emailed Nom Nom and they sent out another package right away.
Well, THAT order was delayed by FedEx, too! I called FedEx and they assured me it would be delivered the next day. When it did arrive, everything was still frozen.
So, I learned two things from this experience. One: Nom Nom takes care of issues right away. They don't make you jump through hoops, sit on hold, or anything like that. You simply tell them what the problem is and they fix it. Two: they have really awesome packaging!
All of that said, I think issues are pretty rare. Ryan Reed (Pawsitivity Pets co-owner) is reviewing Nom Nom over on one of our other sites, Technobark, and he had no issues receiving his package on time. Side note, keep an eye out here because once his post is ready I'll link to it so you can get a second perspective.
Final Verdict: Nom Nom is Worth EVERY Penny!
I'm not going to sugarcoat it, Nom Nom dog food is pricier than your average premium kibble. But in my opinion, it's worth every penny. Plus, consider this- when you feed your dog a high-quality nutritious diet, they're less likely to suffer from health issues.
So in the long run, spending more on good food can save you money on vet bills! And goodness knows we can use all of the help we can get there given how much vet bills have gone up in the last few years.
Get your personalized Nom Nom quote now!
Have you tried Nom Nom with your dogs yet? Share your thoughts below!