Looking for a great homemade dog treat recipe that is perfect for gift giving?
These mason jar dog snacks aren't just easy to make, with the added jar they're also great for giving to fellow doggie parents!
Of course, you could easily make them for Fido and store them in a plastic container without the jar if you're just making them for home use.
We just wanted to make it a little more fun.
With Valentine's Day coming up, these make great gifts to give your dog sitter or walker if they have their pooches at home.
These snacks are also meat-free, making them great hypoallergenic dog treats for dogs with chicken or beef allergies.
If your pooch is allergic to wheat, you can substitute it with another type of flour, such as coconut or almond flour.
The taste may not be the same as in our test kitchen, but I'm sure your pooch will still love them! Let's check out these cute mason jar dog snack!
Make sure to print the recipe card and watch our video tutorial.

Mason Jar Dog Snacks Homemade Dog Treats Recipe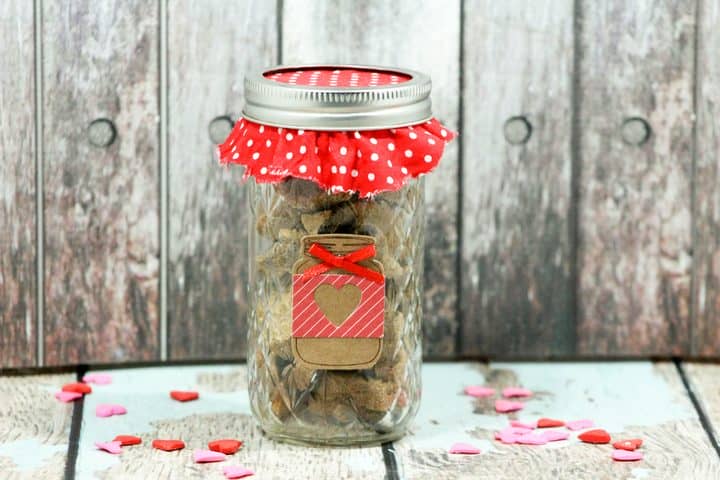 Affiliate links included below. We earn a commission if you make a purchase.
Ingredients:
Directions:
Watch our video tutorial:
Preheat oven to 350 degrees. Line a cookie sheet with parchment paper.
Stir together the peanut butter and sweet potatoes.
Add 1/4 C of flour, stirring as you add.  Mix well.
Form the dough into a ball.
Toss some flour on a flat surface and on the rolling pin.
Roll out the dough with the rolling pin.
Cut out the dog snacks.
Bake at 350 degrees for 10 minutes.
Allow to cool slightly on the cookie sheet.
Transfer to a wire rack to cool completely.
Put in the mason jar.
Store in the fridge.  (Last for 1 week)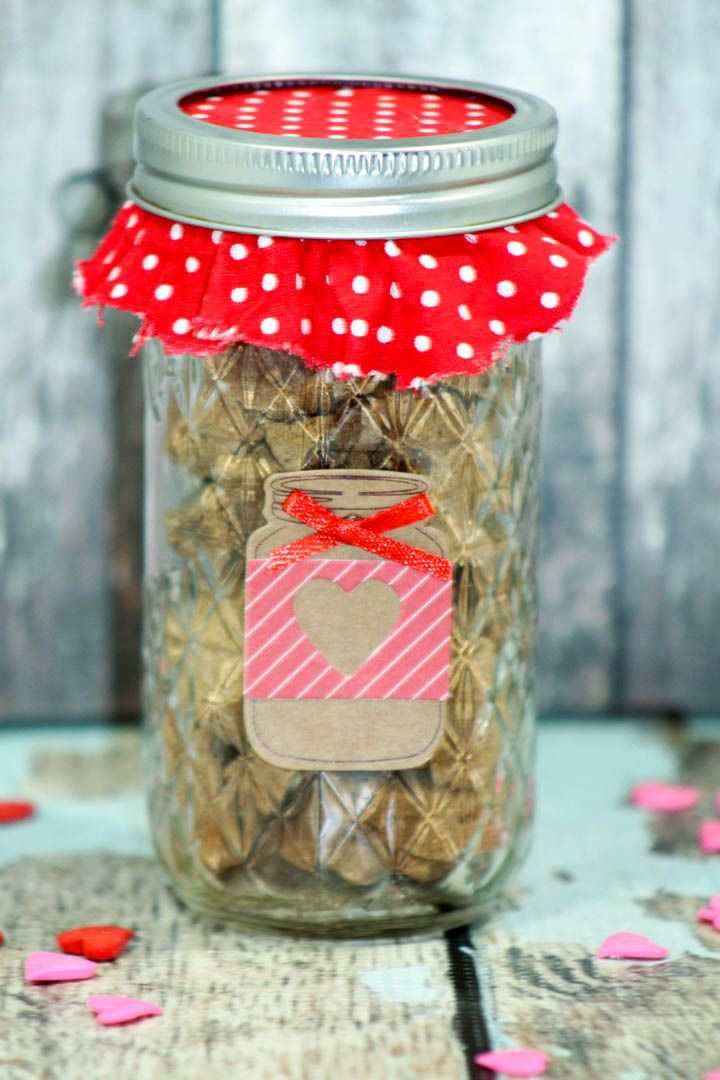 If you're planning to gift these cute mason jar dog snacks, just make sure you do it right away (like within a day) and let the recipient know that they need to be used up within a week. You could also share the recipe so they can make more of their own.
Hey, tell them about DogVills while you're at it! Just saying. The more, the merrier. 😀
Would you make these treats to give as a gift or for your pooch? Do you have any favorite mason jar dog snacks recipes that you already make? Tell us in the comments!
Mason Jar Dog Snacks Homemade Dog Treat Recipe
Mason Jar Dog Snacks Homemade Dog Treat Recipe
Ingredients
1 C mashed sweet potatoes, (fresh yams baked and mashed)
1 C Whole Wheat Flour
½ C peanut butter
Mason jar with a lid
Instructions
Preheat oven to 350 degrees. Line a cookie sheet with parchment paper.
Stir together the peanut butter and sweet potatoes.
Add ¼ C of flour, stirring as you add. Mix well.
Form the dough into a ball.
Toss some flour on a flat surface and on the rolling pin.
Roll out the dough with the rolling pin.
Cut out the dog snacks.
Bake at 350 degrees for 10 minutes.
Allow to cool slightly on the cookie sheet.
Transfer to a wire rack to cool completely.
Put in the mason jar.
Store in the fridge. (Last for 1 week)