No matter what kind of pet you may have, they will need to eat. Storing their food can be a daunting task. Keeping a large amount of dog food on hand is important so that you do not constantly have to run to the store. Instead of keeping extra food sitting around in the open or the bag you can use an airtight dog food container. These dog food containers are great because they keep food fresh. They can also help keep rodents and pests out of the food. Even storing food indoors is not enough to prevent spoilage or contamination. These airtight dog food containers are great for storing pet foods of all kinds.
Airtight Dog Food Containers
Affiliate links included below. 
Airtight Dog Food Container Combo Kit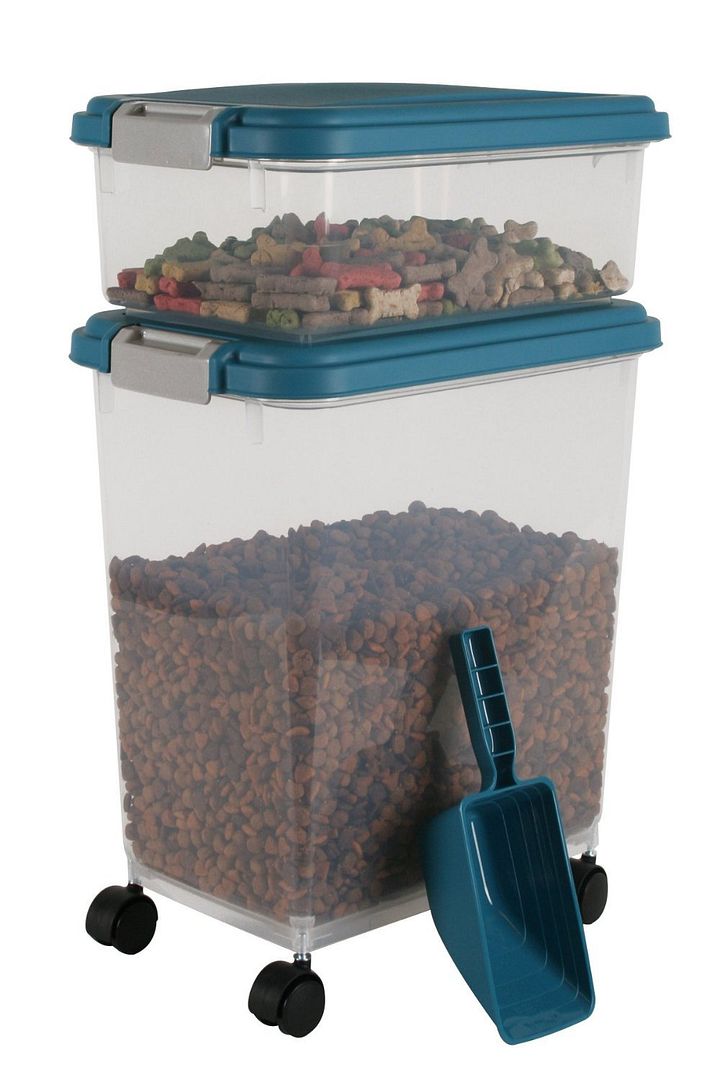 This great airtight dog food container combo kit is perfect for a few reasons. If you have more than one kind of pet in your home, this can help keep all of your pet food stored safely. If you have just one kind of food, you can use this combo kit for treats and food. The airtight seal keeps food fresh, and it keeps pests out. Particularly during the cooler months, it can be difficult to keep mice and other small pests away from food supplies. This combo is also on wheels which makes it perfect for moving around without having to lift anything heavy! Another great (although not as important) feature is that it comes in a variety of colors so you can choose whichever one you like best!
Bergan Smart Storage Containers
Bergan Smart Storage Containers are great because they come in various sizes. The 50lb size is perfect for large dogs or for storing large bags of any pet food. Each size is stackable! If you have multiple kinds of pets or if you have pets that have specific dietary needs it is a great way to store different types of food! They have an easy access lid on the front that makes getting food out of them very easy and convenient. Airtight to keep food fresh and keep unwanted moisture and pests out these containers also keep pets from getting into their food. If you have an aggressive chewer or curious pets, these containers will help keep them from getting into their own food when they shouldn't!
Sometimes an airtight plastic container is not appropriate. This Gamma Vittles Vault Airtight Softcore Pet Food Container is great for on the go and for storage in smaller spaces. It is made from a collapsible and soft material that is still airtight! It has a carrying strap and can accommodate up to 50 pounds of pet food.
These are all excellent options for airtight pet food containers. Do you have an airtight pet food container that you use in your home? What is your favorite feature in an airtight pet food storage container?