When my dog's were puppies, I didn't know the difference between grain-free dog food and standard dog food. I fed them what I thought was a high-end brand, especially since you couldn't find it in super markets! When they were about 6 years old, though, we started doing a bit more research It actually started with a sick cat! We changed the cat's diet, then looked more into the dogs' diets. We've since switched our dogs to better food. I try to mostly buy grain-free dog food, but when I can't, I at least make sure that meat is the first ingredient.
California Naturals Grain-Free Dog Food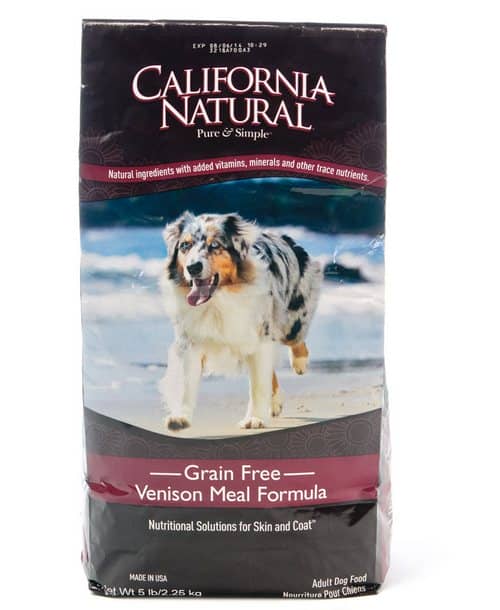 California Natural
(affiliate link) is one of the biggest names in grain-free dog food. You can find it at just about any pet store and in some feed stores. It comes in several varieties, although I couldn't bring myself to feed my dogs the Kangaroo blend! One thing all varieties have in common: meat is the main ingredient and they don't contain useless grains. Their formula's combine unique proteins and carbohydrate combinations to give your dog optimal levels of nutrition.
The Venison and Green Lentils Blend contains wild game protein that is rich in iron and amino acids. Green lentils add much-needed carbohydrates and fiber without using grains that can cause sensitivity in some dogs. The blend also contains sunflower oil and Flaxseed, which are fantastic for keeping your dog's coat and skin healthy. This makes the Venison California Natural Grain-Free Dog Food ideal for pets who are prone to skin conditions or seasonal allergies.
Of course, all the nutrients in the world don't mean a thing if your dog won't touch it. My dogs love it! Even my pickiest canine doesn't let it linger too long before finishing it up. While it is more expensive than dog foods that aren't grain-free, it does actually save you money in the long run. First, you feed your dog less. It takes a lot more of the junky dog food to fill up your pup, meaning you would need 4 of those cheap bags compared to one grain-free dog food bag. Second, choosing the right dog food means healthier pets, which means fewer trips to the vets. If you're looking for a great grain-free dog food, consider giving California Natural a try.
California Natural Grain Free Venison & Green Lentils Formula Adult Dog Food is available in 5-lb., 15-lb., or 30-lb. bags.