Are you wondering which the worst smelling dog breeds are?
You might if you're getting a dog and want one that doesn't smell so much like a dog.
So, keep on reading.
Related: Dog breeds with bad breath
10 Worst Smelling Dog Breeds
All dogs smell, despite what you might have heard. It's just that dog owners are so used to the doggie smell that they stop noticing it.
However, some dog breeds do stink worse than others. Usually, we're talking about dogs with a lot of skin creases where dirt accumulates or those with inherent skin conditions and a tendency to bloat.
So, are you ready to see 10 out of the 20 worst smelling dogs? Let's begin.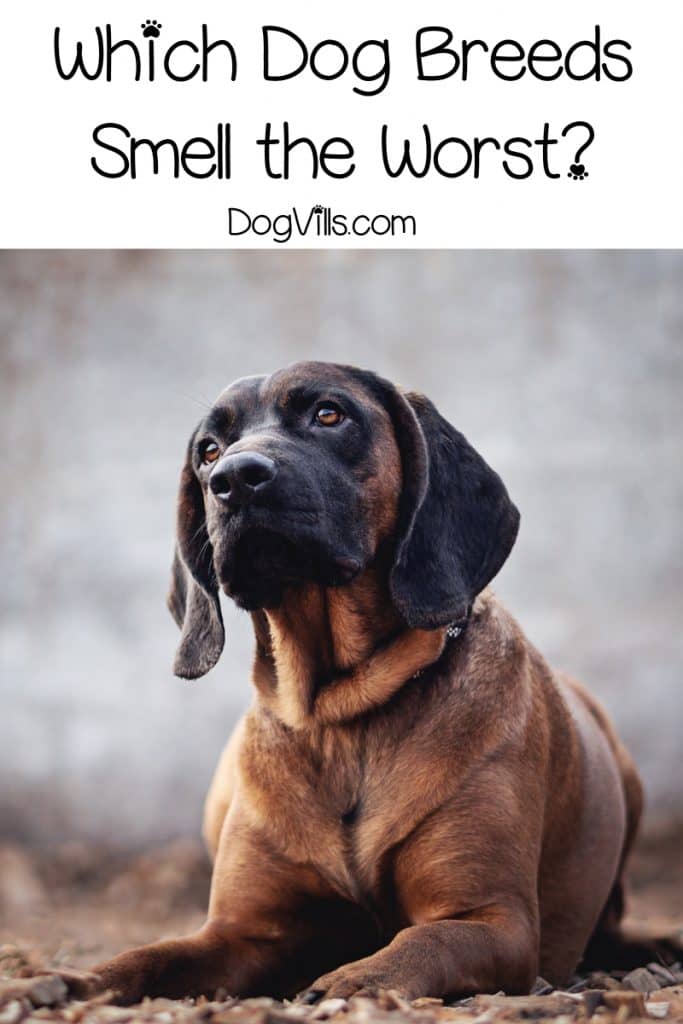 #1 Saint Bernard
Saint Bernards are one of the best giant dog breeds you can ever find.
However, these adorable pooches are in our list of the worst smelling dogs because they tend to drool a lot around the house. When the drool accumulates, it stinks.
In addition to this, Saint Bernards have thick coats and shed fur everywhere in the house.
While they don't require frequent bathing, they need to be groomed regularly, or the fur gets mated and accumulates dirt. Then their coats smell even worse than before.
#2 Basset Hound
You can't but admire a Basset Hound's quiet temperament and noble character.
These scent hounds, however, tend to smell bad because of their long floppy ears.
Without proper cleaning, bacteria and debris accumulate inside the ears and cause the worst dog smell you can imagine.
In addition to this, this friendly dog breed has skin folds that contribute greatly to their specific dog odor.
To keep the bad smell at bay, you must clean your Basset Hound's folds thoroughly and prevent moisture from getting trapped inside.
#3 Cocker Spaniel
Do you remember the cute pooch from Disney's Lady and the Tramp? Then you know what an amazing breed Cocker Spaniels are.
It's no wonder that they were one of the most popular breeds in the 1950s.
However, despite their gorgeous appearance, some Cocker Spaniels suffer from primary seborrhea. This condition turns their skin oily, greasy, and smelly.
In addition to this, Cocker Spaniels are notoriously difficult when it comes to grooming their magnificent coat, and that adds to the unpleasant doggie odor.
#4 Shar-Pei
Shar-Pei is a breed well-known for its wrinkled body and aloof temperament.
However, what you don't know is that these cute wrinkles trap dirt and debris.
So, when you don't take care of your dog's skin, the creases turn into the perfect breeding ground for fungi and bacteria.
In addition to this, it's difficult to dry a Shar-Pei completely after a bath. You have to wipe each fold and wrinkle to remove moisture.
Otherwise, your Shar-Pei gets yeast or fungal infection. That's one of the reasons why Shar-Pei smells even after a bath.
#5 Bloodhound
Another contestant in the list of the worst smelling dog breeds is the Bloodhound.
Known for its independence and aloofness, Bloodhounds are unbelievable trackers thanks to their unique sense of smell.
Similarly to Basset Hounds, the Bloodhound has a lot of wrinkles that trap moisture and debris.
The same goes for the flews (the hanging lips) and his floppy ears, which are prone to ear infections.
In addition to this, Bloodhounds drool and slobber, so they are not among the cleanest dogs in the world.
#6 Bulldog
You can never mistake a Bulldog for another breed thanks to their sturdy, low-slung bodies and massive, square heads.
While they used to be fierce fighters, Bulldogs are one of the best companions you can wish for today.
Unfortunately, Bulldogs have a distinctive smell that is hard to ignore.
For once, Bulldogs are gassy because of their flat faces and their tendency to bloat.
In addition to this, they are prone to skin problems and infection, as well as teeth decay.
If that's not enough, these cute pooches drool like a faucet due to the construction of their mouths.
#7 Pugs
A few people can deny a Pug something due to his irresistible puppy eyes. But despite their cuteness, Pugs are one of the stinkiest dog breeds.
For once, they are prone to yeast and staph infections, which produce a remarkably unpleasant skin odor.
The breed also has issues with their anal glands, which leads to a foul fishy smell.
In addition to this, Pugs have deep facial wrinkles, where food and dirt might get stuck.
So, you need to clean these wrinkles thoroughly to keep the bad odor at check.
#8 Beagle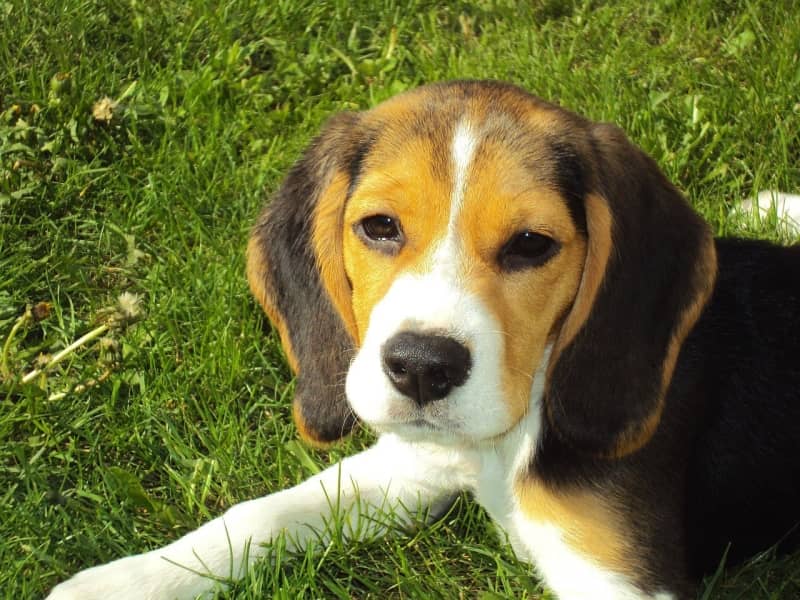 Since they are one of the most popular small dog breeds, it's hard to image that Beagles might smell.
However, these adorable scent hounds have their distinctive odor, which most owners notice immediately.
One reason why these pooches are among the most smelling dog is their floppy ears prone to infection and waxy buildup.
In addition to this, hounds tend to have a stronger body odor than other breeds. Since these dogs hunt in packs, they need to know where each member is. Hence, the strong smell.
#9 Yorkshire Terrier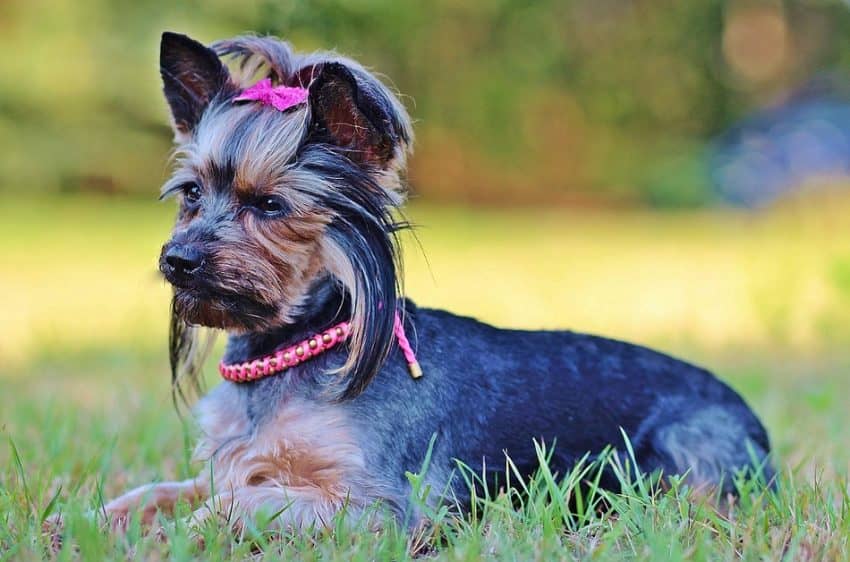 When you look at a Yorkshire Terrier, the last thing you can imagine is that this glamourous small dog can smell bad.
But it's true. Yorkies are prone to dental issues, and nothing smells worse than decaying teeth.
In addition to this, the long Yorkie's coat requires a lot of care to stay in top condition, and it's easy for dirt to accumulate when you don't brush regularly.
#10 Boxer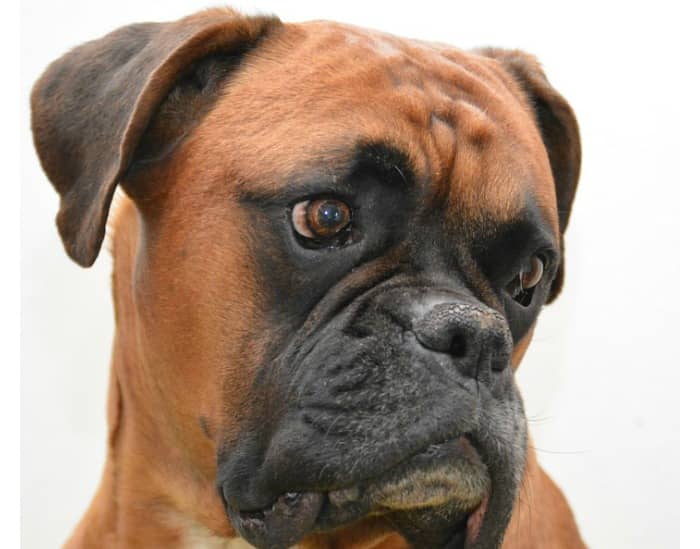 The reason why Boxers are among the worst smelling dogs is their flatulence.
Since they have a flat face, Boxers tend to swallow air when eating, which leads to bloating and gas.
So, these vigorous dogs have a distinctive Boxer smell that you can't miss.
But despite their flatulence, Boxers are very clean dogs, and their short coats don't require much care.
Why Does My dog Smell Even After a Bath?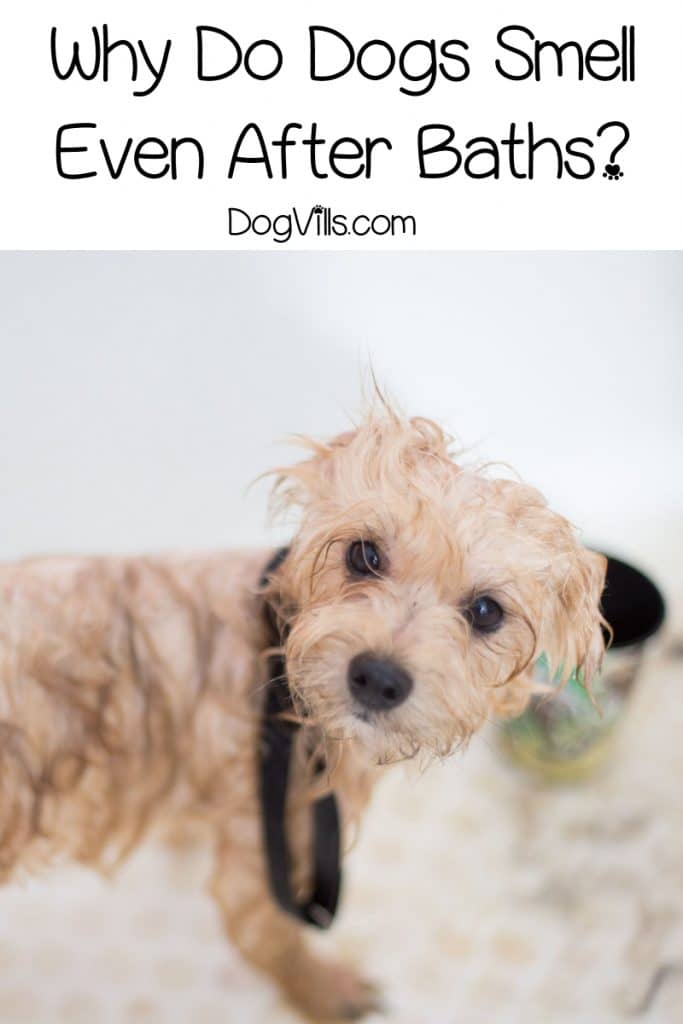 Do you know that dogs sweat through their paws? So, their sweating mechanism is quite different from ours.
Besides sweating through paws, dogs perspire from the hair follicle and produce oil to keep their fur healthy. Their ears also have glands that produce a yeasty smell.
When you combine all these things together, you have a dog with a normal body odor. You can keep this odor controlled through frequent baths.
However, why do some dogs smell even after a bath? One of the most common reasons are:
Skin infections
Ear infections
Anal glands issues
Dental disease
Gas and bloating
In addition to these, kidney failure and diabetes might also cause a bad body odor in a dog.
That's why you should talk to your vet if your pooch smells even after you give him a bath.
How Can I Stop My Dog From Smelling?
So, you have a stinky dog at home. Let me reassure you that you don't have to live with that smell for the rest of your dog's life. You can stop your dog from smelling with these smelly dog remedies:
Bathe your dog regularly to keep his skin fresh smelling.
Clean your dog's ears, especially if he has floppy ones.
Brush your dog's teeth every day to prevent dental disease.
Dry your dog's wrinkles completely to avoid trapping moisture inside them.
Change your dog's diet to deal with gas and bloating.
Wash your dog's bedding frequently.
Rule out a medical issue.
Most people think that it's normal if their dogs smell bad. But, as you found out, a bad body odor is often due to infections, skin problems, and teeth decay.
So, don't assume that your dog is smelly. Talk to your vet about the problems and what steps you should take to stop your dog from stinking.
What do you think about these 10 worst smelling dogs? Do you agree or disagree with our list? Tell us below!