"My dog doesn't want to lick me."
Have you ever had to say something like that?
Are you baffled by your dog's strange licking behavior?
Or rather, lack of licking, as the case is here.
Then keep on reading to find the answer.
5 Reasons Why My Dog Doesn't Want to Lick Me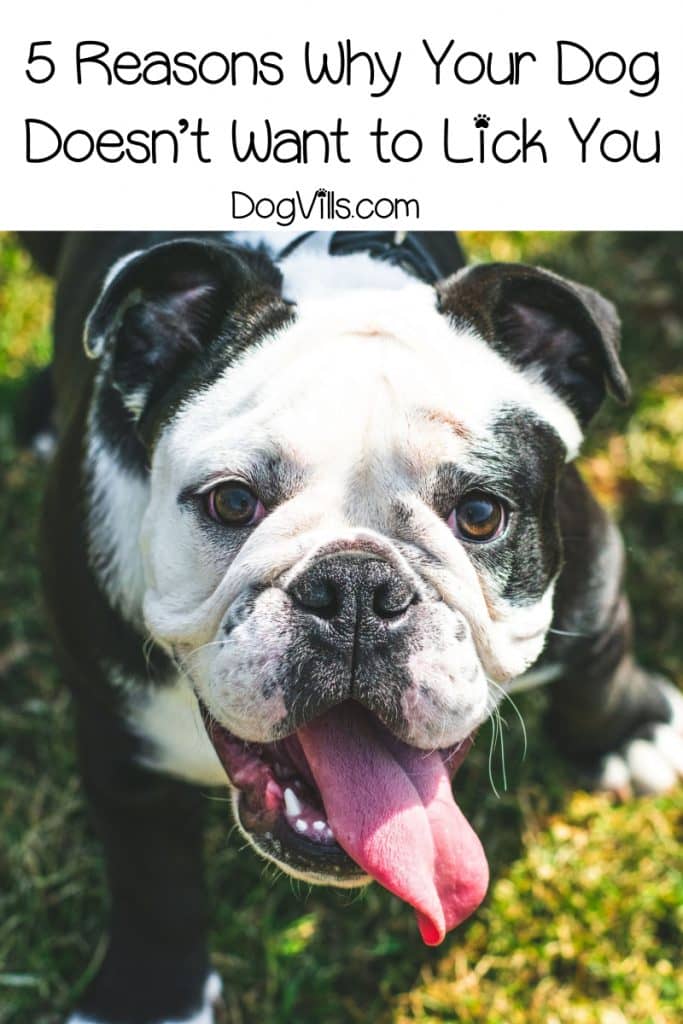 When you adopt a dog, you have certain expectations based on prior dog experience or watching friends interact with their dogs.
For example, you expect that your pooch will greet you enthusiastically when you come home from work or that your dog will love to play cool games.
You also assume that your dog is going to lick you every chance he gets and you plan on how to deal with it.
Then you get a pet, and the dog doesn't want to lick you at all. Does it mean that your dog hates you? Let's find out.
#1 Your Dog Is Not a Licker
One of the main reasons why dogs lick is to show affection and love to their fellow companions – humans, dogs, or even cats. That's a behavior they pick from their mothers who groom and bathe them until they're old enough to do it themselves.
That being said, not all dogs are lickers, just like not all people like ice cream. It depends on your dog's personality and character.
In addition to this, you have to keep in mind that some dog breeds are less affectionate than others.
These dogs they created to be independent and act without human supervision.
As a result, these breeds might not feel the need to show how much they love you. But it doesn't mean that they don't care about you.
Furthermore, some puppies lick people because the licking is their comfort blanket and reminds them of their mother.
While some dogs carry this behavior into adulthood, others outgrowth it in time.
What I'm saying is that it's quite normal if your dog is not licking you like crazy. Your furbaby is showing his love and appreciation in another way.
#2 Your Dog Has Been Trained Not to Lick
Another possible explanation of why your dog doesn't want to lick you is training.
Not all dog owners like it when their pooches give wet kisses all the time or wash them thoroughly with tongues.
As such, if you have adopted or rescued the dog from the streets, your pooch might have prior training in this area.
Puppies are very fast learners, and with some simple training strategies, you can stop a dog from licking.
#3 Your Dog Hasn't Picked up the Behavior
Licking is an instinctive behavior and a major way for dogs to communicate from the moment they're born.
The mother licks the puppies to stimulate them to breathe, and they lick her in return to communicate their needs.
However, puppies who grow up without a mother might not pick up that specific behavior.
Or the mother might be too young to know what to do with the puppies.
So, such puppies might grow into dogs who don't lick or are not as enthusiastic about it as others.
#4 You Don't Taste Good
Most dogs lick you on the face and hands because you taste good. In most cases, that's because you have some tiny food particles left, and your dog wants to lick them clean.
In addition to this, human skin is slightly salty. Most dogs love the taste of salt and can't get enough of it.
That's one of the reasons why dogs love to lick you on the face.
When your dog is not interested in licking you, it might be because he doesn't like how your skin tastes. No offense.
It might be due to some cosmetic products you're using, such as make-up, skin creams, or perfume.
Stop using these products for a while and see if your dog starts slobbering over you.
#5 You Don't Want Your Dog to Lick You
Dogs are sensitive creatures, and the more time you spend with them, the more in sync they become with your emotions.
So, your dog might not lick you like crazy you because he feels that you don't want it. Your pooch is just respecting your wishes.
In some way, you might have shown your dog that you don't appreciate his slobbery kisses.
For example, you have shouted or moved abruptly away from your dog.
While you might not remember the accident, if it has made a strong impression on your pooch, he is going to avoid doing it again.
You might change his mind by putting something tasty on your hands and let him lick it off.
If you're patient enough, you could also teach your dog to give kisses on command. Doesn't it sound cool?
Is It Weird That My Dog Doesn't Want to Lick Me?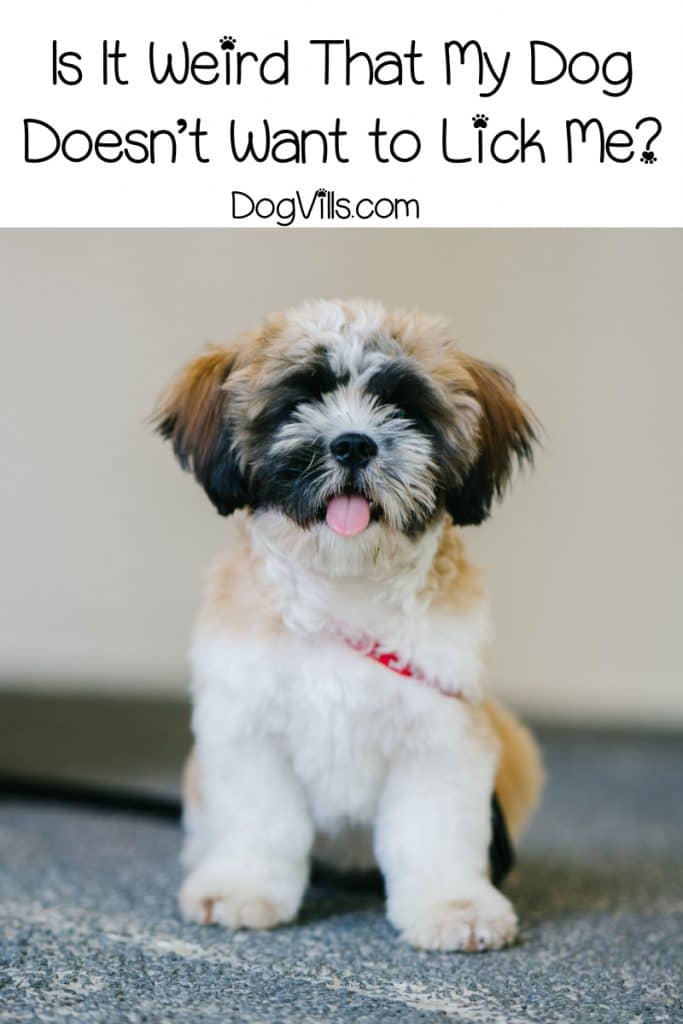 Let me reassure you. There is nothing wrong with your dog if he doesn't want to lick you.
It's not weird and doesn't mean that your pet is sick. However, too much licking can signal a problem if the behavior starts suddenly.
Sometimes dogs lick a particular part of their bodies when they are in pain.
They also might lick you more than usual to communicate their distress and discomfort in such situations.
Moreover, strange behavior such as licking empty bowls, the floor, or the carpet is a common sign of nausea and gastrointestinal distress in dogs.
In these cases, you're also going to notice drooling and lip-smacking.
Stress and anxiety could also make a dog more affectionate and clingier than usual.
Since licking is a reminder of puppyhood and safety, it tends to calm some dogs.
As a result, your pooch might attempt to soothe his anxiety by excessively grooming himself or you.
That's why you have to talk to your vet when your dog's licking patterns changed out of the blue.
So, your dog doesn't want to lick you. It's not the end of the world.
I know a lot of people who wish their dogs were less enthusiastic with their rough tongues.
Enjoy your saliva-free mornings, or try to teach your dog to lick you.
What do you think about these reasons why your dog doesn't want to lick you? Does your pooch like to give you wet kisses? Tell us below!