Have you ever seen your dog crossing their paws?
Then you might wonder what dogs really means when they cross legs and what this strange dog behavior is all about.
If that's so, keep on reading to find the answers to your questions.
What Dogs Really Mean When They Cross Their Paws?
Do you know what owners call it when a dog or a cat crosses their paws? They've named it  "polite paws" because dogs cross their legs so elegantly that they look like a lady/gentleman.
While this behavior is cute and makes for pretty Instagram photos, does it really mean anything? Or is it just a random position?

As it turns out, there aren't that many research on why dogs cross their paws, probably because we haven't invented a dog translator yet.
However, we can make a few educated guesses what dogs really mean when they cross their paws.
#1 I'm Trying to Tell You Something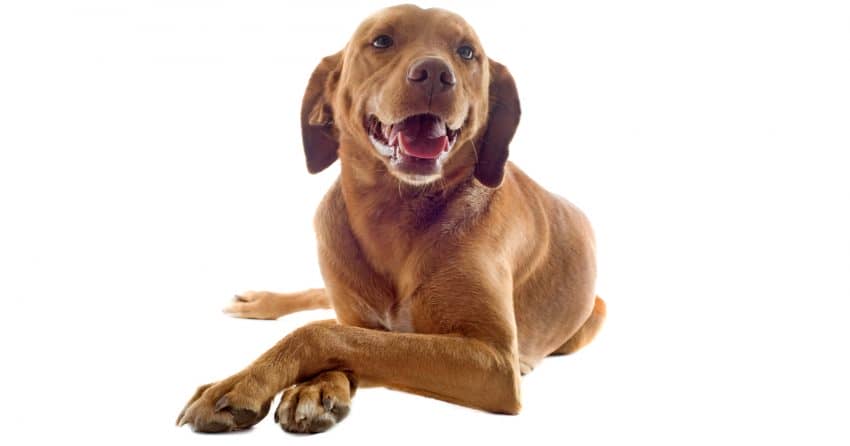 Dogs might not be able to speak, but they use a lot of body language to communicate with people and other animals.
When I say "body language," people often think about the tail. While dogs use their tails to show happiness or frustration, it's not the only tool in their arsenal. Paws can also be used to communicate needs and emotions.
For example, a dog that paws at your hands probably wants something – a toy, a treat, or attention.
Using paws to push another dog down, on the other hand, may be a sign of dominance, while lying on the back with legs in the air is a sign of submission.
As such, when dogs cross their paws, they might be trying to tell you something. You'll need to consider the rest of your dog's body language to figure it out.
That's the only way to understand what your pooch is saying.
#2 I'm Getting Comfortable
Think about when people cross their legs. Usually, you do it when you're sitting in an uncomfortable position, and you're trying to get comfortable. As it turns out, the same goes for dogs.
Look at your dog when they cross their paws. You'll notice that crossing the legs pushes the elbows outward.
In this position, the dog's weight doesn't rest solely on the bones, so it's more comfortable.
That's why specialists think that dogs move their elbows to distribute their weight and end up with crossed paws.
Strangely, some dogs lay down comfortably without crossing their paws at all. We might be missing something or dogs do it because they like to keep us in suspense.
#3 It's a Breed Thing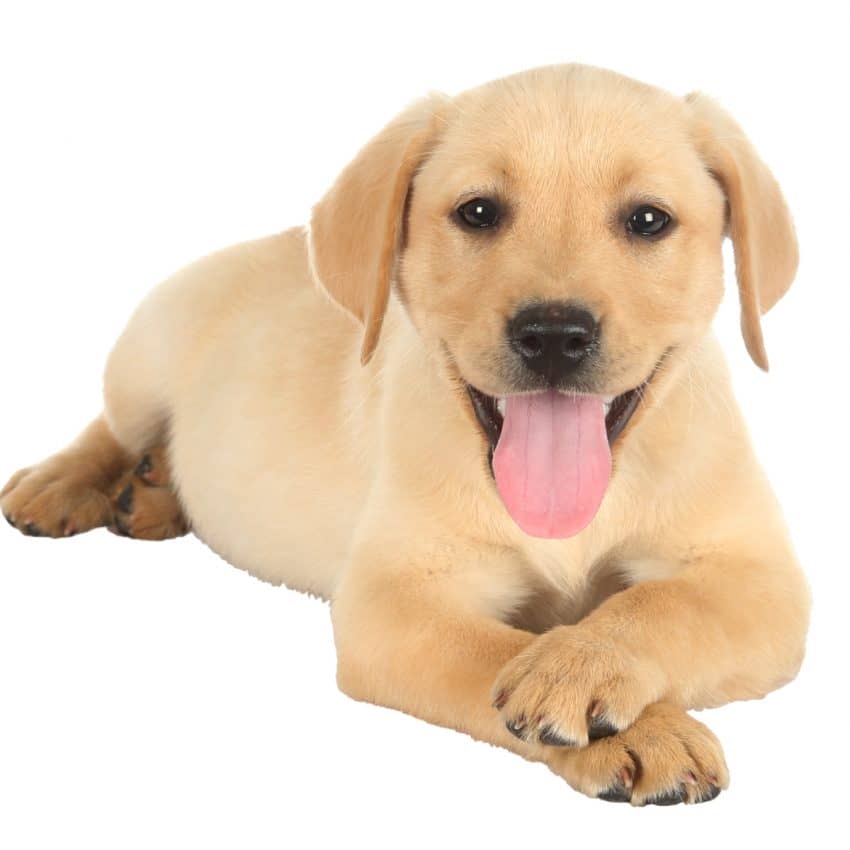 While I was gathering material for this article, I spoke to a lot of dog owners. It turns out that some breeds are more likely to cross their paws. Can you guess which ones?
Labradors, Border Collies, Poodles were the most frequently mentioned breeds.
These are one of the most intelligent dog breeds, so it might be all about imitation.
Scientists have proven that dogs tend to copy their owners even when they receive no reward.
People also often point out that dogs look like their owners and that's not a coincidence.
Interestingly, for dogs with short legs, such as Dachshunds, it's harder to cross their paws because of their body's constitution.
Bulldogs with their wide bodies are also less likely to cross legs.
#4 I'm Happy/Content
Most specialists agree that dogs show their happiness and contentment by crossing their paws.
That makes sense because a dog will need an extra second to get up and run away from a threat if they cross their front legs.
While our pets don't have much to fear about predators, most dogs stay alert and watchful of their surroundings.
An extra second or two might make all the difference when it comes to a potential enemy or a dangerous situation.
So, if your dog crosses their paws, they must be feeling quite secure around you and trust you to watch their backs.
#5 I Get Something Out of It
Owners often encourage a dog's behavior without realizing what they're doing. So, a dog crossing their paws might be getting something out of it – attention, treats, or petting.
Think about what you do when you notice the "polite paws." You probably snap a picture of your dog and fawn over them a little because your pet is so adorable and cute.
Dogs are likely to repeat any behavior that leads to positive things. That's why we use positive reinforcement so much in training.
#6 I've Been Taught to Do it
Do you know that it's possible to teach a dog to cross their paws? All it takes are treats, positive reinforcement, and a lot of patients from the owners.
If you've adopted an older dog from the shelter, the previous owners might have taught their pet to cross legs.
So, your new dog is repeating a behavior they know would get them rewarded.
#7 I'm Showing Submission
My last theory about what dogs really mean when they cross their legs has to do with dog submission.
Usually, people think that dogs act submissively by lowering their tails or rolling on their backs. But lying down with crossed paws can also be seen as a submissive gesture.
It all depends on what's happening around your pet.
The rule of thumb is that the lower your dog is, the more submissive they're acting.
In a confrontation, a dog with crossed legs will need more time to defend themselves than a dominant dog that is standing up and barking.
As such, some dogs might use "polite paws" to appear less of a threat or when they're feeling nervous or uncertain of the situation.
Yawning or avoiding eye contact also suggests that the dog is uncomfortable and agitated.
It's hard to say what dogs really mean when they cross their paws. As you can see, it might be a sign of contentment, nervousness, or submission.
But, it's also possible that we're reading too much in a simple gesture that doesn't really mean anything.
What do you think about these five reasons why dogs cross their legs? What do you think your dog is trying to tell you when they cross paws? Share your thoughts in the comments.