Have you ever wondered to yourself, "Why does my dog bite me more than my husband?"
Well, the good news is, you are not the only one.
My friends have always asked me whether dogs had the habit of biting women more. Fortunately, that's not always the case.
There are many factors to consider in pet behavior so it's important to check out all the possibilities.
In this article, we will talk about the reasons why the dog bites only one person in the family or why do they have biting tendencies at all.
We will also give you tips on how to prevent it in the future.
Content & Quick Navigation
Why Does My Dog Bite Me and Not My Husband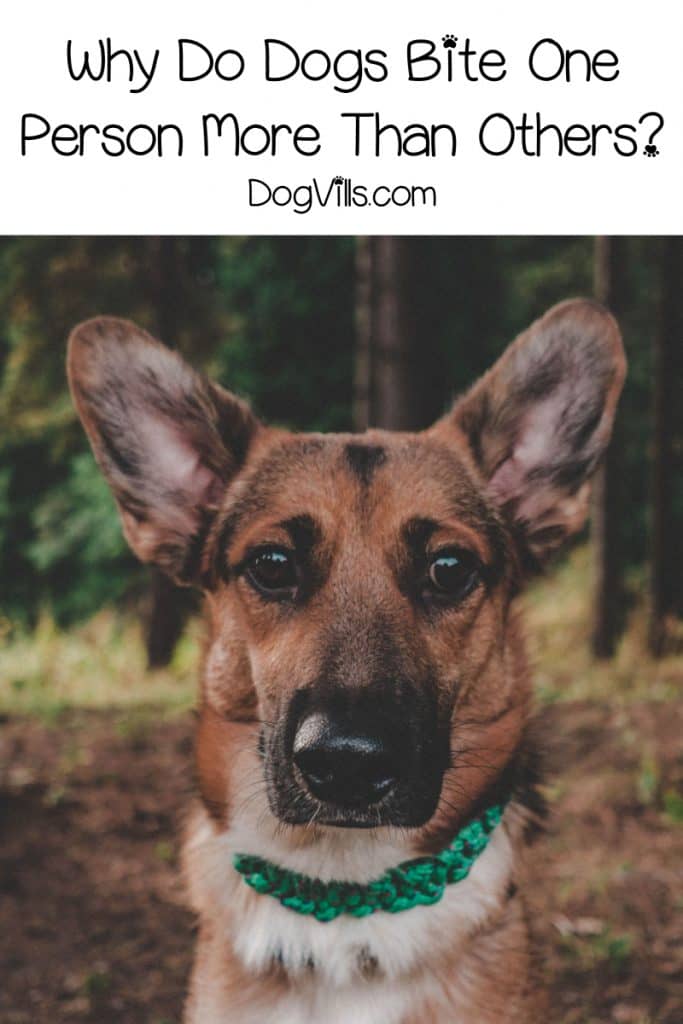 There are many reasons why your dog bites you and not your husband.
Sometimes, it's because your puppy is too young to understand that he's hurting you; and other times, there are psychological factors.
You can try to see if your pet bites you at specific times or only when he's under a lot of stress.
Here are a few of the reasons why your dog could be biting you and not your husband:
1. Your puppy was taken from his family too soon
It sounds strange, but sometimes, puppies bite because they were removed from their mothers too early.
See, those early weeks with mom and littermates help teach your pup vital socialization skills. During playtime with his siblings, your puppy also learns bite inhibition.
Basically, it means he learns how hard he can bite his siblings before they yelp in pain. That yelp is his cue to back off.
If he never had an opportunity to learn just how much his littermates can take, then he has to learn it through playtime with you.
If your dog tends to bite you more often than your husband or other family members, then it's likely that he's already figured out how much they're willing to take. Now you have to teach him just how much biting you find acceptable. Does that make sense?
2. Your pup is tired or hungry
Another thing you should consider is what your dog's body language is telling you.
Some people say they know when their dog is hungry when they start biting or nibbling non-stop and others when their dog is tired and sleepy.
Observe what time of the day your dog usually does this and use it as a learning experience.
Fido probably bites you because you've responded in the past to this behavior, so he thinks it's the right way to communicate his needs to you.
If you keep giving in, he's going to keep biting you. Instead, gently but firmly tell him "no biting." Wait until he's calmed down and is no longer gnawing on your hand. Then give in (when applicable, obviously you're not going to give in to every whim your pup has).
3. Your dog is teething
Your pup could be biting you because his teeth are growing. It is common for puppies to nibble, nip or bite anything when they're teething.
They may be keener on nipping at your soft hands than your husband's rough ones. Or, again, your husband may have already established that biting is off-limits, so your pup comes to you.
Redirection is the best way to handle this cause. Give him a good teething toy and let him go to town on that. You could even try freezing it first. Just like with human babies, frozen teething rings are incredibly soothing on your pup's aching gums.
4. Your dog thinks you're playing
This goes back to bite inhibition, but it's worth mentioning as its own reason. My friend had a German Shepherd that used to bite her like crazy during playtime. It had nothing to do with aggression or anything, it was just how Tasha played.
Once again, redirection worked really well. Instead of using her hands during playtime, my friend engaged Tasha in a fun round of tug-of-war, fetch, or another game using toys in place of her hands.
5. Fido doesn't like feeling trapped
Some dogs love hugs and cuddles. Others, not so much. If your dog bites you when you're snuggling, it could be a sign that she just isn't enjoying your idea of play.
While technically this can be construed as aggressive behavior, chances are Fido gave you plenty of warning signs that he was feeling trapped before he resorted to snapping.
Learn your dog's body language and respect his boundaries. For example, if he always growls and bites you when you wrestle, he's trying to tell you that he's just not that into it. Find another game to play together. It's really as simple as that!
6. Your dog is anxious
Just like humans with anxiety tend to get a bit snappish, so do dogs. If you notice that Fido bites you more often during a thunderstorm or when your neighbors are setting off fireworks, chances are pretty good that he's doing it out of anxiety.
Here are some signs that tell you that your dog is worried or anxious:
Yawning
Tongue-flicking
Lifting his front leg
Having accidents and urinating in strange places
Drooping head or body
Looking away (especially paired with tongue-flicking)
The reasons mentioned above may not be the only reasons that your dog likes biting you and not your husband, but they are the most likely culprits.
Regardless of the reason, it's important to nip the nipping in the bud before your puppy grows into an adult dog with very big adult teeth (although sharp little puppy teeth are bad enough, right?)!
How to Make Your Dog Stop Biting You
Whether your dog bites you more than your husband or is just a Nippy McNipperson in general, here are some ways to stop the behavior.
Feed your pet by yourself
You've heard the saying, "Don't bite the hand that feeds you," right? Well, that's kind of where I'm going with this.
Be "the hand that feeds" your dog for a good solid week. Make sure you're the ONLY one doing it, if possible.
Note that this isn't about establishing dominance, being the alpha, or any other thoroughly debunked nonsense about pack leadership. It's about showing your dog that you're a dependable companion.
Correct you dog immediately
Another thing that you should do is sternly and quickly correct your pet every time he tries to bite you.
DO NOT yell. DO NOT hit your dog. Simply repeat "no bite" in a firm tone and remove your hand (and your entire self, really) from the equation.
Consistency is key to implementing this. Don't let your puppy get away with biting you one day but not the next.
Redirect, redirect, redirect
In my opinion, redirection is the single best way to deal with a bitey dog during playtime.
Try giving your dog a chew toy instead of your hand. Play games together that don't really give him an opportunity to nip your poor aching flesh (again, puppy teeth REALLY hurt!).
Establish control
Let me preface this tip by repeating that we ARE NOT trying to be "alphas" or "dominators" here.
Science and REAL animal behaviorists have proven time and again that the whole "pack mentality" thing doesn't even apply to domesticated dogs. Heck, it doesn't even apply to wild wolves (the study that launched a thousand "alpha dog" books was based on captive wolves).
Sorry for the soapbox rant. Back to the point. While we're not trying to dominate our dogs anymore, we do still need to be able to control them when we're out and about. We can't just let them run willy-nilly, chasing and biting anyone and anything, right?
Fortunately, "establishing control" is really just a fancy way of saying "do basic dog training." Teach Fido to walk calmly and nicely on a leash, to come when called, to stop on command, and so on.
Know when to ask for help
If, despite your best efforts, your dog still bites you (or anyone else), then consider seeking professional help. Talk to your veterinarian about a behavior consultation, then look into a professional dog trainer with experience dealing with aggressive dogs.
PLEASE, though, do your research and homework. Choose a trainer that focuses on positive reinforcement and avoid anyone that uses words like "you have to show him who's boss." Dog training should NEVER involve punishment.
Final Thoughts
When a puppy bites only one owner, not the other, it can get pretty upsetting (to put it mildly) if you are the constant target. It might make you question if your puppy even likes you.
Don't think that way, though. I can almost promise you that it has nothing to do with your pup not loving you. Just the opposite, in fact!
The good news is that most puppies do tend to outgrow the behavior well before their adult teeth come in.
That said, it's still important to put a stop to the behavior. Fido could end up biting someone who doesn't think he's just playing, and that can lead to disaster.
Follow the tips above and contact a pro if you still need help.
Do you have any other questions about why dogs bite one person and not another? Share below!