At what age can you board your puppy?
Sure, you'd rather travel with your dog, but that's not always possible.
Knowing when it's safe to leave your pup with strangers (albeit professional strangers) is important.
So, below, we'll discuss how old your pooch needs to be for boarding, plus other relevant matters.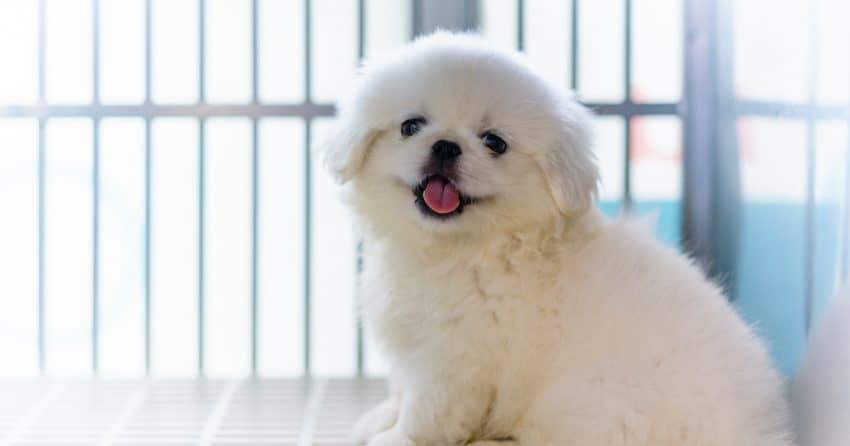 What Age Can You Board Your Puppy?
Dog boarding facilities usually have a minimum age for puppies they accept.
In fact, you should be wary of one that does not have such a restriction.
That age requirement isn't just an arbitrary recommendation, it's actually for your dog's safety.
Age restrictions for puppies vary between boarding facilities, so there's no one perfect answer.
For the most part, though, the average minimum age accepted for a puppy is roughly four months.
Some facilities will take younger dogs if they've had their first round of shots, which they get when around three months of age.
However, it's definitely better to wait until after the second round of vaccines before boarding a puppy.
Important Things to Do Before Boarding a Puppy
Age isn't the only thing to consider before you board your puppy. Let's take a look at a few other factors to keep in mind.
Visit a vet
It's super important to visit your vet before boarding your pup to get a good assessment of health and potential risks.
A visit to your vet ensures that your puppy is free of parasites, such as fleas and worms.
Most kennels require proof of proper precautions being taken against these parasites before accepting your pet.
Get your puppy vaccinated
Vaccination is obviously a crucial thing to do when thinking of boarding a little pooch.
Your puppy's immune system is still developing and not efficient enough to combat infectious diseases.
So, immune-boosting shots are critical to keep them healthy.
Again, a reputable kennel would usually need a proof of this before accepting an animal.
Most facilities require the basics as well as bordatella vaccines to protect against kennel cough.
Call ahead first and find out the vaccination requirements of a facility you have in mind.
Choosing the Right Kennel is Critical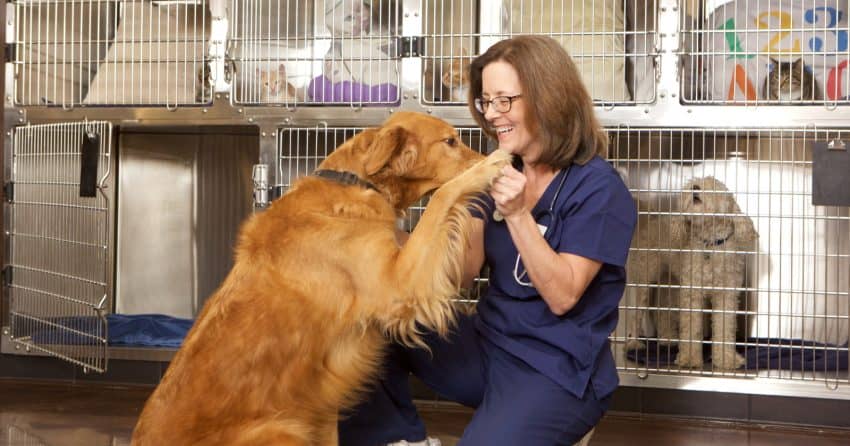 Not all boarding facilities are created equally, so you want to make sure you're choosing the right one.
Here are a few of the things you should consider when looking for the right kennel:
Research
You want to make sure that you get as much information as possible about available boarding facilities.
Make a list of kennels you think might be suitable to your needs and find out what people think about them.
Your friends and other pet owners may help in pointing you to the best place.
Pay a visit
Before you finalize your decision, schedule a quick visit to the kennel to see it in person.
This helps you assess how well the staff there will be able to take care of your pooch.
You should also use the opportunity to ask all questions that you think are worth having answers to.
Find out vaccination requirements
One of those things you should seek to know when you visit a facility is its vaccination requirements.
Ideally, a good one should require proof of vaccination. It might even be better if it requires that your puppy must have had a second round of shots.
How Much Does it Cost to Board a Puppy?
The amount you will need to pay to board your puppy depends on different factors.
These include your preferences, the facility in focus, and your area of residence.
However, pet owners pay anywhere between $25 and $85 a night to board a dog, according to HomeGuide.
The average amount that most people pay is about $40 per night.
You may get better prices when boarding your puppy for a week or a longer period.
How Long Can You Board Your Puppy?
There is also the question of how long is too long to board your dog.
Some people are afraid that they might lose the connection with their puppies.
Others worry about separation anxiety becoming an issue. In reality, it's hard to say because every dog is different.
Some pet owners say a shorter or longer duration doesn't matter much to the animals from experience.
While not totally advisable, you could leave your pooch in a boarding facility for several weeks and he would likely be just fine.
There are even reports of people leaving their dogs for over a year and the animals fared well regardless.
Obviously, that's not something we want to do, though!
Summing up, you will be able to board a puppy when it is about 12-17 months of age, depending on kennels.
It is vital to ensure proper safeguards to protect the health of your pooch before boarding. Vaccination is critical and a visit to the vet will also help.
What are your thoughts on what age to board your puppy? Share below!