From Annie (Oakley) to Zorro, I've rounded up some outstanding Western dog names! Read on for ideas inspired by films, books, and even historical figures. With 250 to choose from, you should have no problem finding inspiration for your own wild, wild pup!
200 Outstanding Wild West Names for Dogs
One quick note, then we'll dive in. While I divided this up into male and female dog names, don't feel like you have to stick to one or the other. If you love the idea of naming your male dog Annie or your female Zorro, go for it! Got it? Good. Let's start with the girls, shall we? After all, as they say, "ladies, first!"
You may also love these 25 Charming Country Music Dog Names or these 12 Sweet Country Dog Names for Your New Pup!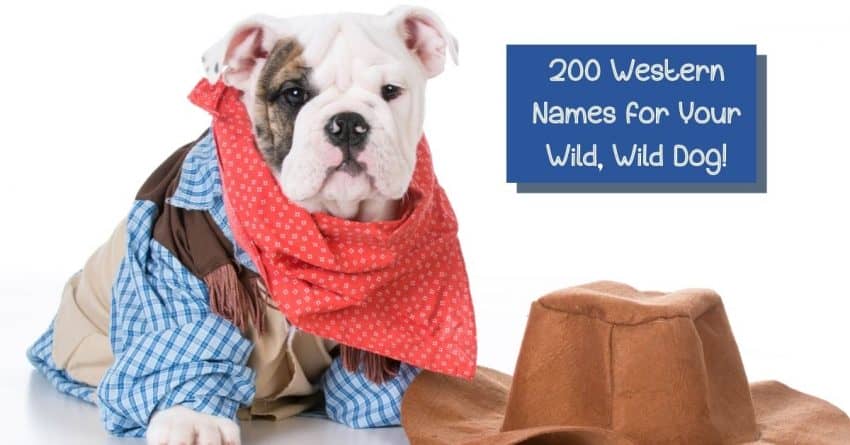 Western Names for Female Dogs
From famous cowgirls in movies to the actresses that played them to real-life women, these are some of the best Western names for your female pup! Enjoy!
Alma
Annie (as in Annie Oakley)
Angel
Arlene
Aggie
Audrey
Arizona
Bean
Belle Starr
Bess
Betsy
Betty Lou
Blanche
Bonnie
Calamity Jane
Carolina
Cat (Cat Ballou)
Cherry
Cheyenne
Claudia
Connie
Cristal (Linda Cristal)
Curly
Dakota
Dallas (this one is very gender-neutral)
Della Rose
Destiny
Dolly
Doris
Dot
Dove
Dutch (another good gender-neutral dog name)
Eleanor
Elizabeth
Ella
Ellie May
Elsa
Esther
Etta
Ethlyne
Evelyn
Fern
Florence
Francelia
Fritzi
Grace
Gladys
Haley
Harper
Henrietta
Indus
Jeanie
Michaela (Dr. Quinn, Medicine Woman)
Jill
Jolene
Josephine
June
Justice
Karin
Kate
Kitty
Laura
Liberty
Lillian
Lina
Lola
Lucille
Laraine
Loretta 
Marceline
Martha
Maybelle
Mildred
Myrna
Majel
Marion
Marguerite
Merry
Montana
Nan
Natalie
Nora
Olivia
Pearl
Peggie
Quinn
Reba
River
Rose Blossom
Sally
Sara Jo
Savannah
Scarlett
Shirley
Sierra
Tessa

Velma

Vera
Viola
Victoria (Victoria Barkley)
Out of these 100 ideas, I have to say that Belle Starr is my favorite as far as names go. It's not the most unique on the list, but it's super cute! Of course, you can never go wrong with Cat or Kitty if you like ironic dog names!
Male Western Dog Names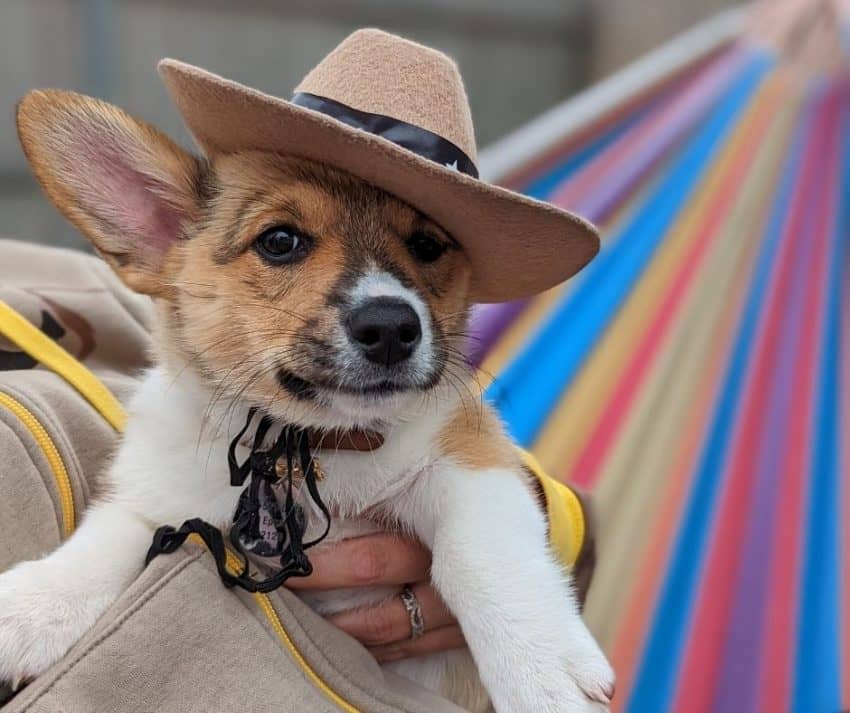 Arkansas (for Arkansas Tom Jones)
Barkley (Heath Barkley)
Bart
Baxter (Bill Baxter)

Big John

Bodie (Cheyenne Bodie)
Bonanza
Bowie (Jim Bowie)
Bozeman (John Bozeman)
Brett
Bridger (Jim Bridger)
Brisco
Bronco
Buck
Buffalo Bill
Burton
Butch

Calhoun (Ben Calhoun)

Captain Augustus (Captain Augustus "Gus" McCrae )
Casey
Charley
Chester
Colt (Christopher Colt)
Cisco
Clay
Cochise
Cord
Cordell
Craddock (Jack Craddock)
Doc Holliday
Doolin (Bill Doolin)
Durango (The Durango Kid)
Earl
Elfego (for Elfego Baca)
Emmett
Festus
Flip (Frank "Flip" Flippen)
Gene
Gil
Grat
Gus
Hadley
Hart (Dave Hart)
Harrison
Hepner (David 'Rep' Hepner)
Hoby
Hopalong
Hoss
Ike
Jake
Jared
Jeff
Jemal
Jesse James
Jingles
Kit Carson (Kit Carson)
Lash (LaRue)
Levy
Little Joe (Little Joe Cartwright)
Lone Ranger

Lucas (Lucas McCain)

Lucky Luke
MacLean (Adam MacLean)
Manolito
Maverick
McLintock
Nichols (Jim Nichols)
Oakley (Annie's last name makes a great first name for a boy!)
Oliver

Perry

Pitcairn
Ragan (Frank Ragan)
Rooster (Rooster Cogburn)
Ringo (John Ringo)
Rip
Rowdy
Roy
Seth
Shank
Shenanoah
Sherman
Slade
Slim
Stoney Burke (Stoney Burke)
Sundance
Sugarfoot (Tom "Sugarfoot" Brewster)
Tagg
Tate
Tattenbaum (Willian Tattenbaum)
Texas Jack
Tilghman (Bill Tilghman, Jr.)
Thaddeus
Vint
Walker (Walker, Texas Ranger)
Wesley
Woody (a cute Disney-inspired name from Toy Story)
Wayne (Matthew Wayne)
Wyatt (Wyatt Earp)
Zebulon (Zebulon Macahan)
Zorro
For boy dogs, I kind of love Bridger. It's unique and adorable! Plus, my in-laws had a black lab named Bridger, and he was a terrific dog.
What are your favorite Western dog names? Share below!