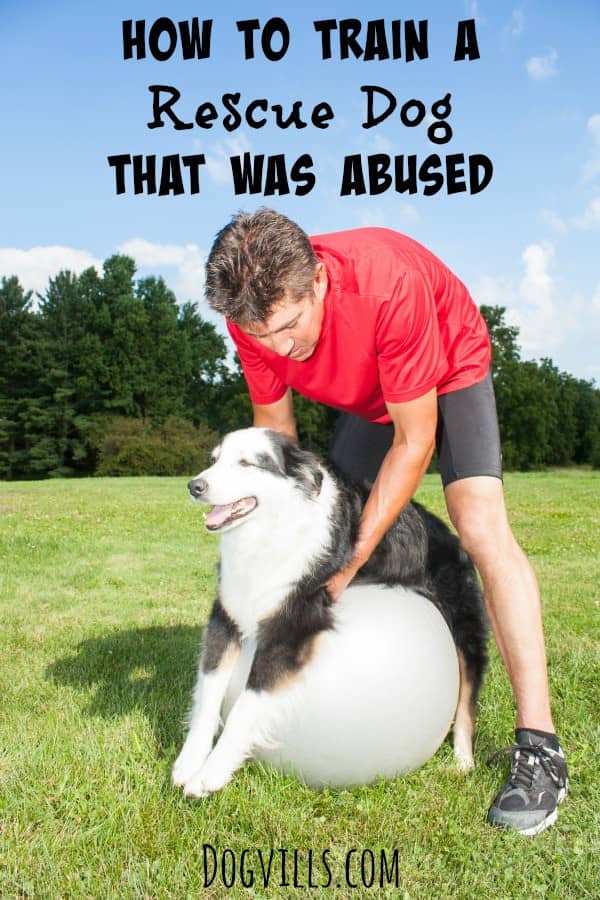 If you have chosen the route of adopting a pet from a shelter, you are likely to need these tips for how to train a rescue dog that was abused.  Sadly, many dogs you find for adoption at your local animal shelters have come from homes or situations where they were abused.  These same dogs will likely need to be house trained or obedience trained.  This can bring about a lot of problems that need to be addressed.  We hope these tips can make this transition much easier on you, your pet and your family.
Related: How to Adopt a Dog From A to Z
HOW TO TRAIN A RESCUE DOG THAT WAS ABUSED
Find Out About Their History: If possible, find out more about the dogs history and how they were abused.  While this is not always something you can do, if possible it will help you to understand what might be a trigger for them.  Avoiding similar situations, noises, etc. will help them to learn to trust you.
Avoid Loud Voices & Noises: Most often yelling and/or loud noises and actions are a part of an abused pets history.  While you want to be firm in instruction, avoid yelling.  There is a big difference between being firm with commands and being harsh or yelling.  Always keep an even tone that is firm without being frightening to them.
Avoid Sudden Movements: If a dog has been beaten in the past, sudden movements or the raising of hands can be very traumatic.  If they associate sudden movements with pain, you will see them fight back or cower in fear.  Be calculated in your movements.  Be sure, steady and soft so you do not frighten them with your gestures of instruction.
Be Consistent: Even when they fail to listen or obey, continue with consistent training.  Avoid getting upset in front of them.  Treat them as you would a child who is frightened.  Consistent and regular training along with consistent loving attention.  Treats, rewards, love and hugs are all great to assure your new dog that they are loved and accepted. This is one of the most important tips on how to train a rescue dog that was abused.
Reward Regularly: Showing love to your pet is going to be the number one way to get through to them and help the training process go more smoothly.  Rewarding them for good behavior, completing their training tasks and just because you love them will help considerably.  Knowing that you love them and see their work will help them to build a level of trust.
Understanding how to train a rescue dog that was abused can be a tough task to take on, but it is not impossible.  Remember to be patient and treat them with respect and love.  Our pets are not just animals, they are a part of our families.  Make sure you treat them with the same love and patience you would any other family member who had been abused.  There will be good days, bad days and recurring problems.  Adopting an abused dog is a wonderful thing to do and will bring you many rewards too.
Do you have any tips or experience on how to train a rescue dog that was abused? Please share in the comments.