Looking for a really cool gadget that not only lets you track your dog's location, but also his daily active times? Tagg Pet Tracker can do both! Tagg Pet Tracker attaches to your pet's collar and uses GPS to keep an eye on your furbaby. With Tagg, you can identify a safe area around your home and if your dog or cat goes beyond that boundary you instantly receive a text or email alert.
Tagg is a lifesaver for when pets get out of the yard, with one quick check of their GPS, you can locate your pet quickly and safely.
Using TAGG Pet Tracker to track your dog's exercise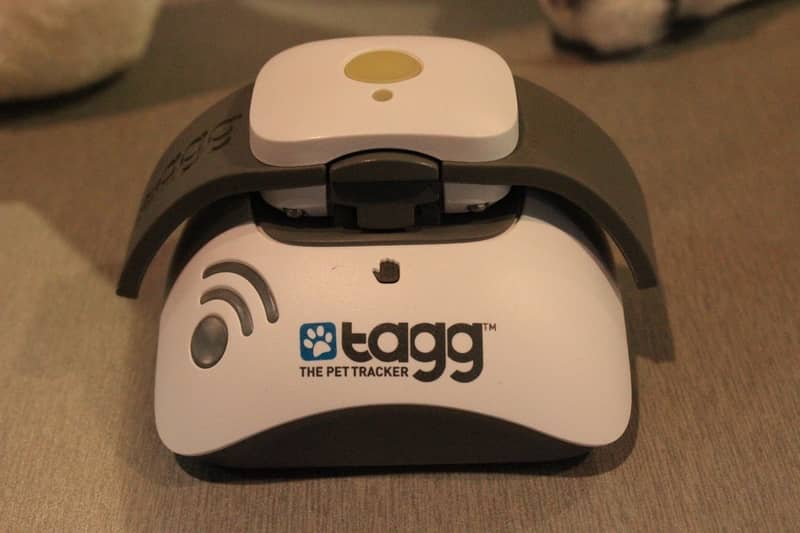 This post contains affiliate links to help you find the Tagg Pet Tracker.
Another great feature of Tagg is that it monitors your dog's activity throughout the day. You can then tell if your dog is active all on his own or if you will need to take him for a much-needed walk when you get home. Most vets recommend that your pooch get 30-60 minutes of activity every day. You can set goals for your pet and Tagg will help you track that.
One of the best features though of Tagg is the Pet Ambient Temperature Risk Sensor. This is an alert that tells you when your pet's environment gets too hot or too cold for them. Tagg has an exclusive TempSense Technology that alerts you right away if your pet is in a temperature range that is dangerous to their health.
With so many great features, it's easy to see why Tagg Pet Tracker should be high on your wishlist of must-have training aids. While we always recommend keeping your dog in a fenced yard or on a leash,  sometimes dogs escape. We've all been there, chasing our pooch through the neighborhood! Knowing you can find Fido right away gives a peace of mind that makes the reasonable $99 price tag worth every penny.
Tagg Pet Tracker is available now in your favorite pet stores or online at Amazon.
Have you used the Tagg Pet Tracker yet? What are your favorite features?