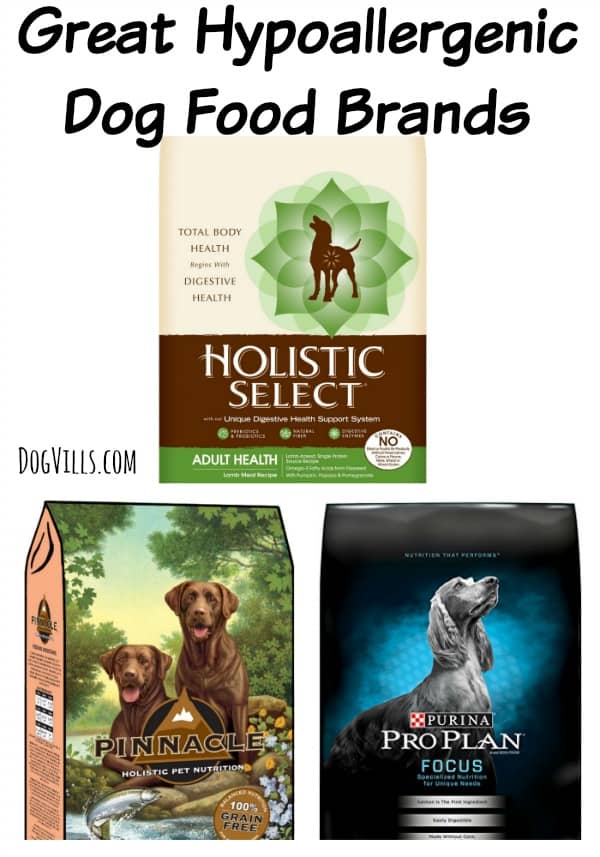 Whether your dog has skin irritations or allergies that cause upset tummies, these Great Hypoallergenic Dog Food Brands are sure to be a hit in their food dish.  Your dogs are members of your family.  Treat them as such by providing them with the best possible choices of food.  Not only are these less likely to cause reactions, but they are veterinarian approved for good health and nutrition.
Related: How to Save Money on Hypoallergenic Dog Food
GREAT HYPOALLERGENIC DOG FOOD BRANDS
Affiliate links included below.
Pinnacle Dog Food:  This gourmet brand of dog food comes in multiple flavors that focus on providing your dog with the nutrition they need without added chemicals or foods that can cause allergic reactions.  Popular flavors include salmon with sweet potatoes or turkey and potato.  This kibble is a great choice for picky eaters, as well as those who need a special diet.
Holistic Select Natural Dry Dog Food:  This brand is one that is well known and recommended by many veterinarians for the dog with the most dietary restrictions.  Flavors feature chicken, duck and lamb in gourmet hypoallergenic dog food that every dog will love to eat.
Purina Pro Plan Select Dog Food: This household name in pet food also brings you specialty flavors and limited ingredients that allow you to feed your pets with allergies or sensitive gastrointestinal tract.  This is a favored brand with it's well recognized name, quality ingredients and reasonable price point.
Royal Canin Veterinary Diet Hydrolyzed Protein Dog Food:  This highly popular hypoallergenic dog food brand is a great choice for those who are concerned about their pets processing proteins without difficulty.
Orijen Hypoallergenic Dog Food:  This gourmet specialty food brand is perfect for your dog with special dietary needs.  Beloved by veterinarians worldwide, it provides the proper nutrition without fear of reactions.  Not only is it great for those pets who have tons of allergies, it is safe for sensitive stomachs.
As a dog owner, you want to give your pet the best you can.  Allergies and sensitivities can often make it difficult to feed them properly without causing reactions or even pain. These hypoallergenic dog food brands are rising in popularity and easily found online or at your local veterinary clinic.  By providing your dogs with hearty food that nourishes their bodies, you know you are raising a healthy pet.  Avoiding the items that can cause them harm and focusing on foods that help heal and feed their bodies from the inside out is the best choice you can make as a dog owner.
Have you tried any of these hypoallergenic dog food brands? Which is your favorite?
Follow Dogvills's board Hypoallergenic Dog Breeds on Pinterest.