If you love the idea of hiking with your dog or spending time outdoors, these 20 female nature dog names are perfect for you!
I've found that when you want to name your dog, it is best to choose something unique that has symbolic meaning and is personal to you.
There is nothing worse than calling out your dog's name in the dog park and having multiple pets running at you because they all have the same common name.
Trust me, we've all been there.
If you're like me and you love the great outdoors and everything to do with nature, then why not name your next pet with one of these female nature dog names?
➔➔Hey, did you download our List Of Dog Names? Download it NOW & Check if your dog name is on the list.
Content & Quick Navigation
Adventurous Dog Names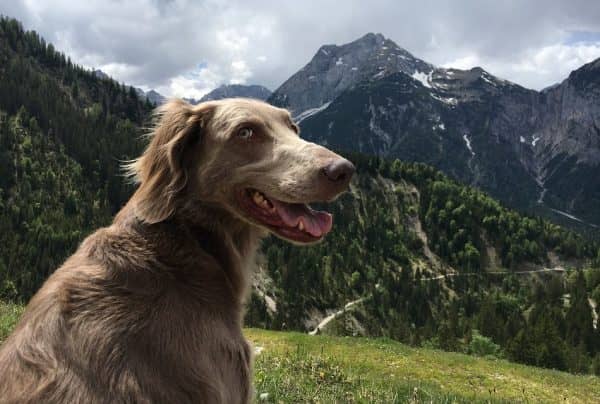 Adventures are meant to be shared with your dog, so it only makes sense to give them an adventurous name!
1. Skye
Whether you want to go on a trek to watch the sunrise or sunset, or just being out in the open air, the sky is always above you.
Skye is a Scottish name that comes from the Isle of Skye, as well as being another way to spell the sky.
While Skye has Scottish and English origins meaning adventurous, it can also be used to described being free spirited, which I think is perfect for a dog.
2. Moonlight
Is there anything more magical than camping with your dog beneath the stars and the moon?
Moonlight is a beautiful name that encompasses the feeling of only having the moon's light to guide you in the darkness of night.
This is the perfect name to give your puppy to show how much she means to you and is one of the most unique on this list in my opinion.
➨➨ Looking for other dog name suggestions? Check these 85 Classic Dog Names From Litterature
3. Destiny
Many adventurers have a destination in mind when traveling and they feel it is their destiny to discover new places.
Destiny is an uncommon and unique name to call your dog and has spiritual connotations of fate.
Some would say it was destiny that brought you and your dog together.
4. Meadow
Meadow is a feminine name that makes me think of walking through fields in the height of spring with the scent of flowers surrounding me. It is the epitome of nature and a place were creatures and plants can thrive.
Mountain Related Dog Names
Many people enjoy hiking up trails with their dogs that run along beautiful mountain ranges, whether they are rocky or snowy. These female mountain related dog names are perfectly feminine.
5. Terra
Mountains are one of Earth's most natural foundations and the name Terra is Latin.
The translation of the name is 'the planet earth', but it also has ties to the Roman earth goddess, Terra.
I couldn't think of a better name to call your dog if you have a love for mountains.
Related: 20 Epic Roman & Greek Female Dog Names
6. Misty
Fans of 'The Hobbit' will know about the Misty Mountains as they are one of the important features of Middle-earth's geography.
If you happen to love the books or movies, then Misty is a wonderful name to call your dog, as well as sounding very mystical.
7. Echo
When climbing to the highest peak on a mountain, many people stand at the top and scream, listening to their voice echo across the land.
In Greek mythology, the name Echo comes from a mountain nymph, making it a great choice to name your dog.
8. Montana
If you have a love for mountains, then I suggest naming your dog Montana.
The name comes from the Latin 'Montanea' which means mountain or mountainous region.
You can also be assured that not a lot of people will have a dog with this name, so snatch it up while you can.
➨➨ Looking for other dog name suggestions? Check these 186 Camping Dog Names
Geology Dog Names
Geology is all about the study of the earth, but something that also comes from the ground are precious stones and they make for wonderful names.
9. Opal
Opal is a gemstone that has an iridescent shine when it is moved in the light and is the perfect name for a white or pale grey dog.
While it is also used as the October birthstone, it can symbolize love and faithfulness, two things that dogs give.
10. Sapphire
Another precious stone is Sapphire, which is a deep blue that is often associated with wisdom and royalty.
It is also a Hebrew name that means beautiful, which is perfect for the female dog in your life.
11. Amber
Amber isn't like the others on this list as it is actually a fossilized tree resin, but it is still beautiful and makes for a great dog name.
It is often seen as the 'soul of the tiger' in Asian cultures and symbolizes courage.
12. Ruby
The name for the red gemstone comes from the Latin 'ruber' which means red.
Ruby is a feminine name that has symbolized love and energy in the past, as well as being a symbol for powerful feelings in general.
Wildflower Dog Names
All over the world there a wildflowers that are native to certain countries or regions and they make for beautiful dog names.
13. Blossom
The name blossom comes from Old English, meaning a cluster of flowers.
It also means to thrive and flourish, which is exactly what blossom trees do in the height of spring.
Blossom is a great choice for the dog that has brought so much love into your life.
14. Clover
Traditionally, a clover is seen as a symbol of good luck and are often found in meadows or fields.
Choosing this name for your dog shows how much they mean to you and how you think your life will be prosperous with them in it.
15. Poppy
The poppy is a red flower and an extremely popular name in the United Kingdom.
The flower itself has often been a symbol for sleep, peace and death, which is why it is used in remembrance for those lost in the wars.
16. Lily
Lily is a name that is derived from the flower itself and there are even some that believe the name comes from the Greek 'louloudi' which means flower.
The meaning of Lily is pure, passion and rebirth.
Tree Dog Names
There are thousands upon thousands of tree species in the world, but these are some of my favorites that can be used as names for female dogs.
17. Willow
Willow trees are primarily found in the Northern Hemisphere, which are known for their slender branches and leaves.
The meaning of the name is graceful, which is a wonderful choice for calling a dog that looks elegant.
18. Ebony
The ebony tree produces black wood and is seen as one of the most valuable trees in the world, often selling for a lot of money.
The name itself also means black in Egyptian, making it perfect for dogs of darker coloring.
19. Maple
The maple tree is noticeable by the shape of its leaves, with three species of the tree that have syrup extracted from them.
Maple is a symbol of strength and endurance, which I think makes it a wonderful name for your dog.
20. Hazel
Native to the UK but found across much of Europe, Hazel is a deciduous tree, as well as being a green and brown eye color.
It has often featured in mythology and folklore, such as the Celts who believed that hazel nuts gave wisdom and inspiration.
Related: 20 Beautiful Celtic Dog Names to Honor Your Irish Dog's Heritage
All of these nature dog names for females are beautiful and unique, which I think will suit dogs of many personalities. Whatever your favorite part of nature is, there is a name waiting to be chosen!
What are your favorite female nature dog names on this list? Let me know in the comments below.