Today I'm sharing a dog story about Tasha, my German Shepherd featuring in this week's Caption My Dog post. It was July of 2001 and my then-husband and I were living in the basement apartment of my mom's place. We had just returned from Japan, where he was in the Navy, and needed a place to live for a while. When we came back, we were all staying in a tiny house where I lived as a teenager. Three bedrooms between my mom, me and my husband, my brother, and my cousin who was staying with us. Not exactly comfortable! So my mom bought a bigger house with a basement apartment.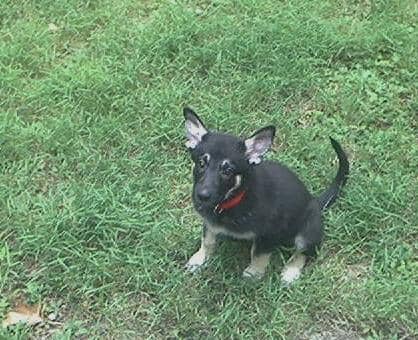 About a week after we moved in, my mom called us over to her office for an "emergency." My brother looked at me and said "she got a dog." Well, as usual, he was right (don't tell him I said that!). Tasha was a tiny pup with giant ears, hiding under my mom's office desk. My mom saw her advertised in the paper and went to pick her up. She choose Tasha because she was the one with her ears standing up the most. My mom always wanted a black shepherd with ears that stood up nice.  When everyone was in another room, I scooped her out, sat her on my lap and whispered in her ear "you will be my dog."
From that day on, Tasha was mine. She lays by my side, follows me around, comes to me first for snuggles. She helped me watch over my son when he was born 8 weeks early. She got up with me all hours of the night to feed him, and she slept by my side during the few hours I got some rest. She even has my personality!
Tasha's Dog Story: The Queen of Fetch Caught My Heart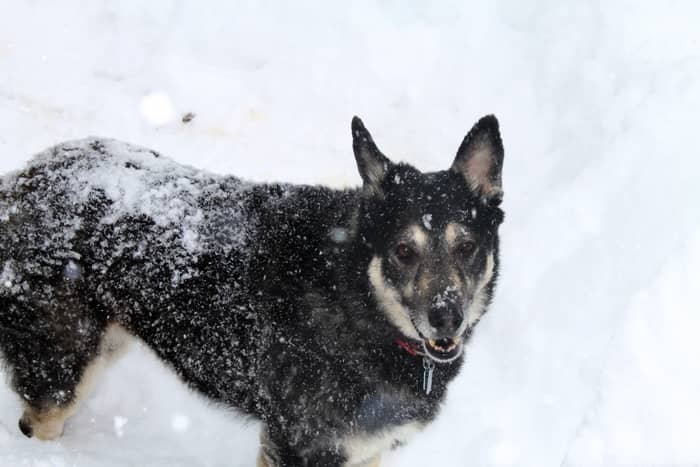 Tasha is the Queen of Fetch. I've never met a dog that loved to catch things as much as she does! It started when she was a baby. It's funny because we didn't even have to teach her to play with a Frisbee, she just kind of taught herself! It went from there. She'd chase bubbles as I blew them, leaves as they were stirred by the wind…you name it, she chased it. She's caught many things over the years, including the heart of everyone in our family.
Tasha is 13 years old this year. I know she's near the end of her life. She's still pretty healthy overall. We've always fed her the best dog food we could, and I think accounts a lot for her longevity. She's wearing down though. She doesn't fetch nearly as often as she used to. When she wants to play, I make sure to throw the ball only  a foot or so away from her. She can't hear well anymore, although she does know when treats are being handed out! She can't get up on the bed anymore, so we make her comfy spots throughout the house. But aside from being achy, she's still in great health. Still, I know that dogs don't live forever, and while I'm grateful for every day I have with her, I'm terrified of the day that ends up being her last.
Until then, though, the Queen of Fetch is, and always will be, my dog.
Do you have a dog story to share? We'd love to hear it! Contact Us with your story and pictures!