If you're looking for some fantastic strong female dog names and meanings, you'll adore our list!
We've scoured the world and dug through history to find you the fiercest feminine ideas that perfectly capture your tough girl's personality.
Take a peek, then tell us your favorite at the end!
70 Norse Mythology Dog Names for Male & Female Pups
Strong Female Dog Names and Meanings
For the new addition to your household, the change in the environment can be a scary one.
However, some puppies exhibit their true nature very early on.
Some puppies will cower in a corner and shiver in fear, while others will bravely meet their unfamiliar surroundings with full confidence.
Regardless of the breed, if you have a tough and strong fur baby on your hands, we have the perfect list of names for your new baby girl.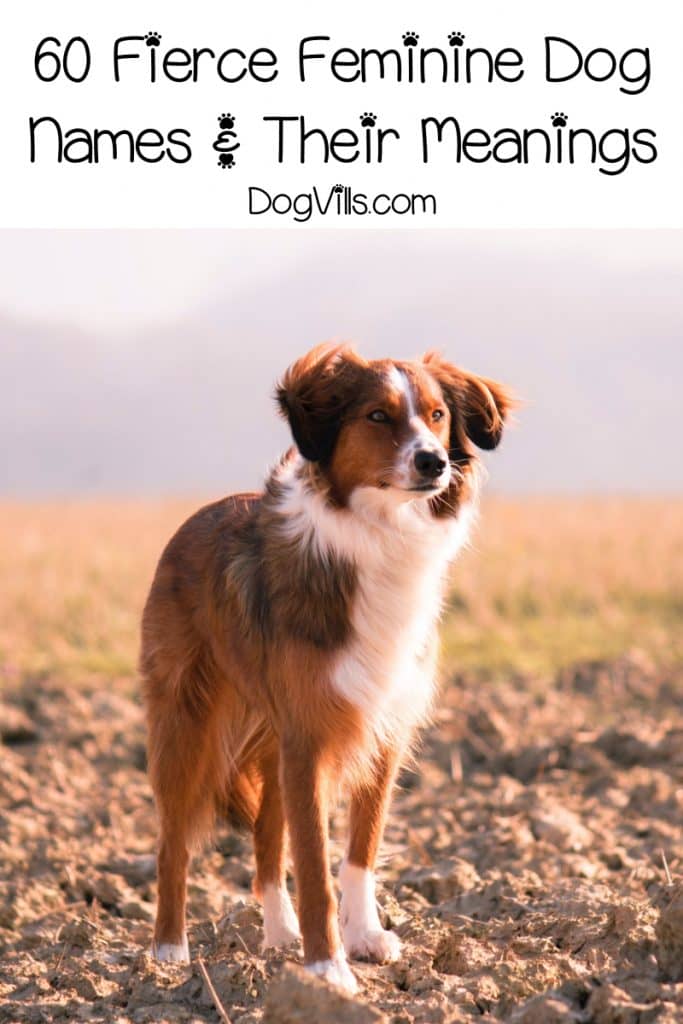 Fierce Feminine Names for Your Dog
Artemis – The huntress, it's hard to get any tougher than that.
Athena – Greek Goddess of War. I bet she laughs in the face of danger.
Harley – Like the matriarch of the Suicide Squad. She may be insane, but she is tough.
Shadow – A name that encompasses the dark always seems tough.
Koa – It actually means "brave".
Jinx – Is it tough? Not exactly, but it does bring the word "resilient" to mind.
Storm – This name just sounds ultra-cool.
Sage – A little bit witchy, you wouldn't want to mess with a dog that has this name.
Xena – Does anyone remember this warrior princess?
Freya – The Norse Goddess of Love. I know what you're thinking, but what's tougher than a goddess regardless of what she reigns over?
Queen – For obvious reasons.
Arya – Think Game of Thrones.
Katana – The famed sword used by the Japanese samurai.
Rogue – For the strong and independent types.
Valkyrie – The tough female warriors in Norse legends.
Banshee – This is great for howling huskies, and definitely strikes fear in the hearts of people who say it.
Specter
Spook – It's kind of cute, but kind of scary.
Cruella – She definitely won't turn into a fur coat.
Diva – Usually divas don't take any attitude, they just dish it out.
Elektra – A fearsome fighter in Marvel comics.
Huntress
Katniss (or maybe Dogniss)
Medusa – The Gorgon with snakes for hair, who would want to mess with this pup?
Ninja
Midnight – Anything that has to do with the night is tough in our books.
Sassy – For dogs with a whole lotta attitude.
Diamond – The hardest substance on earth, it's hard to beat this in the strength category.
Vixen
Cleopatra – A tough lady in history.
Diana – The alias of Wonder Woman (name a lady tougher than that), and we can't forget about the late Princess Di!
O – For Oprah, you know, that tough lady that is one of the richest self-made women in the world.
Venus – A super athlete and the Goddess of Love.
Gamora – With the popularity comic book movies are quickly gaining, we couldn't not name a super strong fighter.
Black Widow – I think the name speaks for itself.
Olympia
Hera – The wife of Zeus.
Rhea – The mother of Zeus himself, and the wife of a Titan, arguably the strongest lady out there.
Persephone – Being married to the king of the underworld has to get you some serious tough points.
Rebel – The word literally means a person who is against authority, that's pretty strong, right? Also, it's the name of an adorable Australian actress.
Erebus – The Greek Goddess of Shadows.
Ronda – For Ronda Rousey, American mixed martial artist and pro wrestler. Who defines "tough" better than her?
Gina – For Gina Carano. Also a former mixed martial artist, she used to be the girlfriend of Superman himself!
Ama (short for Amazon) – No no, not the e-commerce website. Rather, we're referring to the mythological race of women who were super tough and strong. Wonder Woman was said to be an Amazon.
Minerva – The Roman Goddess of Wisdom and War. Basically, she is the Roman counterpart of Athena.
Nova – A cosmic force that creates a new star.
Sheba – Queen Sheba
Mulan – The Disney princess that went off to war to protect her father. Who is stronger than her?
Trinity – Have you seen The Matrix? Yeah, it's the name of that strong and tough broad.
Empress
Raven
Mystique
Ginger – It might sound cute, but it's a reference to the movie Ginger Snaps, where Ginger is a tough werewolf.
Elsa – She may be a pretty princess in periwinkle, but if you have seen the movie then you will know she is super strong.
Merida – The movie is Brave, but it might as well have been named Strong.
Tiana – A strong girl who followed her own dreams.
Belle – This is for the beauty in Beauty and the Beast. She is strong, extremely kind and determined.
Ella – For Cinderella. She was bullied by her whole step-family, but she never once lost hope. That's pretty strong if you ask me.
Moana – You will know why if you have watched the movie.
Phoenix – It's a legendary bird that rises from the ashes. It's also the name of one of the most powerful superheroes to grace our screens.
That is quite a long list of ladies who give all the rest a dose of confidence.
It's hard to choose a favorite, but we love Freya and Valkyrie. You really can't get much tougher than a good strong Viking name!
Which of these strong female dog names and meanings resonate with you? Tell us in the comments below!