Are you thinking about dressing your dog up in a Stormtrooper costume? You're not alone, as Sabrina Ridlon had the same idea! This sci-fi fan was having trouble finding a costume for her bigger dog and decided to make her a homemade one instead. Being a big Star Wars fan, she created a Stormtrooper outfit that has been making waves on the internet! Check out how she dressed up her pooch, along with a few other Star Wars pet costume ideas you can use for your dog below!
Related: 13 Of The Funniest Dog Costumes
Everything You Need To Know About Stormtrooper Dog Costumes
This post contains affiliate links. Thanks for the support.
Penny The Stormtrooper
Penny is a Doberman Pincher, which is a larger sized dog. Her owner, Sabina had trouble finding her an awesome Star Wars Stormtrooper costume, so she made it herself. The outfit was intended to be a Halloween costume for Penny, but she now wears it often because it is so popular every time her owner dresses her up! Penny overall seems very tolerant of the costume.
The Stormtrooper outfit is made as a custom costume and is made from head to toe out of fiberglass. This Stormtrooper costume was complicated to construct, and took four months to make but in the end, the effect is pretty cool! Penny's owner has since branched out and made her other costumes including Iron Man, Ghostbuster s and Spaceballs. This is one creative dog owner and is making quite the impression with this costume! There is currently no costume like Penny's available for purchase that I can find, and if you wanted an outfit like Penny's you would likely need to have it specially made for your dog.
Related: Family Halloween Costumes For You And Your Dog
Other Alternatives To Making Your Own Stormtrooper Costume
Finding a Stormtrooper Costume for your dog is no easy task for all the Star Wars fans, but there are a few fun alternatives out there! If you want a full costume like Penny has, you'd have to make the costume by hand. Instead, I've included a few affiliate links to costumes ideas we really love if you don't have time to make a costume like Penny's, your dog has a less tolerant temperament or if you just want something ready to go.
Dewback Rider Costume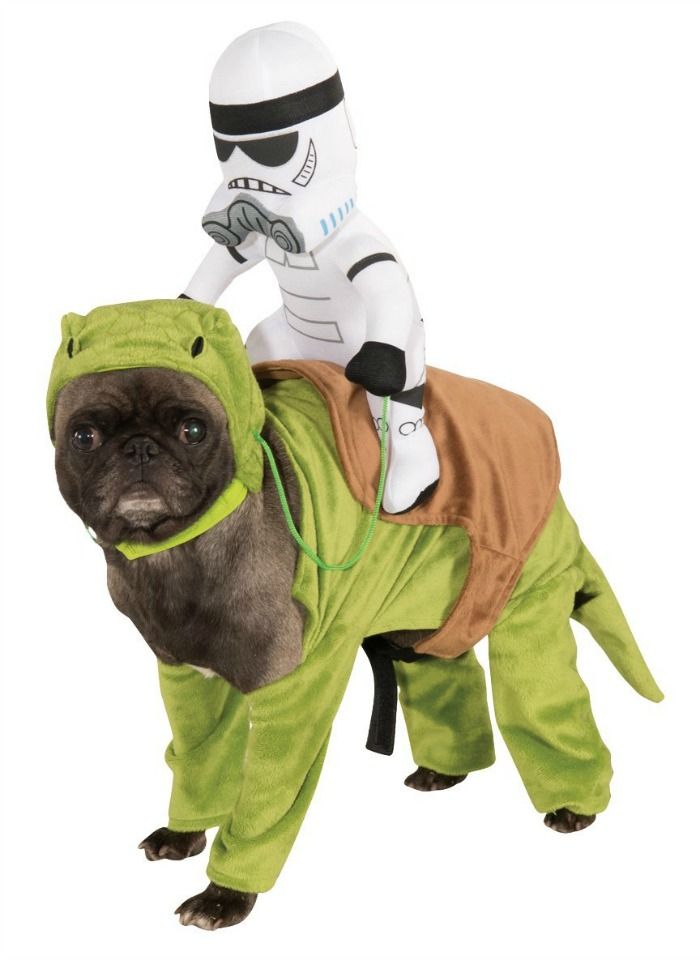 So while this one doesn't quite dress your dog up as a Stormtrooper, the laughs won't be stopping with this funny costume. Check out this Dewback Rider dog costume complete with Stormtrooper riding on the back! This costume is incredibly cute and is also a bit more flexible for dogs as they move and run. I love seeing that little Stormtrooper rider bouncing along on the pups back!
Stormtrooper Logo Dog Tees
Here's another option to have your dog both comfortable and in the Stormtrooper spirit. This Stormtrooper logo dog tee is super fun and can be worn during Halloween or anytime you feel like having a little bit of fun. This idea is the piece you'll want to put on your pup again and again. I'd take my dog for a walk in this shirt!
So would you try to dress your dog in a Stormtrooper costume? Would your dog tolerate wearing the costume? Tell me in the comments!