I have found 5 Star Wars dog toys your pup will love! If you're a superfan of the series, you absolutely have to check these out!   Whether you are tossing a Darth Vader across the room for fetch, or playing tug-o-war with a Chewbacca, the important part is that you're spending time with your pup, bonding and playing together.  I have to admit, I have a soft spot for Yoda, and the Ewoks are cute too. It's so hard to choose a favorite! I'll let you decide! Let's check them out!
Star Wars Dog Toys
This post contains affiliate links. Thanks for the support.
Yoda
He is my favorite Star Wars character!  Which means he would be my dog's favorite as well.  I know my dog would tear him up looking for the squeaker (which is located in Yoda's head) and then continue to gnaw on his ear, creating tiny little holes where her teeth have poked through.  Ultimately it would be a mess of drool and wet Yoda, but I am sure she would love it.  You know you want to get your favorite furry friend a Yoda, check him out here.
Chewbacca Tug Toy
You and your dog will love playing tug-o-war with this Chewbacca head!  He comes with a thick tug rope in a loop on his head for fun.  Depending on your dog's strength, like any tug toy, it could last a day, or it could last months.  Just picture your sweet pooch taking a nap and using Chewbacca as his pillow (you know this will happen!) Check out his new favorite toy here.
Ewok Squeaker
Maybe it is these tiny little guys who are my fave?  They are super cute and this dog toy is as well!  He stands about 6" tall.  If your dog loves small, soft toys (like mine does) he will love this one.  The squeaker will provide hours of entertainment for him (maybe not for you, but it is all about the dog right?)  Check it out here.
A bone to chew
'Chew on this, you will' says Yoda, on this super cute chew toy.  It is in the shape of a dog bone, and green with brown trim and images. If you have a larger dog, or maybe a small dog with who thinks he is a big dog, you have the option of the larger chew toy, which comes in orange and features Chewbacca saying 'Chew it up Fuzzball'.  You know your dog will love it! Get it here.
A chew toy from the dark side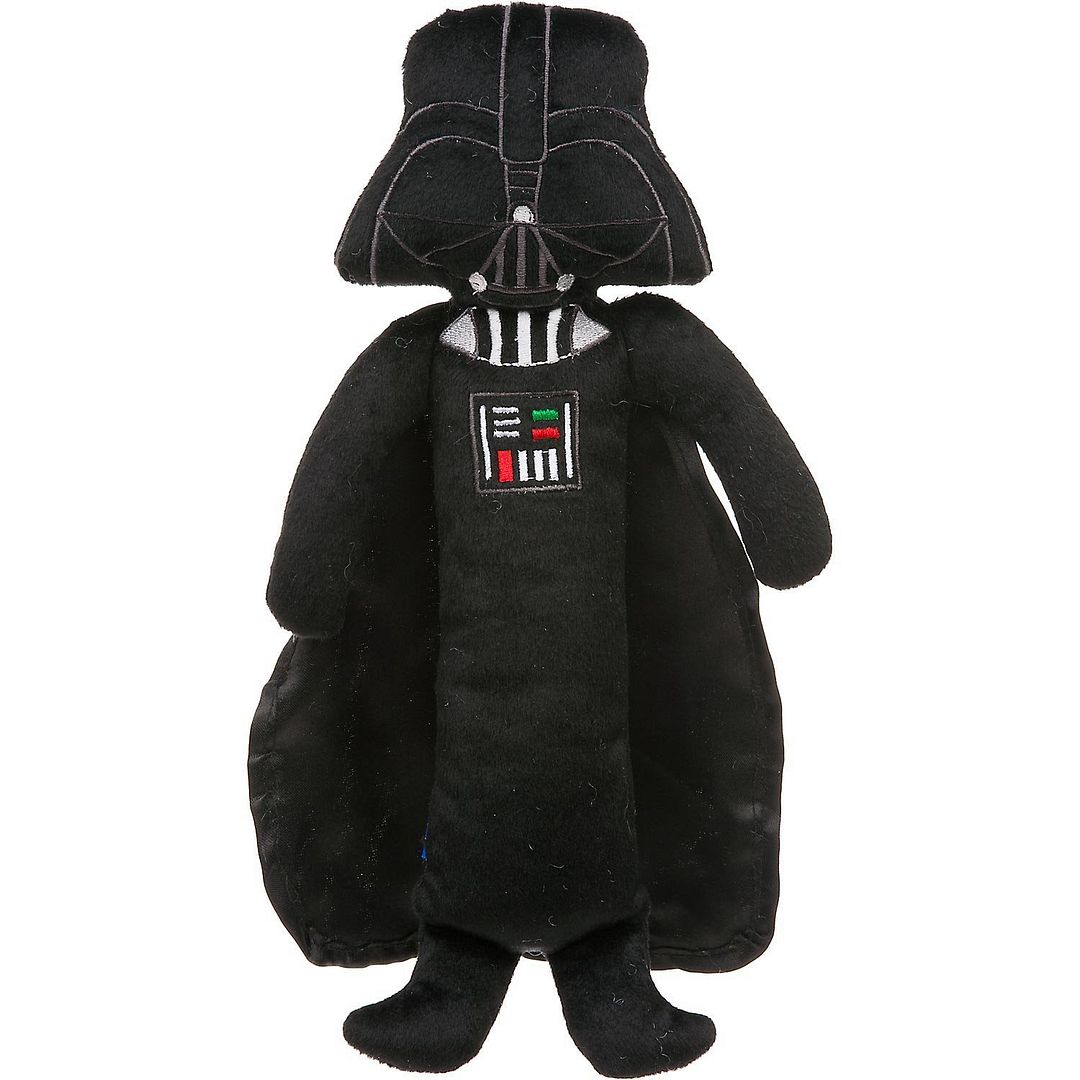 If Darth Vader is your dog's fave, then this is the chew toy he needs!  Some reviews say he comes with a squeaker, and some say he doesn't.  Either way, your dog will love playing with him, and most likely using him as a pillow (like dogs do when they have a favorite toy, my guess is so no one will steal it while he is sleeping!)  Check out this possibly non-squeaker Darth Vader here.
Dog's need chew toys right?  What is better than a Star Wars chew toy?  Who knows, he might have a new favorite that you won't be able to get away from him!  Kind of like a kid with a blankie.  You have to wash it when he isn't looking.
If you are a Star Wars fan, chances are your dog is too, and he would love a new chew toy!  Have you found other favorite Star Wars dog toys for your dog?  We would love to see them!  Share them with us in the comment section below.