Trick or treat? No way!
How about trick and treat!
This October, celebrate your pup's most brilliant moves with these fun homemade Halloween dog treats shaped and decorated to look like vibrant spiders!
They're so much fun to make!
Homemade Halloween Dog Treats Recipe
Affiliate links included below. If you make a purchase, we earn a small commission at no charge to you.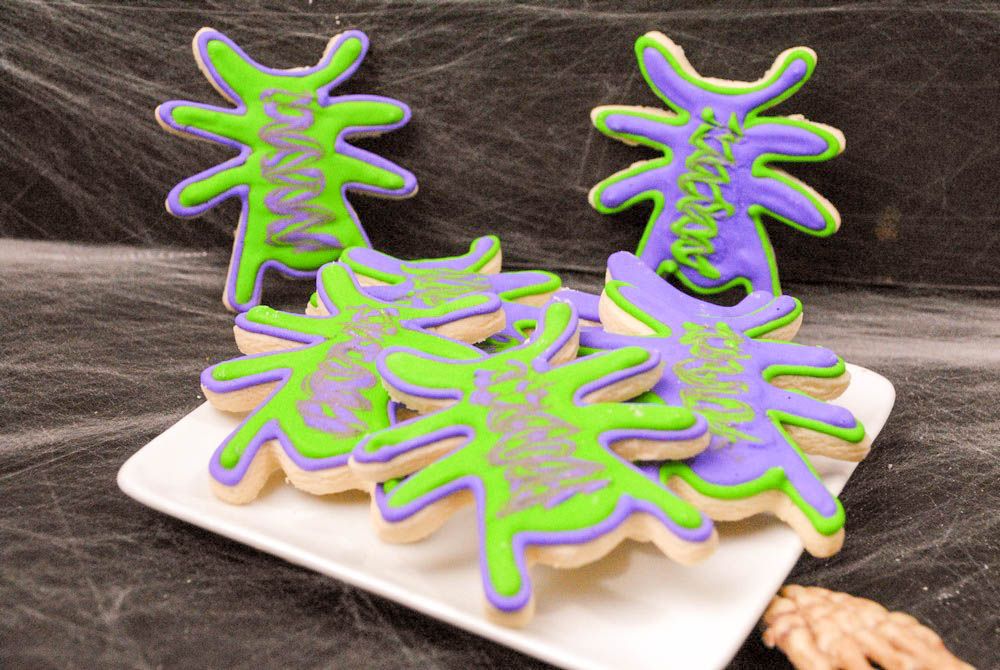 They're fun for after a training session, though! Since they contain flour and chicken stock, these aren't hypoallergenic dog treats as is.
They do have sugar in the icing, so you don't want to go crazy with giving them out. Remember, treats are only supplementary to a dog's diet.
And we always want to make sure that treats are non-toxic to our pets because you can cause harm with treats! 
The majority of a dog's nutrients should come from his dog food. A good proportion will have 90% of his nutrients from his main diet and 10% from treats.
I can't stress enough how important nutrition is. These books on nutrition will definitely help you as an owner to make informed decisions.
Or if you are busy, here are some listed facts!
Now that we've covered the details… Let's get right to the recipe!
Keep reading after the recipe for tips to make them more allergy-friendly. Make sure to print the recipe card below!
Base Treat Ingredients
Directions: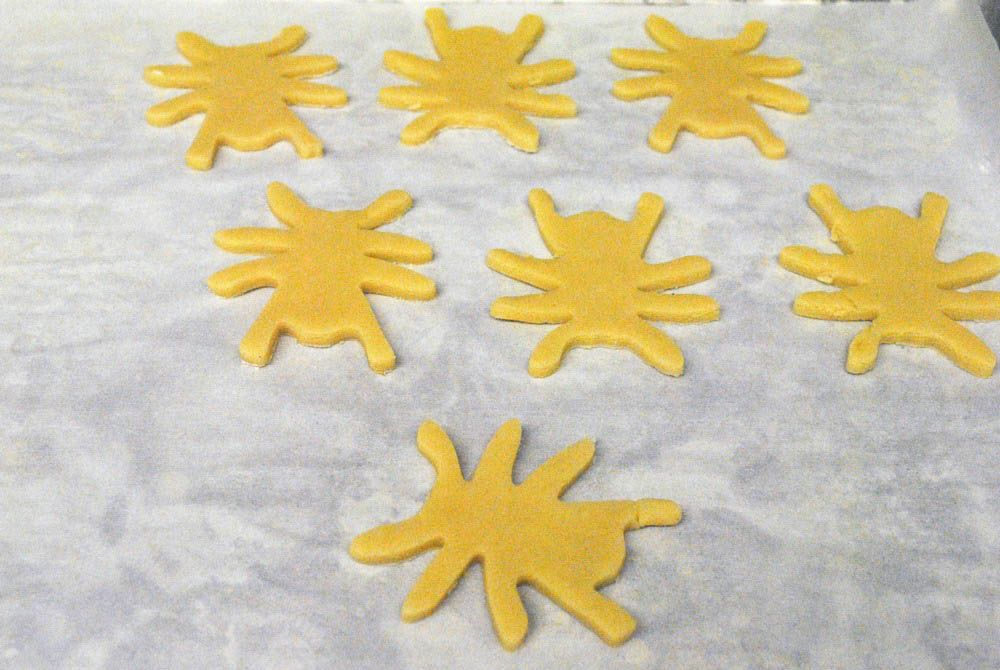 Bake for 10-12 minutes.
Royal icing ingredients
Instructions:
Print this recipe for later:
Halloween Dog Treat
Ingredients
Base Treat Ingredients
1 C flour plus a little bit to coat the cutting board
¼ tsp baking powder
¼ C almond butter
1 tbsp honey
¼ C milk
¼ C chicken stock
Royal icing ingredients
1½ tsp meringue powder
½ C sugar
¾ C warm water
Instructions
Preheat oven to 350 degrees
In a standing mixer or large bowl, combine all ingredients, mixing until a dough forms.
Dust the cutting board with flour.
Roll out the dough to 1 inch thick
Using a spider cookie cutter or any Halloween cookie cutter, cut out the cookies and place onto a cookie sheet with parchment paper.
Bake for 10-12 minutes.
Beat the ingredients until it forms a stiff peak
Split icing into two bowls and add purple food coloring to one and green food coloring to the bowls.
Add coloring icing to piping bags fitted with a #2 tip.
Outline a few spiders in the green icing and a few spiders in the purple
Fill in with the opposite colors.
Take the green icing and add two lines going down the middle of the cookies.
Using a toothpick swirl the lines to make a swirl.
Let dry for 2 hours before giving it to your furry family members!
If you want to make this a hypoallergenic Halloween dog treat, you can swap out the regular flour and use something like coconut flour or almond meal.
Replace the chicken stock with vegetable stock. You might need to experiment a bit more, but honestly, your dog isn't going to mind!
With that being said, your pooch is definitely going to thank you for this.
But there's more…
Looking for even more fun homemade Halloween dog treats recipes? Check out our other DIY goodies!
Your pup will eternally be grateful!
More fun homemade Halloween dog treats recipes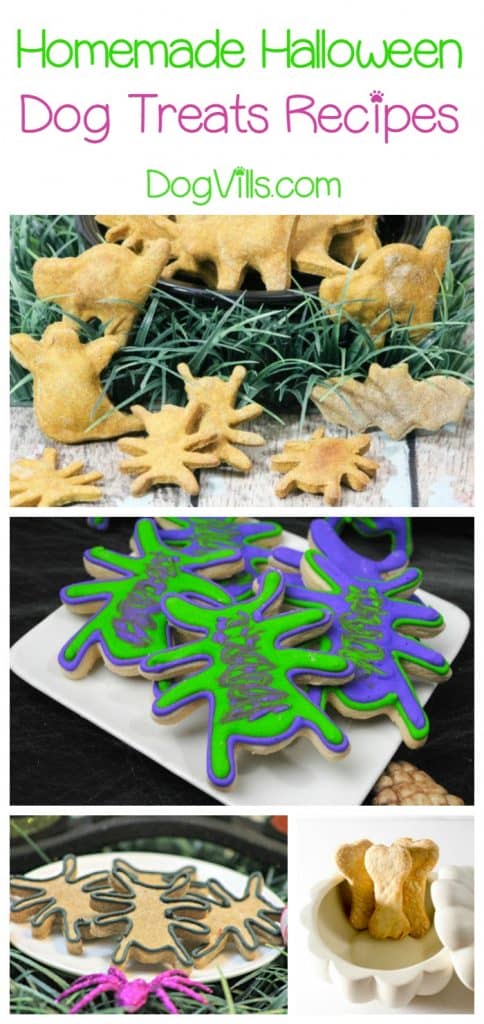 Do you have any favorite homemade Halloween dog treat recipes? Tell us about them in the comments!