The Redbone Coonhound is a versatile and determined dog breed that excels in many different settings, from hunting to agility to obedience. If you're considering adding this "Where the Red Fern Grows" breed to your family, read for everything you need to know!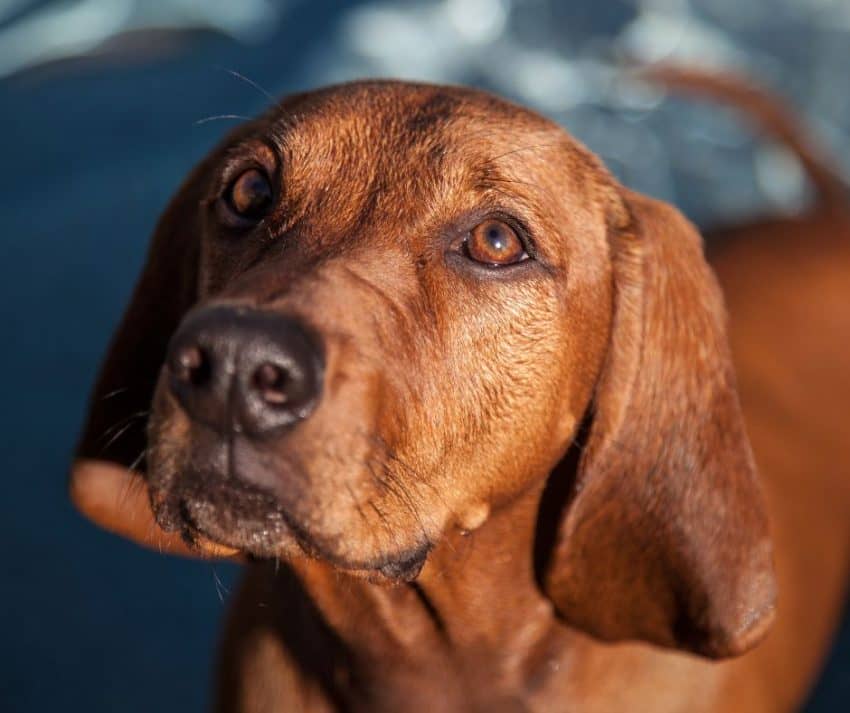 Complete Guide to the Redbone Coonhound
First, if you're wondering where you've seen this breed before, you can thank your high school English class! This is the breed that appears in the book "Where the Red Fern Grows."  If you've never read it, be aware that it's not a happy-go-lucky story.
Honestly, I've never read it. After my friend cried for a month (actually, he still cries about it 25 years later when he thinks about it), I opted to skip it. I just don't do well with sad dog stories at all, and I was already traumatized from Old Yeller (who the heck decided it was smart to let kids watch that movie???).
Anyway, I digress. Back to the Redbone Coonhound…
The Redbone Coonhound is a versatile hunting dog, able to track and tree game animals of all kinds. They are particularly adept at raccoon hunting but can also be used for deer, bear, and other games. Redbone Coonhounds are intelligent and determined dogs with strong hunting instincts. They are a loyal breed that's affectionate with their families but can be aloof with strangers.
Redbone Coonhounds are also active dogs who need plenty of exercise. They do best in a home with a ton of space to run and play. They are relatively easy to train but require patience and consistency. Let's explore them in a bit more detail, starting with their origin story. 
Redbone Coonhound History and Origin
The Redbone Coonhound is a relatively new breed (comparatively speaking), developed in the United States in the early 19th century. Their origin story begins with Scottish immigrants, who brought along their beloved red foxhounds when they moved to the "New World." Around 1840, breeders added the Irish Foxhound and the Bloodhound to the mix. The breed also has some Virginia Hound and French Hound influences.
The resulting dogs were bred for their hunting ability and were used extensively for tracking and treeing raccoons. You may think that the Redbone Coonhound is named for their red coat, unique among coonhounds, but it actually comes from early breeder Peter Redbone.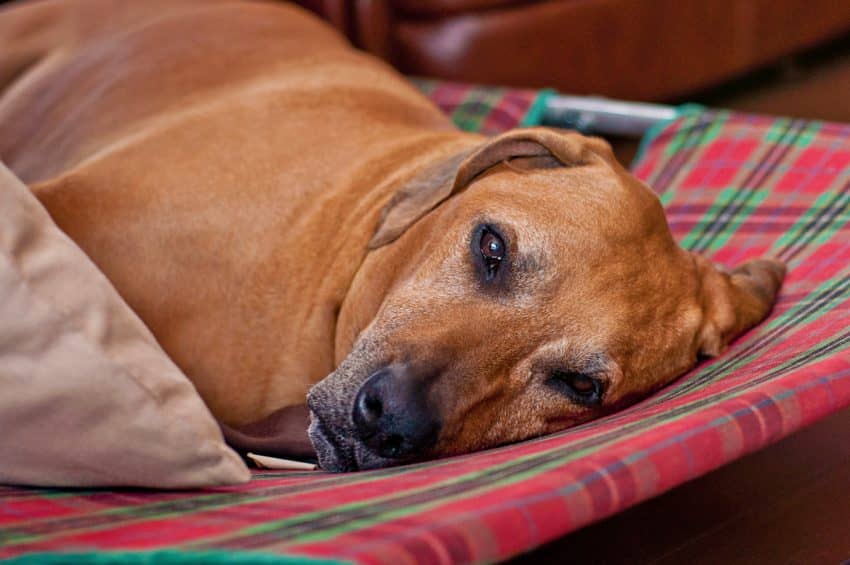 Redbone Coonhound Appearance and Physical Characteristics
Redbone Coonhounds are, obviously, primarily red in coat color. However, the shade of red can vary, from the deep red coloring of Old Dan in "Where the Red Fern Grows" to a more brownish-red, and even almost black-red. It's not uncommon for them to also have some white markings on their smooth coat, but for the most part, they're fairly solid-red dogs. 
They have beautiful long, floppy ears and a muscular build. As the AKC so poetically puts it, "The overall impression is that a master sculptor carved them from blocks of the finest mahogany. "
While countless Hollywood movies would have us believe that coonhounds, in general, are lazy "lay-about" dogs, the AKC explains that since these dogs were bred to work in the most punishing terrains, they're "fast and surefooted and move with a proud, determined gait."
Keep in mind that these dogs are fairly moderate droolers. On a scale of 1-5, with one being "no drool" and 5 being "put a bib on that dog," they fall smack-dab in the middle with a 3. So, expect to deal with a bit of doggy spittle. Not an insane amount. They're nowhere near as drooly as the Cane Corso (my friend had one and she kept towels everywhere), but more so than a Golden Retriever. They're also right in the middle of the shedding scale (moderate, but not extreme). However, they don't require a significant amount of grooming (they score a 2 out of 5).
One of the traits that I found interesting in the breed standard is the description of their eyes, which are described as "pleading." Expect lots of "puppy dog eyes" from this beautiful breed! As far as color goes, they range from hazel to dark brown. Unlike Bloodhounds, they do not have drooping eyelids.
As for their vocalizations, check out the video below to hear their magnificent howl:
How big is the Redbone Coonhound?
The Redbone Coonhound is considered a medium to large-sized dog breed. They typically weigh between 40 and 70 pounds and stand between 20 and 27 inches tall at the shoulder. As usual, males run more towards the larger end of that range than females.
According to the breed standard, these dogs "should be equal in height from highest point of the shoulder blade to the ground as long measured from sternum to the buttocks." They also stand "slightly taller at [the] shoulder than at [the] hips."
Redbone Coonhound Temperament
This breed is known for being very active and playful, as well as being very loyal and loving to their family. They are intelligent dogs that are easy to train. Redbone Coonhounds are also good hunters, given that they were bred specifically for this purpose.
They're extremely lovey-dovey with their people and exceptionally great with young children. However, they're middle-of-the-road when it comes to how they feel about strangers. While they're not quite aloof with people that they don't know, they are a bit slower to warm up than the affable Labrador.
Redbone Coonhounds are protective of their families, but they're not aggressively over-protective. They adapt very well to change (again, that's a big part of being a hunting dog breed). They're also fairly energetic, but I wouldn't call them "high-energy."
Basically, Redbone Coonhounds fall smack-dab in the middle for nearly every personality trait, making them a very well-rounded canine companion. They do have fairly high mental stimulation needs, though. While they're content to lounge around with their people from time to time, they are happiest when they have a task to do.
Check out the video below for a closer look:
How Healthy are Redbone Coonhound Dogs?
Redbone Coonhounds are a relatively healthy dog breed, but like all breeds, they are susceptible to specific health conditions. Like most larger dogs, Redbone Coonhounds are prone to hip dysplasia, which is a condition that affects the hip joint. Hip dysplasia can cause pain and lameness in the affected dog. Treatment for hip dysplasia often includes weight management, exercise restriction, and pain relief medication.
While they're not necessarily prone to any sort of major ear conditions, it's important to keep up with cleaning their ears. That's true of any dog, but breeds with floppy ears are more likely to suffer from ear infections, mites, and other issues.
Overall, Redbone Coonhounds are a healthy dog breed. However, as with any dog, illnesses can pop up unexpectedly. This is where I have to remind you that if you think your Redbone Coonhound may be ill, it is essential to take them to the vet for an examination.
Redbone Coonhound FAQs
How much do Redbone Coonhound dogs cost?
There's no definitive answer to this question since prices can vary depending on several factors, such as the breeder, the dog's lineage, and whether or not you're getting a show-quality dog. However, you can expect to pay anywhere from $500 to $1,500 for a Redbone Coonhound.
Do Redbone Coonhounds get along with other pets?
The Redbone Coonhound is an even-tempered dog that typically gets along well with other pets, including cats. They are friendly and loving dogs that enjoy the company of their human family and other animals.
Are Redbone Coonhound Dogs hypoallergenic?
The Redbone Coonhound is not a hypoallergenic dog breed. This means that they may not be suitable for people allergic to dogs. However, they are generally low-shedding dogs and may be a good choice for people with mild allergies.
Conclusion
I hope you enjoyed learning about the Redbone Coonhound! If you think this is the perfect breed for you, remember: adopt before you shop. Check local shelters and breed-specific rescue grounds to see if there are any waiting for a loving home.
If you do decide to purchase one, please stick with AKC-recommended breeders. It's the best way to ensure that you're getting a dog from a reputable source.
Do you have a Redbone Coonhound? Share your thoughts and experiences below!