Skip the free munchkin at the coffee shop and opt for a healthier version with this pumpkin doggy donut holes hypoallergenic treat recipe!
This is the perfect fall recipe for your pooch, and it's super easy to make too!
Now, when you have your morning coffee, Fido can have his doggy donut.
Now, I know you may be tempted to try out this treat recipe yourself- after all, it does look like a real donut hole- but honestly, without the sugar, it's not going to taste like your favorite pumpkin donut. So leave it to your pooch, okay?
Just a quick note, then we'll dive in: This post contains affiliate links. We earn a commission if you make a purchase, at no extra cost to you.
Pumpkin Doggy Donut Holes Treat Recipe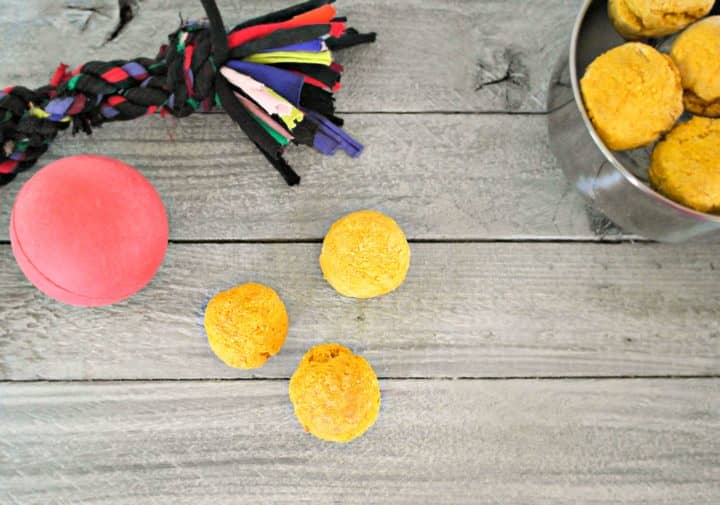 Ingredients
Instructions
Preheat oven to 350
In a medium bowl, beat egg and pumpkin until smooth. You can whisk by hand or use an electric mixer
Fold (by hand) in the flour, baking soda and salt
Mix well until fully combined and a soft dough forms
Refrigerate for about 10 minutes or until dough can easily be rolled into balls
Roll into desired-sized balls and place on a cookie sheet
Bake for about 15 minutes or until golden brown
Recommendation* Store in an airtight container
for up to 2 weeks.
How to make these treats more hypoallergenic
Our pumpkin doggy donut holes treat recipe is well-tolerated by dogs who don't have flour or egg allergies, making it relatively hypoallergenic. Of course, it totally depends on what your pup is allergic too, just like with people. I have an aunt who cannot eat eggs, but she can eat every nut under the sun. On the flip side, her son is allergic to just about every nut and fruit! If you're worried, ask your vet first if your pup can have this particular hypoallergenic treat.
If you already know that Fido is allergic to flour, here are some good alternatives to try:
Coconut Flour: Coconut flour is a popular gluten-free alternative that can be used in dog-friendly baking. It is rich in fiber, low in carbohydrates, and adds a subtle coconut flavor to baked goods.
Almond Flour: Almond flour is made from finely ground almonds and is a great gluten-free option for baking dog treats. It is rich in protein, healthy fats, and adds a slightly nutty flavor to the treats.
Oat Flour: Oat flour is made by grinding rolled oats and is a good alternative for dogs with wheat allergies. It is high in fiber and provides a mild, slightly sweet taste to baked goods.
Chickpea Flour: Chickpea flour, also known as garbanzo bean flour, is a protein-rich alternative that can be used in place of regular flour. It has a nutty flavor and can provide a good texture to dog treats.
Rice Flour: Rice flour is a common gluten-free option that is easily digestible and suitable for dogs with sensitive stomachs. It can be made from either white or brown rice and is neutral in taste.
Potato Flour: Potato flour is derived from dehydrated potatoes and can be used as a gluten-free substitute. It adds a dense texture to baked goods and should be used in moderation due to its high carbohydrate content.
Buckwheat Flour: Despite its name, buckwheat is not related to wheat and is a gluten-free option. Buckwheat flour adds a rich, nutty flavor and can provide a good source of fiber and protein.
Remember to adjust the recipe accordingly when using these alternative flours, as they may have different absorption and texture properties compared to regular flour. It's always a good idea to consult with your veterinarian before introducing any new ingredients into your dog's diet, especially if they have specific allergies or dietary restrictions.
Looking for more fun fall dog treat recipes?
Check out our super cute spider-shaped dog treats! They're not made with real spiders, don't worry! They're just shaped like them!
Or how about these darling pumpkin-shaped treats that are actually pumpkin-free? Think of it as our little Halloween trick, we actually put the pumpkin in these yummy Halloween dog treats!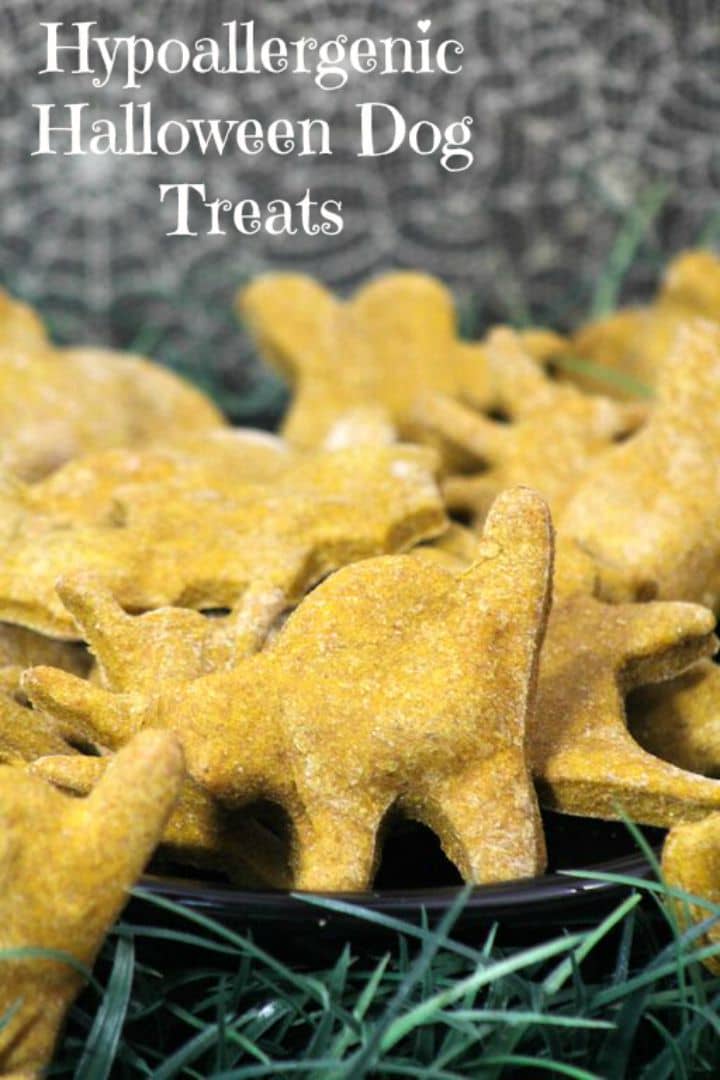 Have fun with all these delicious dog treat recipes! I bet your pooch will love all your experimenting in the kitchen! Especially since he gets to be your guinea pig, er, guinea dog? Test subject? Whatever you call him, he'll be one happy canine!
What is your favorite hypoallergenic dog treat recipe? Have you ever made doggy donut holes? Talk to us in the comments!