If you're curious about the proper nutrition for maintaining healthy skin and coat, I've got you covered.
As I'm sure you know, good nutrition is key to any dog's long-term health.
Food is the fuel that feeds all living things, and just as people need the right food to live their best life, the same holds true for dogs.
The right nutrients do more than just nourish your dog's body inside, but also help keep him healthy on the outside!
Today, we'll talk about about the right nutrition to keep your dog's skin and coat looking and feeling fantastic.
Proper Nutrition for Maintaining Healthy Skin and Coat
I've said many times that the best way to provide proper nutrition to a dog is to feed him high-quality dog food.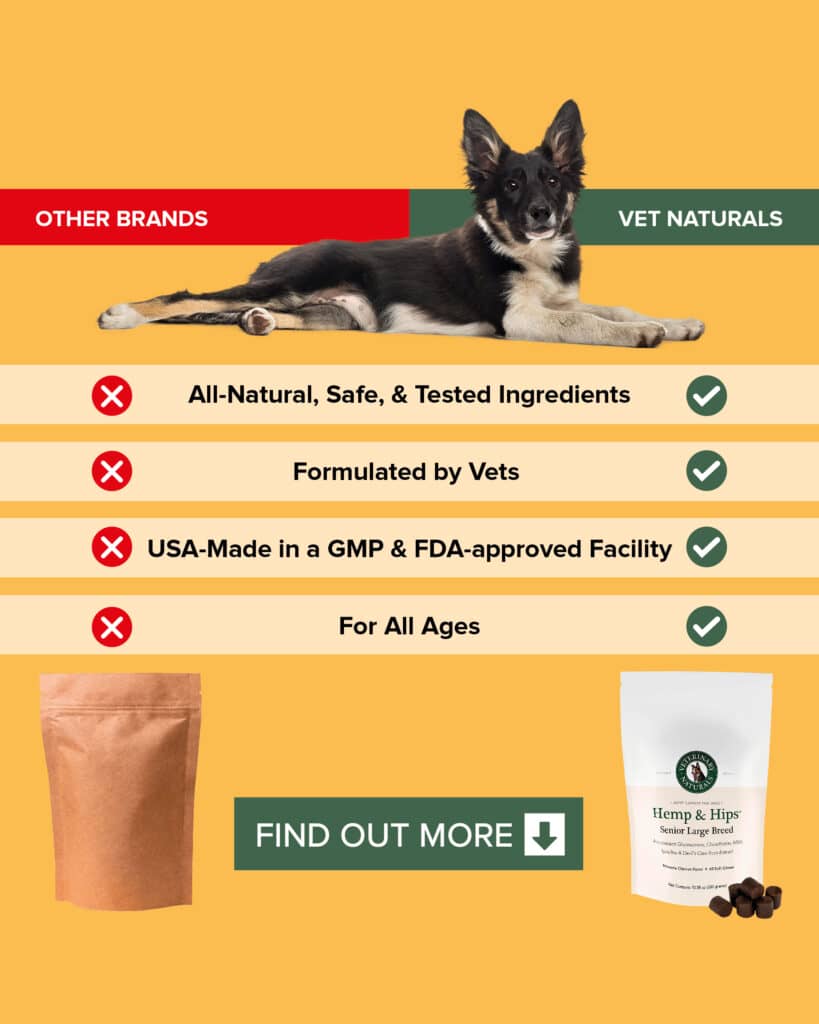 These foods have all the necessary protein, carbs, vitamins, and minerals to keep dogs at their best health.
Only high-quality food will do, though. Bargain basement foods are packed with fillers and garbage protein.
There's one other aspect to consider for our dogs' health, though – their skin and coat.
Most foods these days have added omega fatty acids for healthy skin and coat, however, if your dog has particularly dry skin or skin problems, you may need to take extra steps to maintain their healthy skin and coat.
That's what we'll be talking about today.
Which Dogs Need Proper Nutrition to Support Their Skin and Coat
There are many dogs out there that need extra nutritional support to maintain healthy skin and coat.
These dogs may have dry skin, as some people do. They might also have allergies or some type of skin problem.
In any of these cases, it's important for owners to supplement their dog's diet with foods that help maintain and support healthy skin and a shiny coat.
Before we get into how we can support our dogs' skin and coat, let's talk about which dogs might need that extra push of nutrition.
1. Chronically Dry Skin
Like some people, some dogs have chronically dry skin.
These dogs generally have a dull coat, and when they are scratched, owners will notice what looks like dandruff on their hands or the floor.
This is from the flaking skin. It is, essentially, doggy dandruff. These dogs will benefit from a nutritional boost for their skin.
2. Chronic Allergies
Dogs who suffer from chronic allergies can benefit from dietary additions that support healthy skin, as well.
Dogs with chronic allergies almost always have skin issues that go along with them.
For example, they may have dry OR oily skin, skin flaking, inflamed skin, and abraided skin secondary to chronic scratching.
Adding foods that support healthy skin and coat in these dogs can drastically improve their skin.
3. Chronic Skin Infections
Many dogs out there have chronic skin infections.
Sometimes, these infections lead to antibiotic-resistant strains which make for a constant battle to keep it under control.
Proper nutrition that supports healthy skin and coat can actually help these dogs maintain better skin because the skin is strengthened and less prone to infection or worsening infection.
4. Almost Any Dog
Frankly, almost any dog can benefit from added nutritional support for their skin and coat.
While the other examples showcase dogs that have active skin issues, supporting healthy skin and coat can actually help avoid dry skin and chronic skin infections.
By strengthening the skin, you help make it more resilient and less prone to infection, dryness and flaking, and itching, whether it be from a dry climate or allergies.
However, supplementation will NOT prevent allergies. Those are always present no matter what.
What is Proper Nutrition for Healthy Skin and Coat?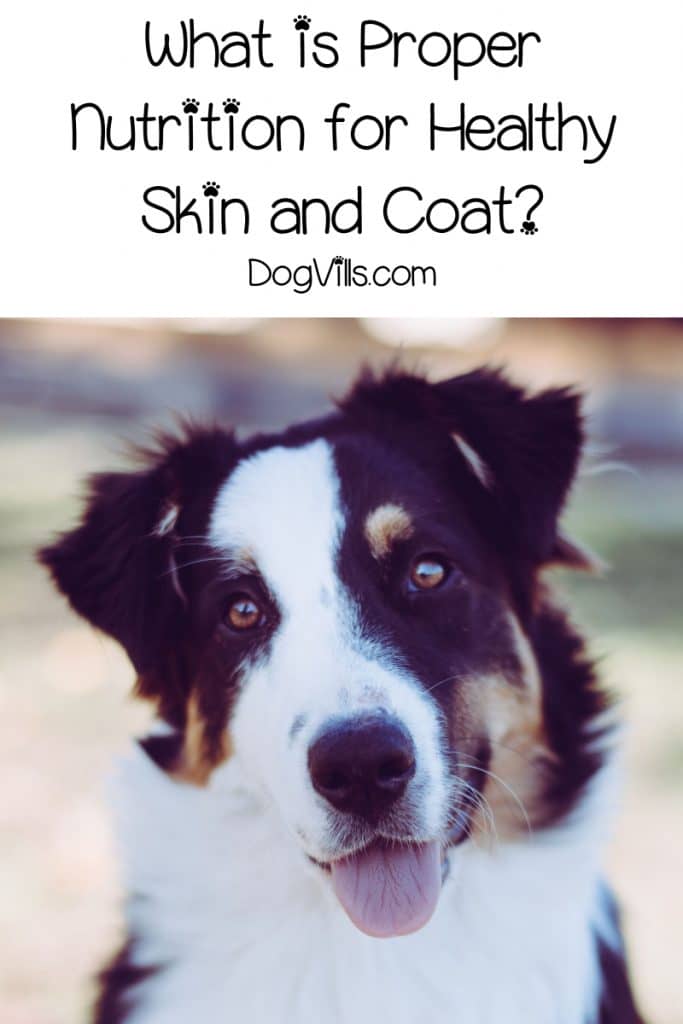 The name of the game for healthier skin and coat are omega fatty acids and healthy fats.
These fatty acids and healthy fats promote healthier skin from the bottom up.
Because of this, supplementation of this type either through food or a pill is not a quick fix. Rather, it's a long-game approach.
Both of these work by strengthening the skin from the bottom layer to the top over time.
While most people think of omega 3 when they think of fatty acids, dogs will benefit from all the fatty acids – 3, 6, and 9, as well as healthy fats from sources like coconut oil.
Just like people, dogs constantly shed their skin, with new skin replacing it from the deepest layer to the topmost layer.
Fatty acids work by making that new skin stronger and more resilient, which means it can take up to a few weeks for you to see improvement in your dog's skin.
However, if you stick to it, you will see an improvement over time.
It's also important to note that supplementation isn't something to be done in the short term to alleviate a problem.
Your dog should have extra fatty acids in his diet for the duration of his life to treat current problems and prevent the likelihood of new problems in the future.
Foods for Proper Nutrition Supplementation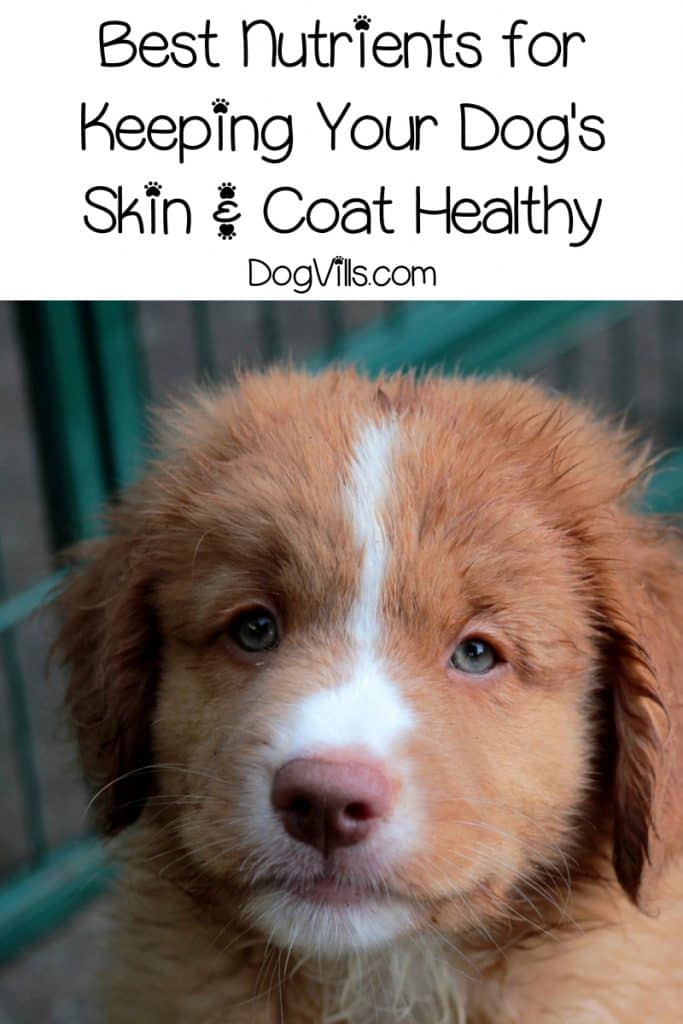 As previously mentioned, you can add omega fatty acids and healthy fats to your dog's diet either through food or via an omega fatty acid supplement.
Either of these works well. There are several foods that provide a nice boost to your dog's fatty acid levels, and most dogs love them all.
FYI, this post contains affiliate links. If you make a purchase through these links, we earn a small commission at no extra charge to you.
Fish
Fish is an excellent protein source for dogs and it's packed with omega fatty acids.
You can find high-end dog foods with fish as the main protein source which are perfect to support healthy skin and coat.
Annamaet Grain-Free Sustain or CANIDAE Grain-Free PURE Ancestral Fish Formula are good options.
If those are outside of your budget make your dog small amounts of cold-water fish like salmon or mackerel to add to his food.
Flaxseed
Flax is an excellent supplement for healthy skin and coat because it provides high levels of omega 3, 6, and 9 fatty acids.
This fatty acid profile makes it exceptionally good for supporting your dog's skin and coat.
When buying flaxseed, be sure you buy raw flaxseed and not toasted. Toasting flaxseeds and nuts changes the profile of their fats, making them less healthy.
Chia Seeds
Chia seeds are an excellent source of omega 3 fatty acids. They're also high in fiber, so be sure not to give too much to your dog.
You could end up making several trips outside or have a house filled with gross doggy gas.
However, once you get it dialed in, chia provides a big boost of fatty acids to your dog's diet.
Fish Oil Supplements
Fish oil supplements are by far the most efficient way to add omega fatty acids to your dog's diet.
These days, you can find supplements that have the entire range of fatty acids. These are the best ones to give your dog.
Each fatty acid plays a slightly different role in your dog's body to promote healthy skin and coat, so a supplement that covers all the bases is best.
It's usually incredibly easy to get these supplements into your dog.
They're very fishy, so simply poking a hole in one end and squeezing the oil onto his food should be enough to get him to eat it.
In fact, he'll think he's getting a super special treat.
Sale
Pure Wild Alaskan Salmon Oil for Dogs & Cats - Omega 3 Skin & Coat Support - Liquid Food Supplement for Pets - Natural EPA + DHA Fatty Acids for Joint Function, Immune & Heart Health, 32 Fl Oz
America's #1 Selling Dog Supplement Brand on Amazon*
A tasty & body nourishing treat for cats & dogs - Essential fatty acids for a healthy coat.
Powerful Omega Fatty Acids - This premium fish oil liquid formula is loaded with the healthy Omega-3 fatty acid (with epa and dha) to support health and wellness for your canine or feline companion.
Help your pet stay looking great - The rich Omegas in Salmon Oil are a dog health supply to nourish skin and coat and keep your four-legged friend feeling happy every day.
Perfect for Skin & Coat -Salmon Oil provides nourishment to keep skin and coats in the best condition.
Works as a dog food topper - For pet parents looking for an alternative to capsules, raw treats, or soft chews, all it takes is a few pumps of Salmon Oil to mix nicely with dog or cat food.
Coconut Oil
A source of healthy fat, coconut oil helps strengthen your dog's skin and coat as well by ensuring an extra boost of healthy fat levels.
One tablespoon a day should be plenty. Use a half tablespoon if you have a smaller dog. Any more than that and your dog could end up with loose, greasy stool.
Olive Oil
Olive oil is another classic source of healthy fats for both you and your dog.
Like coconut oil, be careful how much you give so your dog doesn't break with loose stool.
Whole Eggs
Whole eggs have long been a staple among veterinarians for adding healthy fat to a dog's diet.
Eggs are the most bioavailable protein source on the planet, and the high fat concentration in their yolks provide a huge boost of fat to support healthy skin and coat.
Pastured Butter
Pastured butter is a term for butter that comes from grass-fed cows.
Just like their beef, grass-fed cows produce milk which is high in omega fatty acids in addition to fat.
This milk is made into butter which has an excellent profile to support healthy skin and coat.
Proper Nutrition is Key to Healthy Skin and Coat
Omega fatty acids and good fats are the keys to the proper nutrition that keeps your dog's skin and coat healthy.
While all dog foods contain fat and many contain some amount of omega fatty acids, almost all dogs can benefit from more in their diets.
In addition, dogs with skin issues can see a drastic improvement in their skin over time if they are given extra fatty acids and good fats.
The above sources of fatty acids and fats can help strengthen your dog's skin and keep it healthier in the long run.
Give them a try and leave us a comment to let us know if it worked for you.
Give these tips for proper nutrition for maintaining healthy skin and coats a try, then let us know in the comments how they worked for your dog!
Last update on 2023-09-21 / Affiliate links / Images from Amazon Product Advertising API