With Pitbulls being under fire so often, we wanted to share some Pitbull Puppy Love with these great Quotes About Pitbulls to warm your heart and remind you about how great these animals can be.
So often a breed that is labeled as a bad breed really is not.
As with any animal or breed, how they behave really is about how they are raised.
Pitbulls are amazingly loving, protective and gentle animals when raised to be so.
Yes, they – like any other breed – can be violent when taught to be, but that doesn't mean that all are.
Related: pros and cons of pit bulls
Pitbull Puppy Love: Quotes About Pitbulls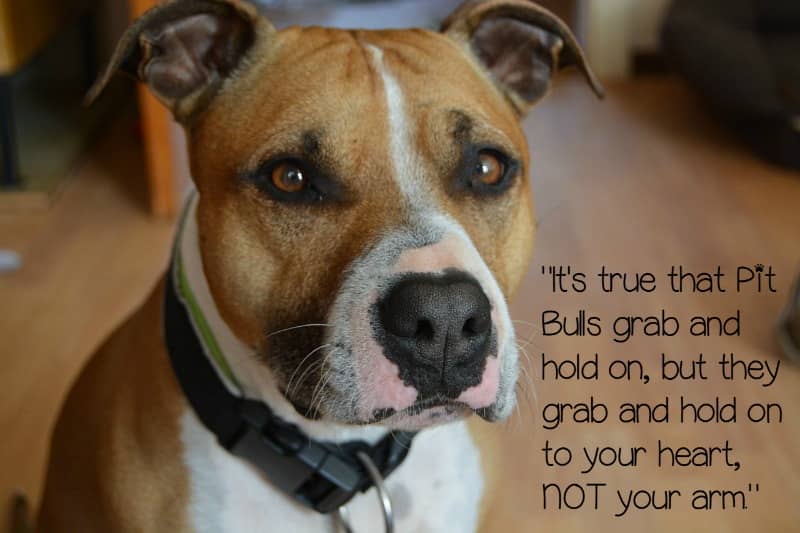 "It's true that Pit Bulls grab and hold on, but they grab and hold on to your heart, NOT your arm." – Anonymous
"Pit bulls are famous, in circles of knowledgeable dog people, for the love and loyalty they bestow on anyone who shows them a smidgen of kindness." – Linda Wilson-Fuoco
"What has been accomplished by Ontario's pit bull ban is that the government has been allowed to avoid the more difficult task of regulating human behavior and finding the resources to educate the public in a meaningful way." – Clayton C. Ruby
"Punish the deed, not the breed."
"All dogs go to heaven because, unlike people, dogs are naturally good and loyal and kind." – Whippet Angel, All Dogs Go To Heaven
"Pitbulls are beauty without vanity, strength without insolence, courage without ferocity, and all the virtues of man without the vices."  – Unknown
[embedpost postid="23628″]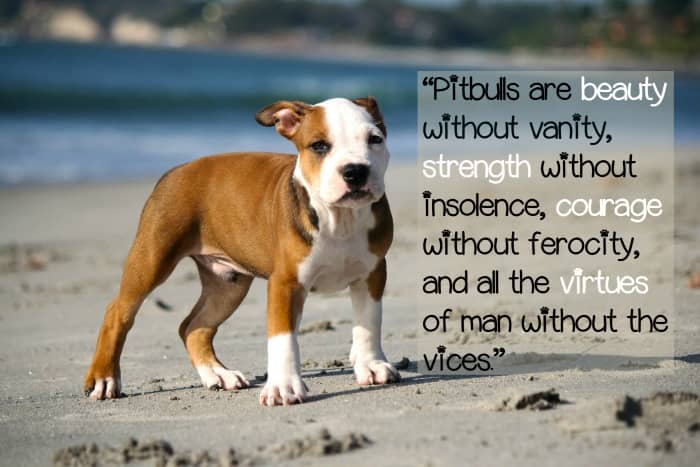 Pitbulls are often misunderstood animals.  They are left by breeders to fend for themselves.  They are used and trained to fight for money.
They are bred to be big, strong and frightening.  Reality is that any animal, pit bull or poodle can be mean or kind.  Nurture wins out with animals just like it does with humans.  True nurturing of a personality is what creates a good or bad dog. Not their breed or genetic makeup.
Related: Pitbull Puppy Training Tips – Train the People Around You
These quotes about pitbulls are just a smattering of the great things being said by those who have been privileged enough to know and love one of these beautiful animals.
Raising a pitbull from puppyhood is a privilege.  You'll find no other animal as loyal and loving as a pitbull will be for your family.  Nurture that love, compassion and gentle behavior.  You'll find your family loving a creature that will love you back with everything it has.
To protect and love you, is what a Pitbull is born to do.
Do you have any favorite quotes about pitbulls? Share in the comments!