If you're wondering if Petmate Automatic Feeders are reliable, our reviews will help you find out!
Petmate dominates the automatic feeders market, making it hard to choose between their options.
But I intend to help you out by highlighting the pros and cons of each of their top feeders.
Keep reading, and I promise the right choice will become clear.
You may also like: 12 Cheap Dog Food Recipes to Try When Food is Scarce
Our Top Pick
FYI, this post contains affiliate links. If you make a purchase through these links, we earn a small commission at no extra charge to you.
If you don't have time to read the entire article, go with the Petmate Pet Café Feeder.
It's an affordable and simple option that works better than the more advanced options offered by Petmate.
Features of the Best Automatic Dog Feeders
The top-tier automatic dog feeders will offer many essential aspects to make a dog owner's life easier.
Let's look at what to consider before buying any of the Petmate Automatic Feeders.
High-quality materials
One of these aspects is being made with high-quality materials such as reinforced plastic.
If they aren't, a dog might be able to break through and access the food at will.
Large-breed kibble capacity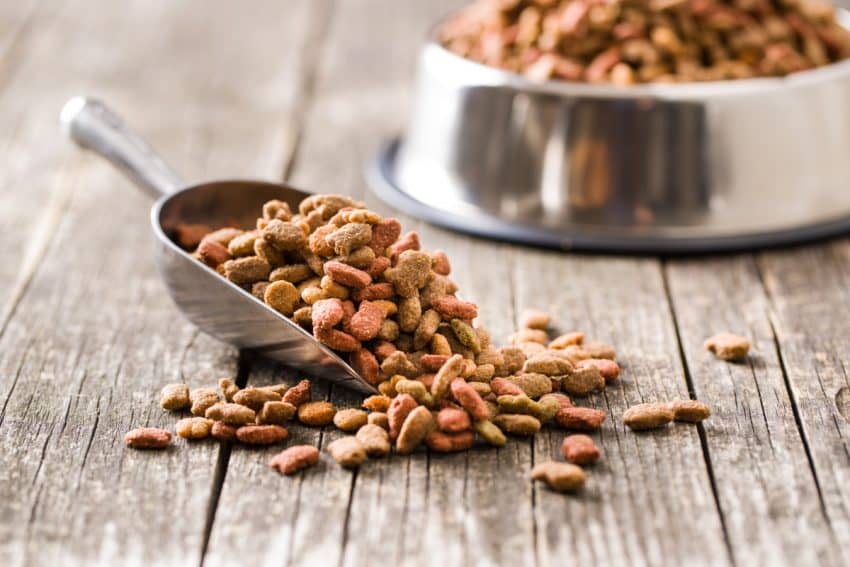 Another must-have feature is a large-kibble capacity.
Some feeders won't be designed to dispense larger pieces of kibble correctly, which would be a problem for owners who prefer larger kibble.
Easy to clean
The best automatic features will also be easy to clean.
You should make this a top priority because these products will need cleaning often.
Battery life
Some models will run on batteries, as well. If you choose one of these products, be sure to make sure it has long battery life.
Compatible with food
Lastly, make sure your chosen automatic feeder is compatible with your dog's preferred food type.
Don't be the person who buys a dry automatic feeder for a wet dog food eater.
Ready to see what these Petmate automatic dog feeders have to offer?
Move onto our next section for those all-too-important reviews.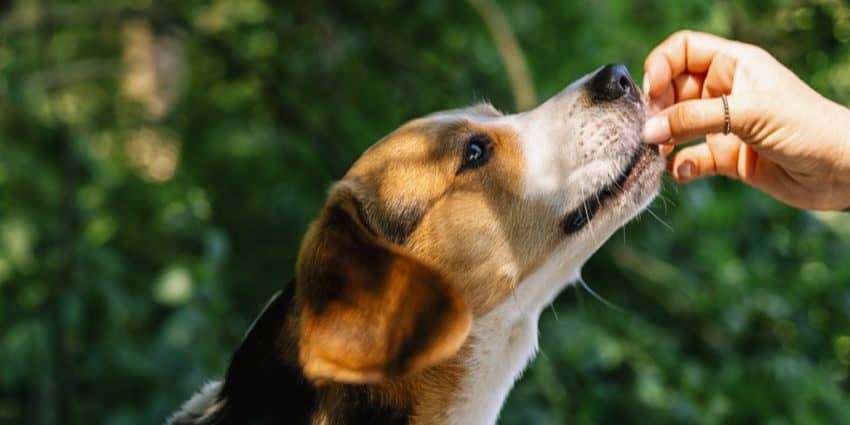 Reviews of Petmate's 5 Automatic Dog Feeders
Check out the table below for a quick peek, then read on for our reviews!
1. Petmate Replendish Feeder w/ Microban
Our first Petmate automatic feeder is a rather simple and practical choice.
Its snap-top lid and easy cleaning process should make your life much more manageable.
I also found the product's versatility appealing with its many size and color options.
Features:
Four size options: 2 Lb, 5 Lb, 10 LB, and 18 LB
Five color choices: Pearl Blue, Pearl Peacock Blue, Pearl Silver Grey, Mason Silver, and White
Microban antimicrobial protection included
Snap-top lid
Base and bottle screw apart
Pros:
Easy to clean
Simple to snap lid
Spill-resistant dish
Continuously fills the bowl with fresh food as it empties
Affordable
Cons:
Final Verdict:
I was delighted with this product's easy using process and straightforward design.
But it was annoying to see some customers had reported food getting stuck inside the feeder.
This issue could be disastrous when relying on it to feed your dog during extended trips.
If you're looking for a product with this capability, it'd be smart to look elsewhere.
2. Petmate Aspen Pet Lebistro Programmable Cat and Dog Feeder
Dog owners looking to get a more advanced model might enjoy this one.
It has an easy-to-read LCD screen with three simple control buttons.
As someone who struggles with electronics, I don't think I'd even mess up with this product.
Features:
18-cup capacity
LCD screen
Twist-lock lid
Removable bowl
Black color scheme
Pros:
Can schedule meal times and set portion sizes
Offers top-tier security
Runs on three "D" batteries
Easy to use
Affordable
Cons:
Feeder bowl is hand-wash only
Final Verdict:
The ability to set up meal times and portion sizes are certainly plus features.
I'm also quite happy with the twist lock lid, which has a reputation for offering airtight security.
But the feeder bowl being hand-wash only was a huge bummer.
This reason alone isn't a complete deal-breaker, but it would make me second-guess buying it.
3. Petmate Portion Right Programmable Dog and Cat Feeder
This product is another programmable option capable of setting meal times and portion sizes based on your preferences.
It offers a large 30-cup capacity, which would fit perfectly with my Pit Bull's needs.
I could leave her alone for a night without worrying about her becoming starved.
Features:
Twist-lock lid
Large LCD screen
Runs on three "D" batteries
30-cup capacity
Transparent food hopper
Removable bowl
Pros:
Easy to program
Bowl locks securely in place
Capable of setting meal times and portion sizes
Dishwasher-safe
Sleek design
Cons:
Expensive
Durability issues
Final Verdict:
This product is a bit more convenient than the prior programmable model.
But its food hopper does have a notoriety for being less durable than expected.
Customer reporting cracks and other problems within a year or two.
These types of issues aren't what I'd expect from a product this expensive.
4. Petmate Pet Café Feeder
The first thing to stand out about Petmate's Pet Café Feeder is its low price tag.
But don't let this lower cost mislead you; it's also a genuinely effective model.
The product's straightforward design allows it to dispense food as your dog eats without issue.
It's a perfect option for someone who needs to leave their dog alone overnight.
Features:
Two available size options: 6 lb and 12 lb
Five color options: Pearl Blue, Pearl Silver, Pearl White, Pearl Waterfall, and Pearl White
Snap-top lid
Made in the USA
Easy to grab handles
Pros:
Locks securely in place
Dispenses food as your dog eats
Easy to clean
Suitable for air and car travel
Affordable
Cons:
Final Verdict:
This product's only downside comes from it not being programmable. But aside from this issue, it's the perfect automatic feeder.
It'll ensure your dog gets their food and doesn't provide any hassles with a tricky using or cleaning process.
This sounds like a great deal to me.
5. Petmate Aspen Pet Gravity Feeder
Petmate's Aspen Pet Gravity Feeder is another non-programmable option.
But this model compensates by offering a simple using process.
You just have to fill the hopper with the right portion, and gravity will do the rest.
Sounds easy enough, right?
Features:
Two size options: 3 LB and 6 LB
White coloring
Dishwasher safe lid and base
Equipped with handle areas for easy lifting
Smooth surface design
Pros:
Affordable
Easy to clean
Compact design
Simple to use
Durable
Cons:
Has issues dispensing non-rounded food
Non-programmable
Final Verdict:
Aside from its easy using process, this product also has a rep for being durable.
Many customers reported using this automatic feeder for more than a few years.
But if your dog's preferred food isn't rounded, I'd suggest staying away from this model.
Other types of food have been known to get stuck inside this device.
Related: Dog Food Alternatives: What to Buy When Your Usual Brand is Gone
Final Recommendation
Petmate might make more advanced options, but the Pet Café Feeder is the best automatic feeder they offer.
It keeps things simple and ensures the job gets done correctly.
Hopefully, you follow our suggestion and buy one for your dog.
Have you tried any of the Petmate Automatic Feeders? Share your experiences below!
Last update on 2023-09-21 / Affiliate links / Images from Amazon Product Advertising API