Looking for some amazing paramedic dog tags to put on your canine pal?
We think our top picks below are just perfect for EMTs!
We also included a couple of great options for people, since I know many people are looking for those.
Take a look and see what you think!
You may also love: Top 10 Best Products for Outdoor Fun with Dogs 
Why paramedic dog tags for both pups AND people?
Full disclosure time- when we saw that people were asking for paramedic dog tags, we didn't realize they meant the kind for humans.
Si, since we realized that many people want the military-style tags for humans, we decided to include both!
That way, no matter what you were searching for when you landed here, you'll go away satisfied.
Just about all of the options (except one) can easily be worn by you or your canine companion.
Sound good? Great! Let's get started.
Why Buy a Paramedic Dog Tag?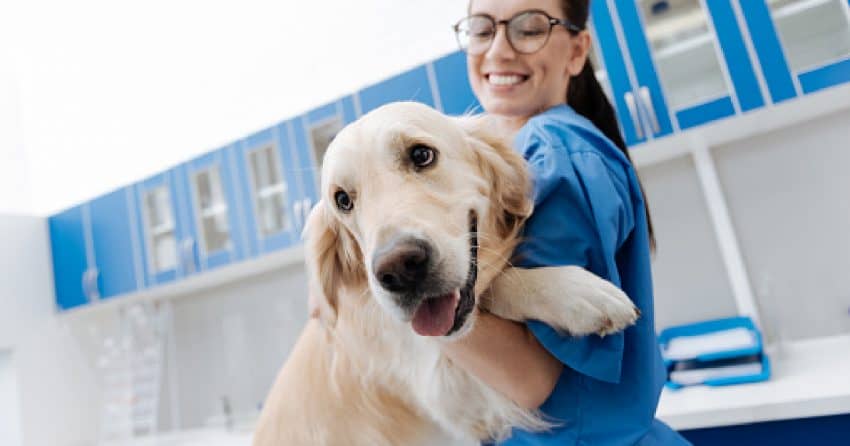 The answer is pretty obvious! All dogs needs some sort of identification in case they get lost!
Without an identification tag, it can be almost impossible for you to get him back.
It can happen to even the most diligent of us, so don't think "that will never happen to me."
Your pooch may get scared and run out the door during fireworks, sneak away from you at the dog park, or even manage to escape his collar on a walk.
I personally lost my dog once, because he managed to dig under the fence and get away.
The only thing that helped me find him, was his dog tag, because the people who found him were nice enough to call me to come and pick him up.
Do I need a dog tag if my pup is chipped?
Maybe at this point you're thinking that you don't really need a paramedic dog tag (or any tag, for that matter) if your pup is chipped.
Here's the thing- you have to hope that whoever finds him knows to take him to a place to get it scanned.
Not everyone is aware of that.
Furthermore, to be totally blunt, not everyone is willing to take the time to do so.
So, yes, even if Fido is chipped, get him a tag.
Most states require tags by law
A dog tag may even be mandated by law in your area.
Just about every states have dog license requirements.
Most states also require you to keep up to date on your dog's rabies vaccine.
Proof of both of these things can easily be added to your dog's tag.
What to put on your dog's tag
In general, it would be best to have your name, phone number, email address and even your home address if you're comfortable with it.
It's very important to offer as much information as possible in order to have your dog return home.
If possible, make sure to also include any severe medical conditions or food allergies your dog may be dealing with.
That way, if someone takes him in until they can find you, they'll know not to give him something that could make him sick.
But why buy a paramedic dog tag?
Why a paramedic dog tag specifically?
For the same reason you'd choose a Star Wars dog tag, a Disney one, a food-shaped one, or pretty much any other "themed" tag.
You want your dog's tag to reflect your passions!
So, if you're an EMT, it makes sense to get something designed for paramedics who happen to be dog lovers.
Got it? Good! Now, let's take a look at some that we love.
FYI, this post contains affiliate links. If you make a purchase through these links, we earn a small commission at no extra charge to you. 
EMT Paramedic Dog Tags
Use the table for a quick look. Prices are accurate as of today and are subject to change.
| | | | | | |
| --- | --- | --- | --- | --- | --- |
| Preview | | | | | |
| Top Feature | Set of 2 | For Service Dogs | Bright blue | Stainless steel | Engrave both sides |
| Customer Rating | 5 stars | 4.5 stars | 4.5 stars | 4.5 stars | 4.5 stars |
| Price | $10.00+ | $9.99 | $12.99 | $11.99 | $8.99 |
| Buy Now | BUY IT | BUY IT | BUY IT | BUY IT | BUY IT |
1. EMT PARAMEDIC Keychains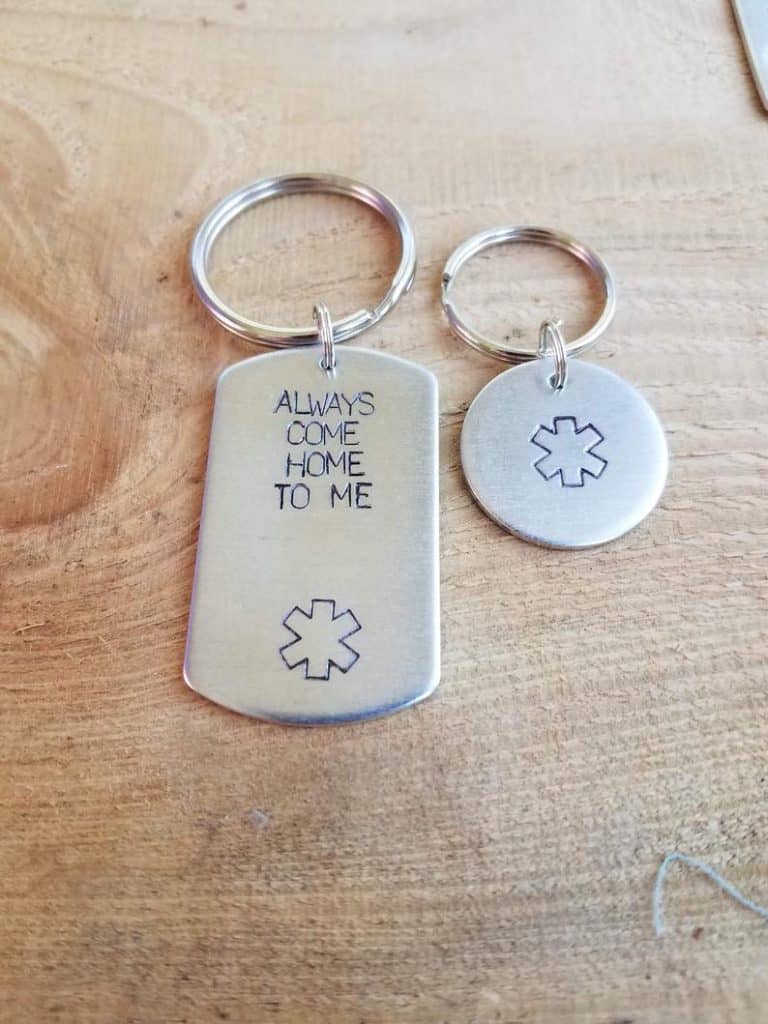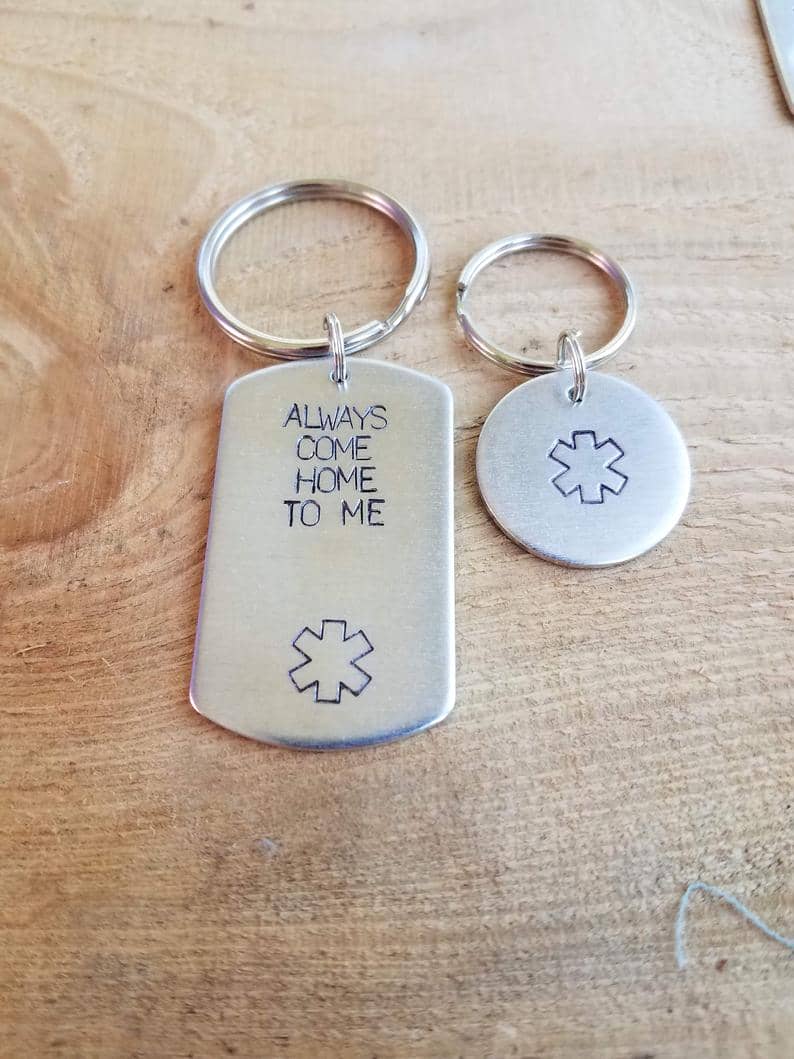 This model is one of the most popular ones, and it's available on Etsy starting at about $10.
It comes in a set, with a tag for you and one for your pup! Choose from numerous different shapes and styles.

2. Service Dog Tag
If your looking for something for a service dog that's part of your paramedic team, this is a cute option.
While they don't offer engraving, you could easily take it somewhere to get your own text added.

3. Custom Star of Life EMT Dog Tag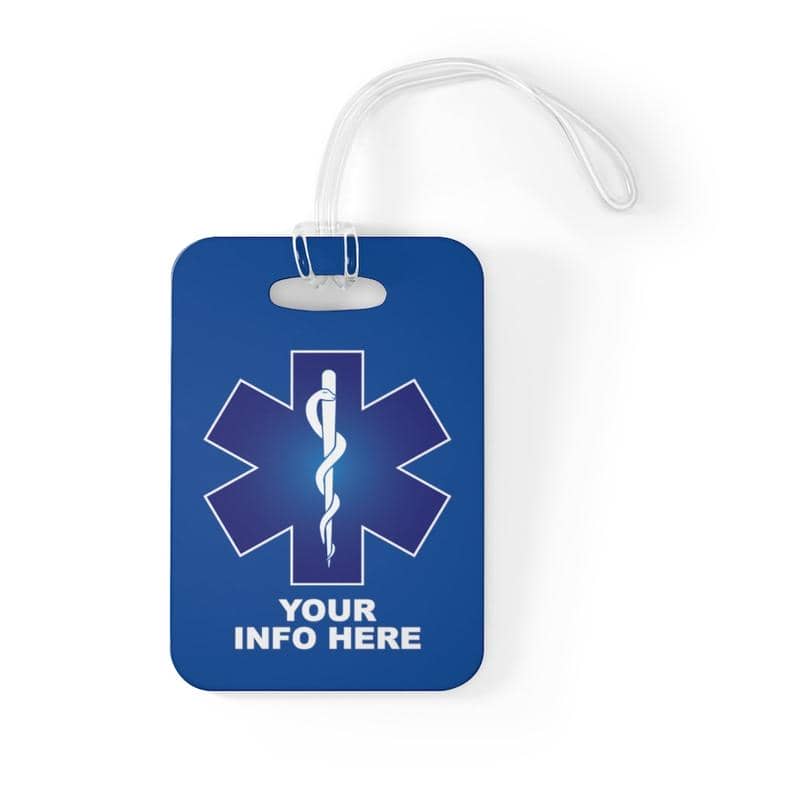 This one is technically made for people, but since you can add all of your own text, it's also perfect for your dog.
It features the Star of Life EMT symbol and vital info on the front.
They'll send you a draft to approve before finalizing the product, so you can make sure everything is just right.

4.   Stainless Steel EMT Dog Tag
Another one for people as well as pups, this one features a small EMT star in the corner and gives you plenty of room to add your own text.
I like it because it's stainless steel and laser-engraved, so it'll last a very long time.
JF.MED Customized Medical Alert Necklace, Stainless Steel Medical Alert Necklace for Men Women, Personalized Medical Dog Tags Allergy Alert Identification Necklace (Silver Dog Tag 1, 24 Inch Chain)
🔊Medical Alert Necklace: The custom medical id necklace speaks precisely for you in an emergency when you can't, allowing medical professionals provide the right treatment and attention you need. Average people don't realize it's a medical alert necklace, just a nice piece of jewelry. A fashion jewelry fit for daily wear.
🔊Laser-Engraved: ALL orders are laser-engraved, not print, the engrave information will last 20 years & won't fade.
🔊Material and size: Made of 316L stainless steel, waterproof and wear resistance. Tag Size:1.4 inch * 0.86 inch, Optional Chain Size: 20/22/24 inches, come with a lobster clasp.
🔊Recommended You Engrave: Your name, treatment considerations, food and drug Allergies, life-saving medications, emergency contact number etc.
🔊People with the following conditions should wear a medical alert jewelry: Diabetes, epilepsy, autism, allergies, waffarin, heart diease, pacemaker, asthma, COPD, stroke, etc.
5. Personalized Pet ID
If none of these designs work, you can always just get a totally personalized dog tag.
You can engrave both the front and the back of this one with up to 4 lines.
This one lets you add pretty much anything you want. It would be cute to add "my mom is an EMT" or something along those lines!
VNOX Customize Jewelry Black Stainless Steel Army Dog Tag Keychain Keyring for Men Boy,Gift for Boyfriend
Material: 316L Stainless Steel,Never Rust,Sturdy and Durable,High Quality.Pendant Size:23mm*40mm(width*length).
We offer engraving service,Popular engraving ideas:1.Special dates (wedding day, engagement day, etc.),2.Special dates using Roman Number. Example: 2/14/2012 is II XIV MMXII,3.You and Your Spouse's First names. Example: Michael & Emma,4.Personal messages,5.Phrase from your wedding vows. Engrave a few short words from your wedding vows that signify love, respect, trust, etc.
Please click"Customize Now"select engraving font and fill in your engrave information then "add to cart",we will get your engrave info from your order,if you want change the engrave info after finish the payment,please contact us with your correct engrave info immediately,we will do our best to help you.
Perfect for best friend, birthday gifts, Christmas gifts, or for simply treating yourself. A perfect gift for just about anyone.
Please do not hesitate to contact us with any questions or concerns.

Of course, there are many other paramedic dog tags out there!
We picked these because they're durable, affordable, and highly customizable.
Plus most, if not all, are just right for both dogs and people.
What are some of your favorite paramedic dog tags? Share below!
Last update on 2023-09-27 / Affiliate links / Images from Amazon Product Advertising API