Organic bully sticks are among my favorite chew treats to give my three dogs. Note the first word there: organic. As in naturally processed, single-ingredient, the way they're supposed to be made. You might thing that buying organic bully sticks is a no-brainer activity. Just point, click and buy, right? I mean, how complicated can bull pizzles be (that's the polite word for the bull's, um, manhood)?
Well, back when I first started buying organic bully sticks for my dogs, I did a whole bunch of research into them. I found that while the idea of bully sticks as a whole are more or less organic, the way they're processed can make a huge difference in just how good they are for your dog. I also discovered a few nefarious companies selling "bully sticks" that had all sorts of weird animal parts aside from the one weird part I was supposed to see! So today we'll talk about what makes a bully stick "organic" and why they're such great chew treats for your pooch. Plus I'll share a few of my favorite sources for organic bully sticks! Ready? Let's get to it then!
Related: Naturepedic organic pet bed Review
Organic Bully Sticks: What Are they Really?
Affiliate links included below. We earn a commission if you make a purchase.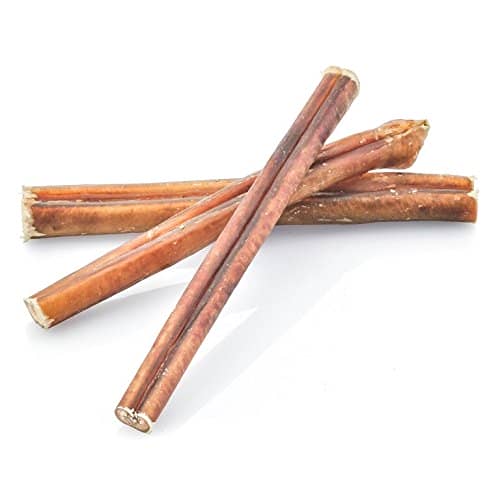 This is actually a far harder question to answer than I thought it would be. When it come to pet treats, regulation regarding terminology like "natural" and "organic" isn't as strict as it is with human food. While the FDA did finally set some rules regarding the safe manufacturing of pet food back in 2014, according to the guidelines, some businesses will need to start complying this year (2016). Smaller businesses (those making less than $2.5 million a year) still have a few more years before they have to bother. Bottom line, there is no clear-cut definition of "organic bully sticks." So I'll tell you what I look for in them.
Single ingredient
100% natural bully sticks are made from one ingredient- bull penises. That's it. When you're buying organic bully sticks, if you see more than one ingredient on the label, put it back (or navigate away from the page). Even odor-free bully sticks can be made without using chemicals to cover up the odor. Best Bully Sticks
, for example, manages to eliminate most of the odor simply by hanging their sticks longer to remove more of the moisture.
Baked or cooked versus sun dried
I prefer baked bully sticks for my dogs. I don't like the type that are sun-dried, because I worry that leaving them out in the elements for extending periods of time can introduce all sorts of nasties. Think about it this way, would you leave a hunk of meat sitting out on the back porch for hours or days, unattended? To me, baking not only does a better job of reducing the odor, it also creates safer chews for my dogs.
Reputable seller
I talked more about this in my post about bully sticks for puppies, but buying from a reputable seller is a must. This goes for pretty much anything you let your dog ingest (or chew!). When you shop from companies that truly care about your dog's well-being, you can shop with more confidence. Of course, you still have to do your research, but I feel better when I shop at stores like Only Natural Pet, Best Bully Sticks (I buy on Amazon to take advantage of Prime), and such than when I buy randomly from unknown 3rd party sellers.
Why Organic Bully Sticks at All?
Let's be honest here, organic bully sticks can be super duper expensive. They're probably the most expensive treat I give my dogs. A nice, thick 12-inch stick can cost over $4 a pop. I have three dogs. Do the math. When you're probably already spending upwards of $60+ a bag for really good grain-free dog food, why would you want to spend the equivalent of your monthly Netflix streaming bill on a 5-pack of chews?
First, since organic bully sticks are made from a single ingredient, they're typically considered safer for your pup than, say, rawhide or other "mystery ingredient" chews. They're also highly digestible, so they don't pose as much as threat to your dog's intestinal tract. While we do have a post talking about the benefits of rawhide, you have to be super careful with it. I personally don't give it to my dogs because they're rather aggressive chewers. Cooper can wolf down a whole bone in seconds flat. If I blink, he'll swallow rawhide. When he enjoys a bully stick, I don't have to worry so much.
Bully sticks are also low in fat and high in protein. My pooch Coop is a big boy (that's him up there in the feature image, handsome guy, right?). He has food insecurities dating back to his horrific puppyhood. He steals like an masterful international jewel thief. Anything I can do to satisfy his cravings, keep his mouth busy and keep the calorie count down is good in my eyes. All my pups are getting up there in age (two are 14 and Coop is 9), so the naturally occurring glucosamine is also a major benefit.
Back to that price. Since bully sticks are longer lasting than rawhide and other types of chews, in the long run you're really not spending much more. Okay, so Coop can still go through one pretty fast. My girls, though, can make theirs last a really long time. In fact, I usually have to put them up and hide them when they're done, so Mr. Jewel Thief doesn't get his white-gloved paws on them.
I think that about covers everything I think of when I shop for organic bully sticks! If you think I missed anything, just let me know in the comments!