If you're worried about an older dog not eating, you're not alone.
Lack of appetite in senior dogs is a common issue.
I saw it a lot when I worked at the vet.
Read on to learn what to do when your old dog won't eat.
Content & Quick Navigation
Older dog not eating: what's the cause & what can you do?
While an older dog not eating is a common problem, it's not so easy to diagnose.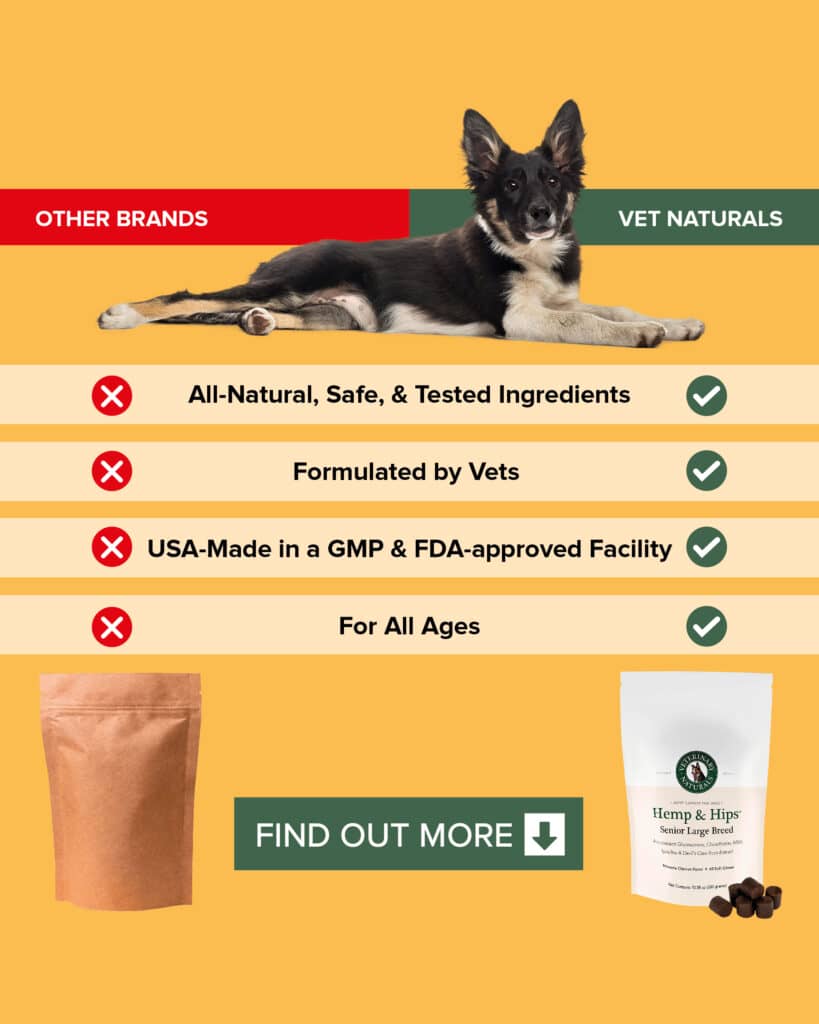 That's because lack of appetite in dogs of any age can be caused by so many different things.
In older dogs, it's especially concerning because due to their age, they are more likely to have a disease or illness than their younger counterparts.
That being said, it can also simply be due to their age. See? Not an easy issue to address.
Today, we'll be discussing lack of appetite in your older dog and what to do about it.
Related: How to prevent dog from falling off bed
Causes of Lack of Appetite in Your Older Dog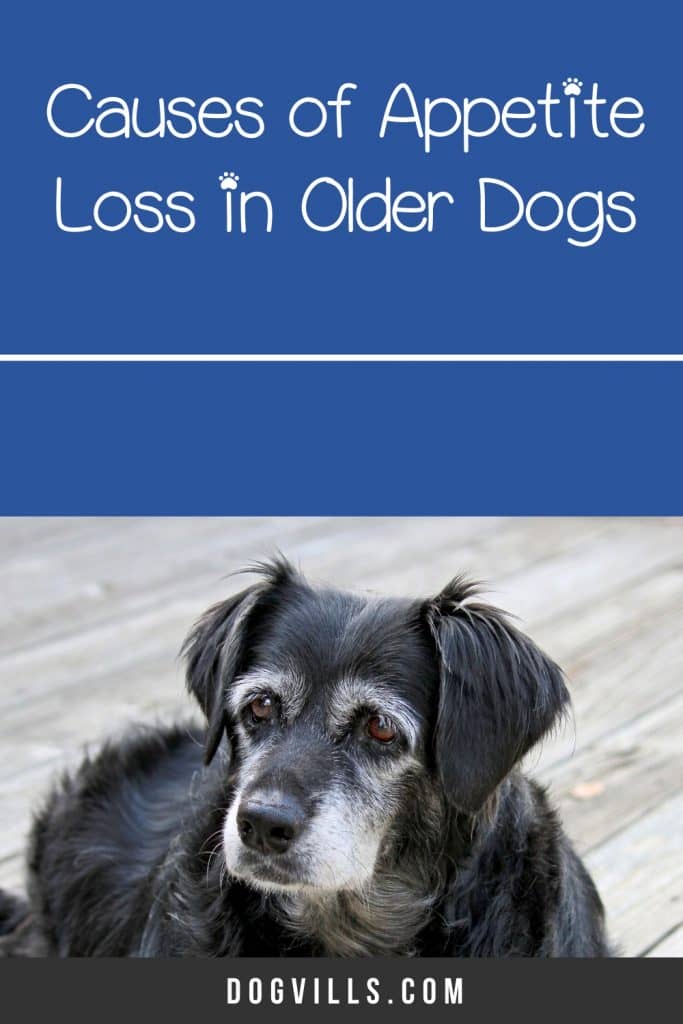 Anorexia, or a chronic lack of appetite, can lead to weight loss, lethargy, low blood sugar, and dehydration.
So, it's important to figure out exactly what's causing your dog's inappetence as quickly as possible
A gradual decrease in appetite in an older dog is common and totally normal.
However, inappetence can also be caused by a host of other more serious issues, ranging from GI problems to cancer.
It's important to know the causes of your dog's disinterest in food so you can properly address the problem.
Aging
One of the common causes of lack of appetite in an older dog is simply the aging process itself.
You have probably known elderly people who had a gradual loss of appetite as they aged.
It's simply a part of aging for some people as well as for some animals. Decreased activity leads to a decrease in the body's need for calories.
Age also reduces energy levels. When combined, this leads to a lowering of appetite.
Bad Food
Many people don't realize how critical their dog's food is to their overall health.
They go out and buy the cheapest food or the one that makes the gravy that their dog loves, and they call it done.
However, just as with people, better food makes for better health, especially in the case of aging dogs.
As your dog ages, it's more important to buy high-quality food.
Opt for brands that focus whole-food ingredients and no fillers, such as Royal Canin, Wellness and the like.
These foods limit or eliminate completely added dyes, chemicals, and fillers like cornmeal or wheat gluten which can be hard on any dog's system, especially an older dog's.
Health Factors That Can Cause Lack of Appetite
There are a variety of health factors that can cause a lack of appetite in your older dog.
Loss of appetite can be related to all sorts of medical issues ranging from minor to severe.
So, if your older dog is beginning to refuse food, it's important to take him to the vet right away.
Your vet will be able to get to the bottom of his inability or lack of desire to eat and help you address it appropriately.
Seeing your vet will begin with a physical exam, where your vet will listen to your dog's heart and lungs, examine his body, including his mouth and ears, do a fecal exam, and finally do blood work.
Blood work is a key factor in the process. It shows a variety of markers that your vet can check such as liver and kidney values, blood count, and more.
These values help your vet figure out what is causing your dog's inappetence.
A Bad Mouth
In the veterinary field, a "bad mouth" is one that has dental and/or gum issues.
One of the reasons your vet will check your dog's mouth is to see if his lack of appetite might be caused by a sore mouth due to bad teeth, infected gums, or a combination of both.
Dogs will turn away food if they have a painful mouth. Common mouth issues include:
Bad teeth
Broken teeth
Infected gums
Boils
GI Problems
GI problems can range from simple stomach upset to intestinal blockages.
In any case of GI problems, a lowered or lack of appetite can be a major symptom.
Every time your dog eats, some part of his GI tract becomes painful so his solution is simply to stop eating. Common GI problems include:
Upset stomach
Diarrhea
Bloody stool due to bleeding somewhere in the GI tract
Dark or black stool due to bleeding somewhere in the GI tract
Intestinal tears
Intestinal blockage
Cancer
It's unpleasant to think about but a common symptom of cancer is a lack of appetite.
The vet I worked for once told me, "If cancer isn't on a vet's differential when dealing with an older dog, then they don't know what they're doing."
Cancer is highly common among older dogs, so it's always a concern when an older dog begins to turn food away.
Dementia
As dementia progresses, loss of appetite becomes an issue.
Dementia is a slow, progressive deterioration of the brain, and since the brain controls all bodily functions, it can and does lead to a loss of appetite.
Lack of appetite on its own doesn't necessarily mean your elderly dog has dementia, of course.
However, if it is combined with any of the following symptoms, take him to your vet for an evaluation.
Confusion
Excess vocalization
Lethargy
Agitation
Getting "lost" in corners (standing with his head in a corner)
Low Blood Sugar
Low blood sugar is a symptom of a loss of appetite.
Unfortunately, it's also a contributor to that same loss of appetite.
As your dog eats less and less, his blood sugar can drop. leading to lethargy. Lethargy may exacerbate his loss of appetite.
Medications that Cause Lack of Appetite
Loss of appetite can be a side effect of the drugs your dog may take.
Many older dogs require medication to help treat their chronic health issues.
Just as with people, drugs can cause side effects in dogs, and one of those side effects can be a loss of appetite.
Medications which can cause a lack of appetite included, but are not limited to:
Minor Health Issues Leading to Lack of Appetite
In addition to the big, concerning problems that can lead to a loss of appetite in older dogs, there are a whole slew of minor health issues that can cause him to turn up his nose at his food.
These issues include, but are not limited to:
Failing or loss of taste or smell
Chronic, low-grade pain, most commonly associated with arthritis
Low blood sugar
Medication side effects
Idiopathic Lack of Appetite
Idiopathic is a fancy medical term for "we don't know".
Idiopathic loss of appetite means that your dog is showing a loss of appetite for no apparent reason.
He may skip meals but still maintain his energy levels, acting as normally as he always does.
In cases like this, changing food to something more appealing may be the answer.
While cats are traditionally known as picky eaters, some dogs become extremely choosy as they age.
In many cases, this can be related to being fed low-quality food which doesn't agree with them.
In other cases, it can be just the opposite, with your dog only wanting to eat the horrible gravy food because it's extra tasty.
It's a matter of trial and error to find a food that your dog will eat in these cases.
Treating Loss of Appetite in Older Dogs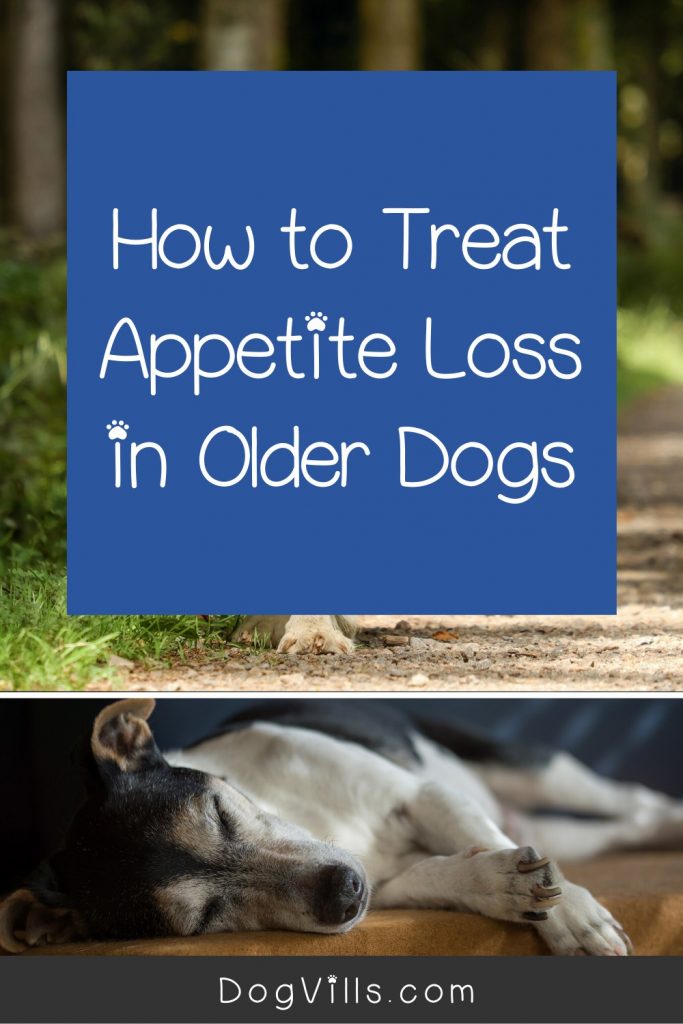 Once your vet determines what is causing your dog's lack of appetite, you can begin to address the issue.
In the cases of major illnesses, treating the illness itself will be the deciding factor in helping your dog begin to eat again.
However, there are things owners can do to get their dogs to eat in the absence of critical problems.
Constipation
Constipation can be treated by increasing a dog's fluid intake, as well as adding more fiber. To treat constipation, try:
Soaking kibble or adding wet food to increase fluid intake
Flavor drinking water with sodium-free bone broth to make it more appealing
Add one to two tablespoons of canned pumpkin, NOT pie filling, to their meals one a day
Decreased Sense of Taste or Smell
If a dog is experiencing a decrease in taste or smell, it's time to kick up his meals and make them more appealing to his failing senses.
You can add a little something extra to his bowl to get him excited about eating again. Try:
Sodium-free bone broth
A little peanut butter mixed with warm water until fluid
Low-fat cottage cheese
A little dried parmesan cheese
Wet dog food
Dog food gravy
Scrambled eggs
Increase Physical Activity
Earlier we talked about how inactivity can lead to lack of appetite in older dogs.
If your dog is physically able, increasing his activity level can often lead to an increase in appetite.
Remember, he's not a young dog anymore, so don't take him out for an extended walk, but up and down the driveway a few times should do the trick.
Low Blood Sugar
As we talked about earlier, low blood sugar is a symptom AND a contributing factor to a lack of appetite in older dogs.
As they eat less, their blood sugar lowers, leading to lethargy and compounding their lack of appetite.
To see if this is the case with your dog, feed him a little honey, no more than a tablespoon.
If he won't take it, you can rub the honey on his gums so that it can be absorbed into his body.
If low blood sugar is exacerbating his lack of appetite, the honey should perk him up and increase his appetite.
Never Discontinue Medications to Address a Lack of Appetite
If your dog is on prescribed medication, do not discontinue its use to try to get him to eat.
The only person who should ever make that decision is your vet.
While many medications can cause loss of appetite, those same medications are vital to a dog's health.
It can be extremely dangerous to discontinue medications without your vet's approval.
If you think your dog's medications are contributing to his lack of appetite, address it with your vet, but don't unilaterally discontinue his meds.
Work with Your Vet to Address Your Aging Dog's Lack of Appetite
No matter the cause behind an older dog not eating, working with your vet to address your elderly dog's lack of appetite is always the best route to go.
Your dog's lack of appetite may be age-related or it may be a symptom of an underlying issue.
The only real way to figure that out is to have him thoroughly examined by your vet.
Armed with your vet's diagnosis, you'll be able to properly address your dog's lack of appetite and, hopefully, get him back to his normal, hungry self.
Have you ever dealt with an older dog not eating? Share your experiences below.